If you live in the northeast you know one thing- winters are long, cold and the sun doesn't shine quite enough to give us that necessary vitamin D and brighten our moods.  But we northeasterners embrace it; down jacket check, thermalwear check, now that you're shoveled out, where can you go for some fun? How about shedding some of those layers and heading to the beach?
Hot Shots Real Beach Volleyball located on University Ave. brings the beach indoors. Rochester's only indoor sand volleyball facility is open year round for leagues, tournaments, pick-up games, and court rentals and they are busy 6 nights a week. Weekends you'll find court rentals and tournaments keeping the fun going, and the sand flying. The adjacent hardwood basketball court and 2 regulation sized volleyball courts double as dodgeball courts. If you need to de-stress and laugh, grab your office-mates pull up your tube socks, throw on a head band, and relive your glory days.
The Restaurant
Food and refreshments are available with plenty of viewing areas, seating, and TVs including a big screen projection TV in the large restaurant area.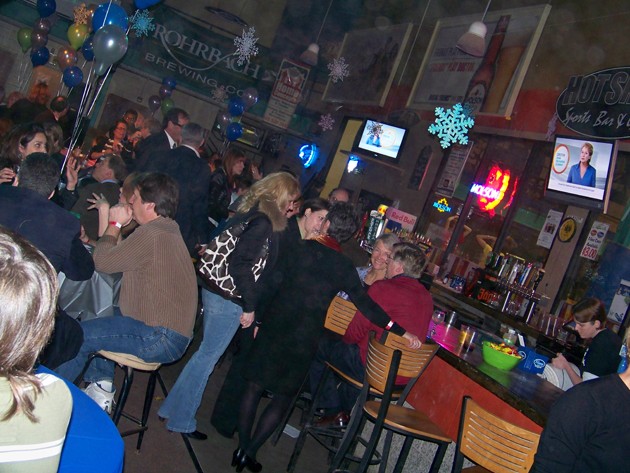 Volleyball Leagues
Beginner through advanced leagues run Sunday through Friday (6's and 4's). Winter 6's leagues begin Nov. 9th and Dec. 7th on the sand courts. Teachers Friday Happy Hour sand league begins Jan. 9th. Play is every other Fri. and includes the first pitcher of beer. Winter womens hard court league begins Jan. 6th.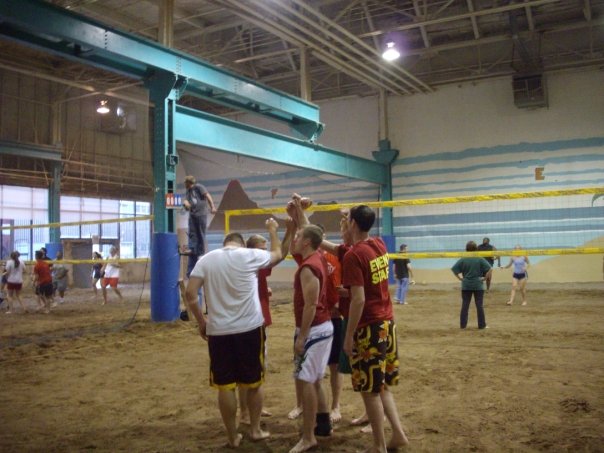 Friday Night Challenge Court
Volleyball players of all levels are invited to play. This is a fun way to kick off your weekend especially if you are new to the area and want to play some beach volleyball, or you are just looking for something different to do on a Friday night and meet some new people. $15; play kicks off at 7pm. Here is how it works: You sign up as an individual player. Two teams of four players compete once each round. But there's a twist: each round you play with different people. Read more
Volleyball Tournaments

Let the games continue. A full tournament schedule weekends for all levels, 2's, 3's, 4's, 6's, women's, men's, co-ed, jr.s.
Volleyball Lessons and Clinics
Hot Shots lessons and clinics can really improve your game and help your team to reach a higher level. Clinicians are well trained in every aspect of beach volleyball. For just $45.00 an hour you or your team will be on the way toward a higher quality of play. While improving your skills, you will also get more enjoyment from the game of volleyball.
Court Rentals
Courts can be rented for team practices and private play. Get some friends or colleagues together for a fun volleyball game on the city's only indoor sand volleyball court.  You can also rent the regulation volleyball hard courts, or basketball court.
Party Packages
Private parties with court(s) and refreshments are available for the ultimate winter experience with your own group. Where else can you wear shorts when the temperatures outside are below freezing?  Optional add-on for a referee to guide your group through a fun game of bumps, sets and spikes and offer tips!
A-Listers are invited to a special event at Hot Shots. The Corona Cares First Friday Happy Hour Friday Dec. 5th.

Corona Cares First Fridays at Hot Shots
The Corona Cares First Friday Happy Hour Series kicks off Fri. Dec. 5th.  The First Friday of the month, Hot Shots and Corona are throwing a party. From 5:30-8pm guests will enjoy a casual VIP experience with complimentary light fare, and a complimentary Corona, drink specials, door prizes, and music.  Door prizes include a$100 Corona Store voucher and a Hot Shots Bump Party Package.  A $5 suggested donation will help raise money for a different local charity each month.
Score your invite and find out more

Hot Shots Volleyball Club
1046 University Ave., Rochester, NY 14607  (585) 461-1220