Relax The Spa Rochester ♥ 235 High Street Extension, Victor, NY (585) 412-4994
Thank you for trusting us to give you the dish on all the best things in Rochester: From shopping to spa services, fine dining to the cocktail scene… we'll help you find new businesses to love and in this case spa services to covet.
Rochester A-List fashion and beauty editor Jennifer Sanzo went to the Relax The Spa in Victor to sample some of their services and share an inside look at this beauty and relaxation oasis. 
Jennifer sampled the Relax The Spa Signature Minkyti (a seaweed facial) and Relax The Spa signature Minkyti (seaweed facial), and two massages- the Lavender Dreams Massage and the Bilissful Nights Sleep Treatment.
(Be sure to check out what two more of our beauty editors revealed about the Yoga Massage and the Hydra Facial here and Relax The Spa Signature Experience with a Seaweed Soak "add-on" here)
x
On to Jenny's Post-
Checking Out Relax The Spa Rochester in Victor NY
It is no secret that this girl loves the spa.  There is nothing quite like taking an hour or two to pamper yourself and just indulge in some me time.  As a crazy-busy #ladyboss and #mompreneur, relaxation tends to be the last thing on my to do list.  Lucky for me when I go to the spa, it's technically "work" because I get to share my experience with all of you as Rochester Alist's Beauty Editor.  That's what I like to call a win-win!
I'm sure you can imagine that I was thrilled to hear that Relax The Spa Rochester was opening in Victor.  When they asked me to come in and check out the space and sample a few of their signature services, I couldn't say "yes" fast enough!  Let me tell you, I was more than impressed with my experience there.
First and foremost, I loved the vibe from the second I walked through the doors.  The exterior is beautiful and the boutique and reception area are crisp, clean, and inviting.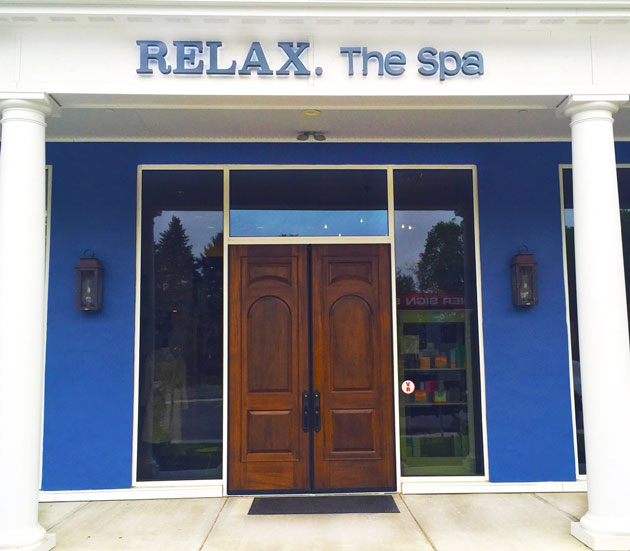 The polite and friendly staff checked me in, gave me a tour, and then showed me to the women's locker room where I changed into a luxurious robe and sandals before taking a few minutes to decompress in the quiet room.  Not before taking a #selfie, of course.  *wink*
In case you were wondering, the quiet room at Relax The Spa is heaven. Light and airy decor, comfy/cozy chairs, and a warm fire place set the mood while you sip on luxury teas and snack on nuts and dried fruit.  Honestly, I could move right in, but something tells me that might be frowned upon.

I would have perfectly content to just hang out there all day, but they insisted I try some of their most popular spa services.  It's a tough job, but somebody has to do it!  The first service I got to try was the Relax The Spa Signature Minkyti (a seaweed facial!) with esthetician Jessica Krieg.  It was one of the best facials I have ever had in my life and my skin felt hydrated, nourished, and simply fantastic for days on end.  Plus I looked absolutely gorgeous through the entire process…
Don't hate me because I'm beautiful.
Yes those are actual pieces of seaweed that were freshly harvested and flown in from Ireland.  So cool!
Next up?  Massage!
I was able to try two different massages with Megan Coller.  The first was the lavender dreams massage, which is just as lovely as it sounds.  Who doesn't like a relaxing meditative massage that utilizes lavender oil and other sleep inducing herbs to help you unwind?
The second massage was a little outside the box and happened here:
This second massage treatment was a first for me:  the Blissful Night sleep treatment.  (I really did almost fall asleep.)  There are no pictures to document this experience, because, well, it was done [ahem]in the nude and this is not that kind of website.  But let me tell you, if you are looking for something a little different, then this is something you should certainly check out.  This sleep inducing treatment began with a vichy rainfall, oil anointing and dry brushing – a really neat sensory experience – and included a back, neck and head massage.  The warm water raining down from the vichy shower heads really created a uniquely serene experience.  I highly recommend giving it a try.
The verdict?
Relax The Spa is the perfect place to unwind, and indulge in some much-needed me time.  The next time to head to the mall, why not schedule in some pampering too?  Nothing puts the cherry on top of a shopping spree sundae quite like a luxurious facial or massage.
Be sure to let me know when you visit and which services you try!  I'm thinking the four-handed massage is next on this fashionista's list!  Full body massage + reflexology + scalp massage?  Yes, please!
Make it a great week and don't forget to take care of YOU too!
xoxo
Jenny

PS- With the holiday season upon us, it's only right that I let you in on Relax The Spa's holiday specials:
Give the gift of pampering!  Relax The Spa is offering a complimentary luxury spa robe with gift card purchase of $325.  For gift cards purchased over $550, an additional handmade throw is your free gift in addition to the robe, in-spa only and while supplies last.   Gift cards are available in any amount for massage, facial, manicure, pedicure, sleep treatments and more!
Stop in Black Friday for $1 per minute chair massages, retail product door busters and a Series Sale on seven services for the price of five.  (That's getting two free!) Use the seven services throughout the year or as a gift.
There are also four holiday packages available with a combination of massage, facial and nail services.  Relax The Spa has a boutique with unique gifts, warm lavender neck wraps, skincare and herbal gift products, poo-pourie spray and more.  Stop in to browse or get a beautifully wrapped gift card with bonus robe. They are located at 235 High Street Extension, Victor in the beautiful blue building across from Eastview Mall. Book your appointment by calling 585-412-4994.