AE Spa ♥ 1855 Monroe Avenue, Rochester, NY (585) 461-4310
Thank you for trusting us to give you the dish on all the best things in Rochester: From shopping to spa services, fine dining to the cocktail scene… we'll help you find new businesses to love and in this case spa services to covet.
This January, Rochester A-List fashion and beauty editors are scouring the city to find the best beauty treatments, and seasonal salvations for hair, body, skin and soul. We'll be sharing our recommendations and reporting on what's new in the beauty Industry to keep you looking young, healthy, and beautiful inside and out. Make suggestions on our Facebook page or send us an email [email protected].
Sir Rocha Says blogger Linh Phillips went on special assignment to try out the new Signature Facial at AE Spa!  Here is what she said.
It's a rough job I know, but don't be a hater, someone needs to do it, and why not me?!
Now let me tell you more about this facial.
The 'Signature Yonka Facial' is not just your ordinary facial. It is 75 minutes of pure bliss! What makes this facial unique is that it was actually developed in Paris, a French Facial called Yon-Ka-Le Grand Classique. The owner, Andrea Sands, has carried this facial over to our Rochester area and recently revamped this facial to ensure that the best techniques and products are offered. You will get your money's worth-  not only is this facial relaxing, but very thorough. There is a 5 Step cleansing process that helps prepare the skin for extractions, masking, and moisturizing. In addition, a relaxing massage is included for your neck, shoulders, scalp, hands, arms, feet, and decollete. Three words. Hot. Stone. Massage. Told you this wasn't your typical facial!
Valissa shared, what she loves about this facial is that it provides a deep-cleansing that doesn't strip the skin, but instead leaves your skin feeling hydrated and balanced. Boy was she spot on!
You will receive your own private room and comfortable bed to lie upon, or as I liked to call it your own private sanctuary. Valissa leaves it up to you whether or not you'd like to chat through the facial or just have peace and quiet. I appreciated her asking this as each client has different preferences. She started with using a gentle cleanser to remove any excess dirt and makeup from my face. The 5-step cleansing process uses a line of products based on an oil elixir that contains natural ingredients. These ingredients are geranium, lavender, thyme, rosemary, and cypress. The combinations of these ingredients are intended to help repair your skin and nourish it as well. Plus, it smells heavenly!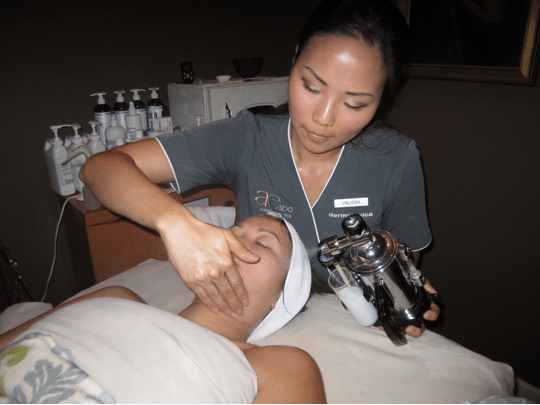 A facial steamer (featured above) looks like a science project at first glance, but trust me it's just a light steam used to open up your pores, prior to the extraction process. The steam feels like a delicate touch of warm steam blown on your face. No discomfort whatsoever, I told Valissa that it felt like I was in a sauna. While you steam, your hands, arms, and feet will be massaged. Your hands are placed in warm mitts to help moisturize and soften your skin. Feels like paradise!
Haha, let's not laugh too much at me. While I may not look like my finest, the masque is working hard to help absorb any excess oil on my face and simultaneously infusing my skin with antioxidants.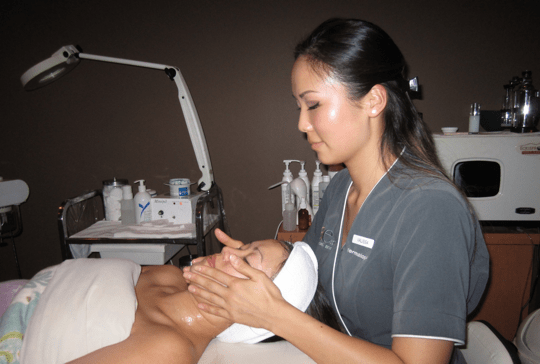 The facial and decollete massage is paired with a 'Gommage' that helps roll off dead skin cells. Gommage is a French word meaning 'to erase' and not only exfoliates the skin, but helps increase circulation as well.
Valissa made me feel extremely comfortable and translated each step of the facial in a language (for us non-esthetician folks) I would understand. Formerly in the finance world, she was looking to find a line of work that would help others feel better about themselves, and went back to beauty school. Thus started her journey as an esthetician. She's been a licensed esthetician since 2009 and has been employed at AE Spa since 2011. Her love for her craft was evident and helped elevate the experience. It made me appreciate the facial that much more!
After the facial was over, I felt unbelievably relaxed and my skin felt incredible. No redness, no irritation, nada. In previous facials, I'd have to hide at home for a day or two until my face healed. This time I went directly from the spa to happy hour to meet friends.
I got compliments all night on how smooth my skin was and how it felt just like a baby's bottom.  In all honesty, that was the best facial I've EVER had and my skin has never felt better. Valissa even followed up with me a few days later to see how my skin reacted and if I had any questions. Two thumbs up on the follow-up and customer service!
I would highly recommend treating yourself or someone you want to pamper to a Signature Facial at AE spa.  The AE staff is exceptional and genuinely cares about you and delivers quality treatments. You will leave feeling like a newer, fresher, and younger version of yourself. I wish someone had encouraged me to try out this facial sooner. Now that I've experienced it for myself, I will pay it forward and encourage you all to try the Signature Facial and see what you've been missing out on all this time!
Thank you Valissa and AE Spa for converting me into a believer of your Signature Facial!
Linh Phillips, A-List Contributor
Check out more from Sir Rocha Says