Thank you for trusting us to connect you to the best things in Rochester: From the best dishes to order in town, to weekend getaways, golfing to the best local breweries … we'll help you find new businesses to love and in this case spa services to covet.
Allora Salon and Spa ♥ 7398 NY-96, Victor, NY (585) 869-9010
Allora Salon and Spa recently moved to a new location and expanded their spa service offerings. They now have an area for spa parties with space for 4 pedicures and 3 manicures at the same time. Facials too. Want it catered? They have options for that too.  Who doesn't want to be invited to a spa party?!  Spas aren't just for women.  Men, here's your guide to getting a pedicure.
*Exclusive Discount Offer for A-Listers Below.
A Man's Guide to Getting a Pedicure
By Casey Bowker, A-List Contributor and host of ROConnoisseur
I'm just going to let you all in on a secret right now: This wasn't the first time that I've received a pedicure. Before my Dominican wedding last year, my wife convinced me that my feet weren't good enough to make it into our wedding photos and that I was going to have to receive a pedicure. It was a bonding experience and I have to admit, they did look and feel a lot better afterwards. One year later, I was ready to take another foot-tastic journey at Allora Salon and Spa. I would be going solo this time, which scared me, but I hiked up my bootstraps and made my way in to Allora.
First of all, the location is beautiful. Even though this wasn't my first foot rodeo, it was most certainly my first time in a professional Salon and Spa. The atmosphere was very calming, it smelled good, and everyone working there was very nice and professional. I looked around to see if there were any other guys there (there wasn't) and breathed a mini-sigh of relief that I wouldn't have to give the obligatory man "SUP nod" to another guy in the waiting room. That or I would just keep my head down and pretend I was just there to pick up my wife, until I got called in for my appointment. Regardless, I was alone in my gender and that suited me just fine.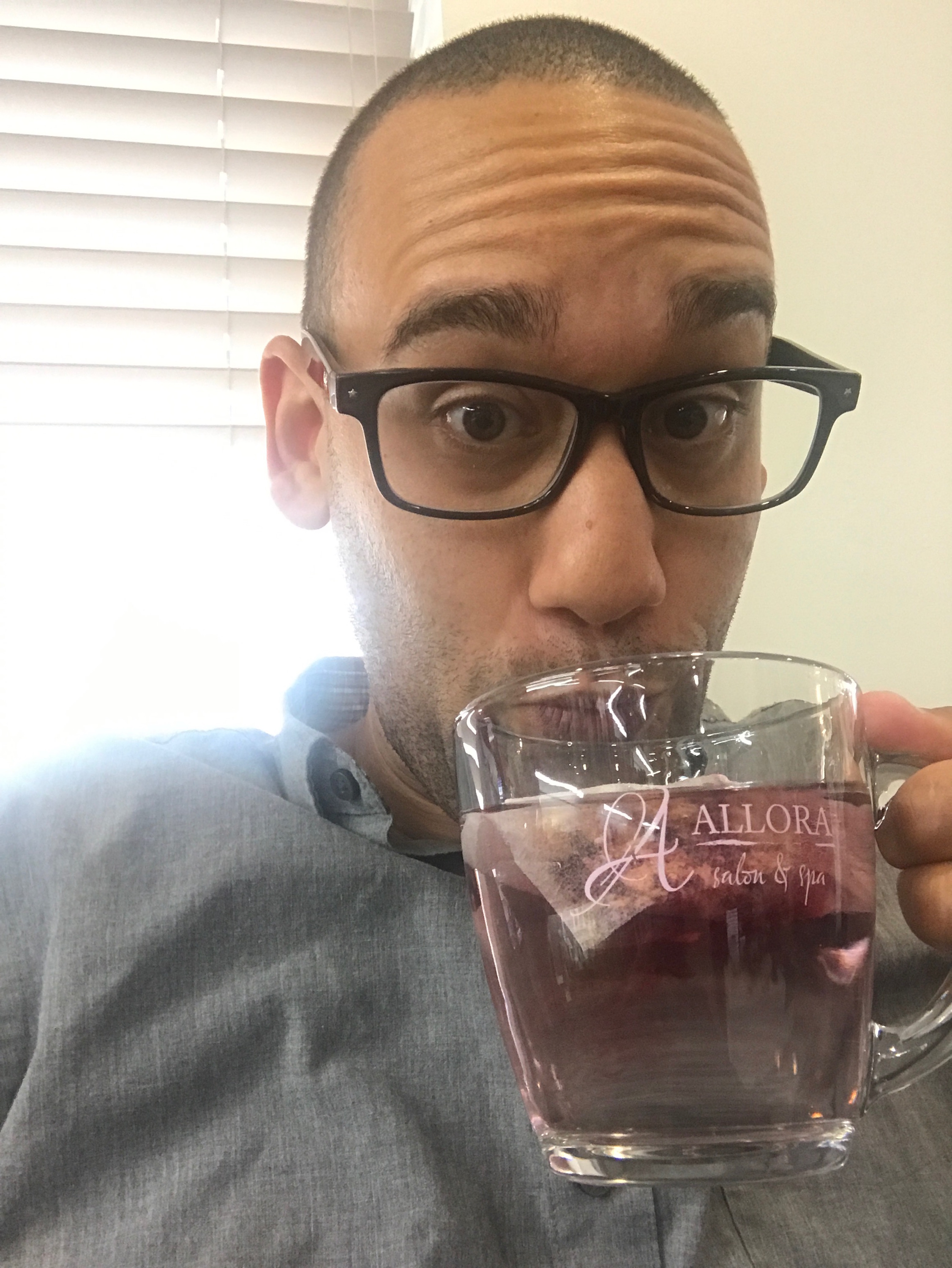 Kaitlyn came out and introduced herself and took me to the pedicure area. She was super friendly, down to Earth, and way more knowledgeable about feet than I had even thought was possible. She mentioned she was trained in the European Style of giving a massage; which means it's a lot safer of a pedicure and meant to be used on diabetics and geriatrics. To her credit, it was a very soothing process; but I'll get to that in a minute.
The first step in the process was to get my feet soaked in some bubbly water.
Kaitlyn said it was going to take about 7 minutes for them to soak, so I figured I'd get some light reading in. Nothing like a good food book to pass the time!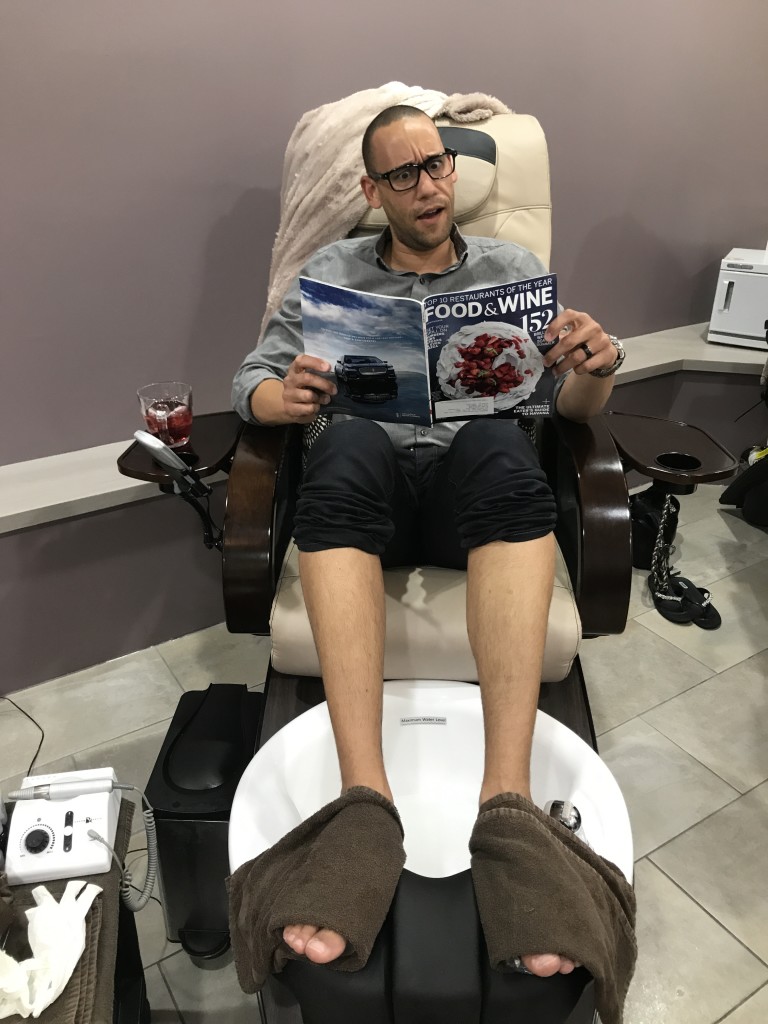 We then moved on to a seaweed scrub. My legs got slathered in a frothy, exfoliating gel that was rubbed on and actually felt quite calming. Yes, my legs looked like I stepped into a swamp; but the feeling made up for it! Kaitlyn moved from that to a callous spray on the bottoms of my feet and in the nail bed. It's meant to penetrate the five layers of skin on the feet and make everything soft and smooth. Honestly, whatever she said during these next few steps I just took as gospel. "Callous softener? Sure sounds good. This will make me lactose intolerant? What's that have to do with my feet? Whatever, sure rub it on my feet." It just all felt so good I didn't care.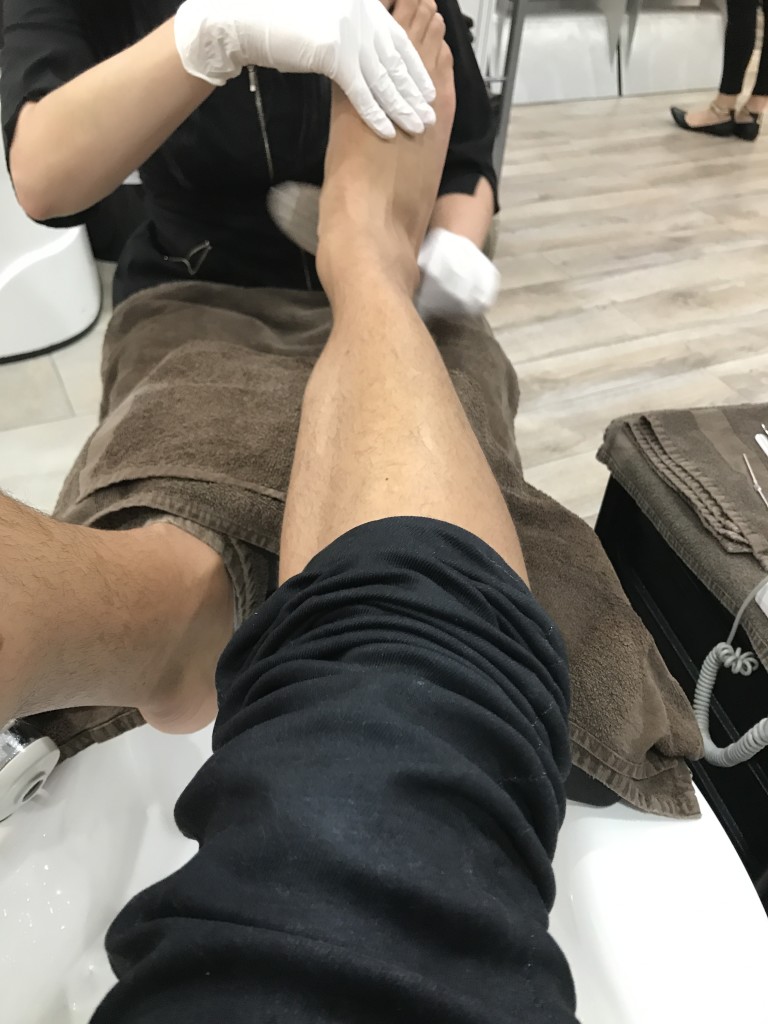 Next up, was the heavy tools. Katilyn pulled out this tiny drill looking device and started to apply it to my nail beds. I wasn't aware of the fact that machinery was going to be a part of this trip but I guess that's what I signed up for! She also applied a different drill bit that takes care of callouses. I felt like I was a part of a home improvement show, so I guess it wasn't so bad. Plus, I had faith in Kaitlyn that my feet would be beautiful in the end.
She then applied the Foot Logix Double Defense Mousse to my feet and legs and massaged it in. It's meant to penetrate those five layers of skin we have on our feet (um, sure that's good to know) and make you want to take a nap. That last part wasn't in her description but it was so relaxing that I really felt like I could have dozed off right then and there.
Next up was the Mummy Wrap. Okay, that's not the technical term but it's exactly what happened. Kaitlyn took these strips, dipped them in paraffin wax, and then bound my feet in them. It was warm and soothing and honestly felt really nice and peaceful. She put the wax strips around my feet, then a plastic baggie, and then a little booty. Think: dipping your feet into slimy quicksand. Is that a thing? I don't know, but it certainly felt nice.
Finally, my feet were buffed and shined to a glossy finish.  You don't really realize how rough your feet are until you have them feeling smooth and clean. What were once Hobbit feet were now reputable tootsies worthy of being put in a pair of sandals. Now I can walk around this Summer and not feel embarrassed!
Kaitlyn mentioned that a lot of her male clients are truckers, farmers, and machinists. Guys who would typically called a "mans man"; working tough jobs on their feet all day and getting them rough. Well, from someone who mostly uses his feet for standing in line at the Taco Bell or at the hostess table before going into a restaurant; I can say it doesn't matter what you do for a living, all guys (and gals) deserve a pampering once in a while.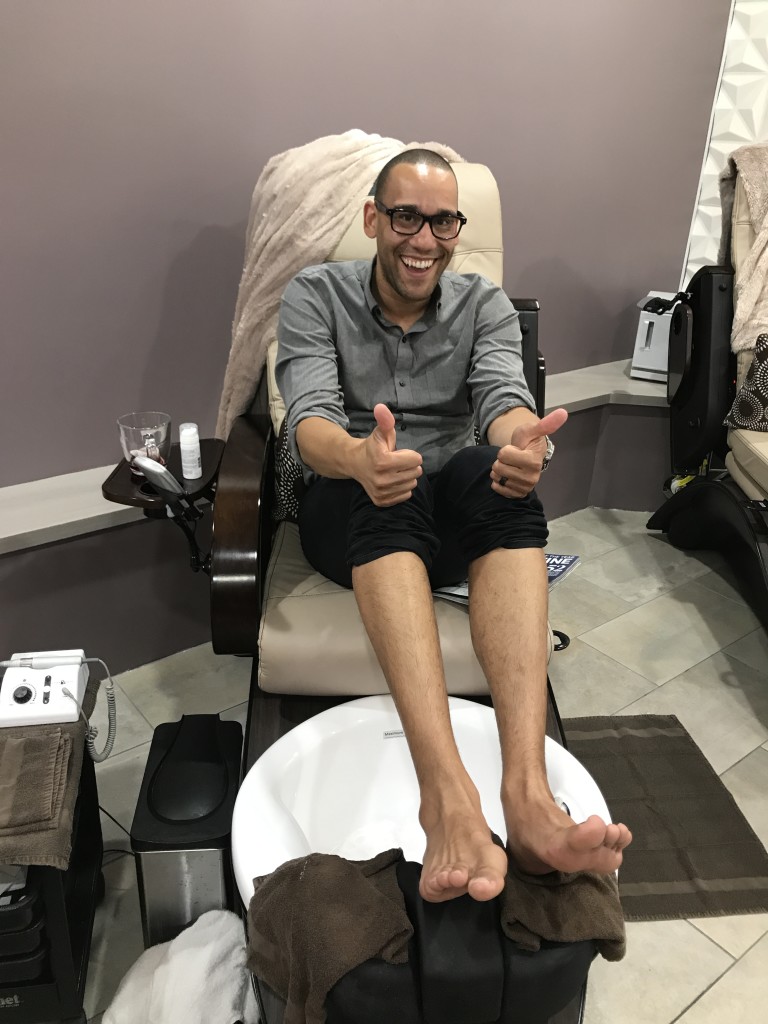 Allora Salon and Spa was the perfect destination for getting a pedicure and I would highly recommend it to anyone of any gender to stop in and get their feet transformed. As they would say on Parks and Rec, 'Treat Yo Self."
Allora is located at 7398 NY-96, Victor, NY, right down the road from Eastview Mall. Book your appointment by calling (585) 869-9010.