Thank you for trusting us to give you the dish on all the best things in Rochester: From shopping to spa services, fine dining to the cocktail scene… we'll help you find new businesses to love and in this case spa services to covet.
RELAX The Spa Rochester ♥ 235 High Street Extension, Victor, NY (585) 412-4994
RELAX The Spa Rochester invited A-List editors to experience some of their newly introduced organic services. We're sharing our experiences (one each month) and RELAX The Spa is extending an exclusive offer to A-Listers to enjoy the service for yourself. Let's just say, it's been a beautiful season of facials, wraps, massages, all in the name of research. Wink. *Exclusive Discount Offer for A-Listers Below. 
Allison Zimmer, 30s, wife, mom of 2, and full time corporate marketing manager 
Organic Exotic Arctic Berry Specialized Facial
RELAX has become my go-to spot for everything from girls day out to date nights with my love. There are very few places or activities that allow me to truly unplug and unwind, and RELAX tops that list. A a plush robe and a hot cup of tea in a quiet room with people who make me smile does wonders for my spirit, and has been a great way to help me cope with the ever-increasing demands of being a working mother, wife, sister, friend, and well, human.
To those who would say they have a hard time justifying the cost of a spa visit, I say, to be able to pair those hours of peace, warmth and tranquility with services that make me both look and feel better, the cost of that facial seems like a real bargain, indeed.
In an effort to erase all signs of my 0-60 in 7 seconds life from both my soul and my face, I chose the Exotic Arctic Berry Peptide Specialized Facial, an organic, deeply oxygenating and brightening treatment ideal for fatigued, pigmented and aging skins. RELAX promised that my complexion would appear completely revitalized and firm while my pores would become tightened and refined. They've never lied to me yet. This particular facial helps with cellular repair and nourishes the skin by combining botanical stem cells, hylauronic acid and retinol alternatives, making it a great choice for anyone trying to combat an uneven skin tone, rosacea, or acne.
The peel itself was very gentle – felt like a serum, and smelled wonderful. Not perfume-y or overpowering. Those natural organic ingredients gave it a light, sweet smell that was very pleasant and added to the overall experience rather than detracted.
This was my fourth visit to RELAX, cementing forever my high opinion of their warm, friendly, and highly competent staff. My esthetitian Morgan, was a joy, making me smile and emanating a relaxed, peaceful vibe that allowed me to feel completely at ease myself. The treatment included a light, completely painless peel that did not result in any redness or irritation, but instead left me dewy and smooth. The 50 minutes service also included a light shoulder massage and a hint of aromatherapy. All in all it was a perfect way to close a busy day. I'm already counting down the days to my next appointment.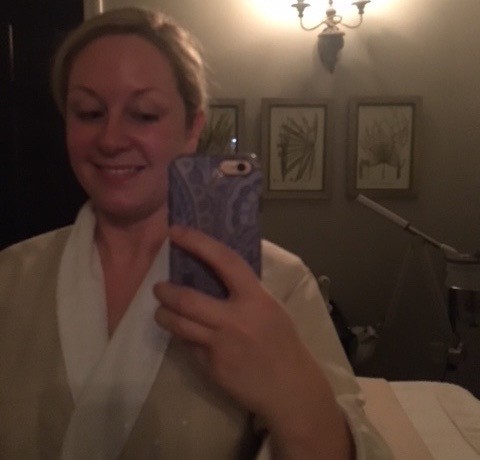 Call RELAX today or visit their website to find the right facial for your skin, or to book yourself the full spa day you deserve. RELAX gift cards also make a wonderful gift for the special people in your life; you can even stick one under the tree for yourself. I won't tell. They are located at 235 High Street Extension, Victor in the beautiful blue building across from Eastview Mall. Book your appointment by calling 585-412-4994.
PS- With the holiday season upon us, it's only right that I let you in on Relax The Spa's holiday specials:
Holiday Specials at Relax the Spa
Relax is extending $20 off this facial or any of their other Eminence Organic facials through December. Wait, there is more… They're also offering 15% off Eminence Organic products. Just mention A-List to get the discount. Stock up- trust me, this stuff is that good and you'll love putting ingredients on your face that are healthy for your skin!  Through Dec. 15th get $20 promo card with purchase of a $125 gift card. Or Buy a $350 card and get the cosy, plush robe free.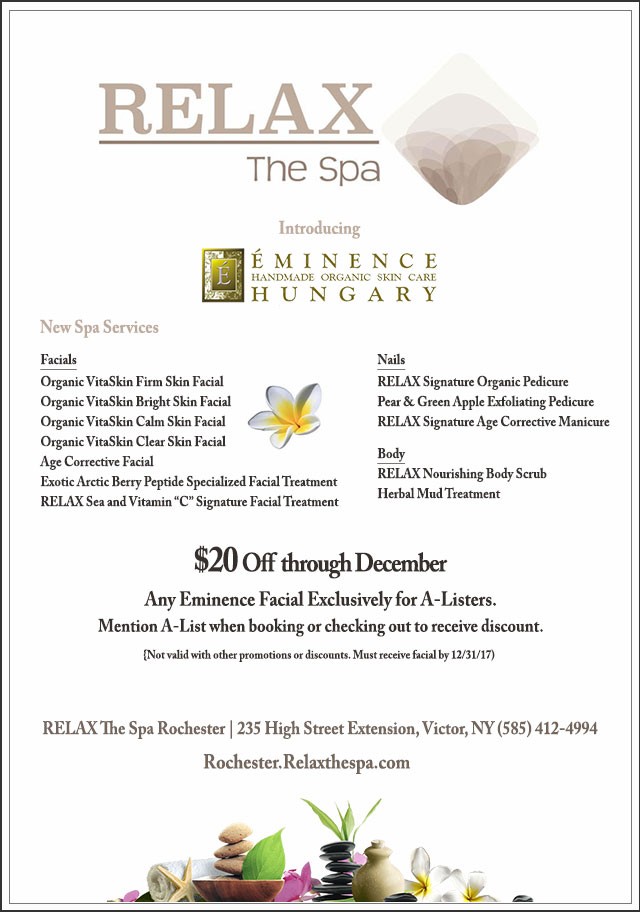 For more reasons why we love RELAX, revisit these A-list favorites, or read about my experience with reflexology and their renowned sleep treatment (possibly my best afternoon ever – I got a little misty when I re-read it).
As our schedules become fuller and our days longer, it seems we've all fallen into the habit of eschewing the things we really want in favor of whatever choice is faster and more convenient. That is especially true when it comes to beauty and self-care. Today's 30 minute lunch hour pedicure (and the occasional strip mall brow wax) has replaced the spa experience for most of us, turning what was once an hour of blissful pampering into an obligation; another item to cross of our To Do list.
At RELAX the Spa, they are bringing back the concept of the day spa as a retreat, and making beauty services joyful and relaxing once again.
-Allison Zimmer, A-List Contributor