Thank you for trusting us to give you the dish on all the best things in Rochester: From shopping to spa services, fine dining to the cocktail scene… we'll help you find new businesses to love and in this case spa services to covet.
RELAX The Spa Rochester
♥ 235 High Street Extension, Victor, NY (585) 412-4994
Relax The Spa Rochester invited A-List editors to experience some of their beauty treatments and relaxation services they are receiving accolades for across the country. Let's just say, it's been a beautiful season of facials, wraps, massages, all in the name of research. Wink. We're sharing our experiences (one each month) and Relax is extending an exclusive offer to A-Listers to enjoy the service for yourself. *Exclusive Discount Offer for A-Listers Below.
Restorative Stem Cell Facial at Relax The Spa Rochester
By Amy Riposo, A-List Editor 
On a cold mid-January day, I received a stem cell facial at Relax, and I am excited to share my experience with you my friends, and all fellow humans who notice their skin losing some of its youthfulness.  With age comes a lot of good things like wisdom, freedom, and increased financial security, but we lose collagen, elastin and the ability to regenerate our skin cells like we used to.  Sigh, add winter in upstate NY to that, and you have dehydrated skin.
On to the facial.
Here are a few shots of the spa as you walk in.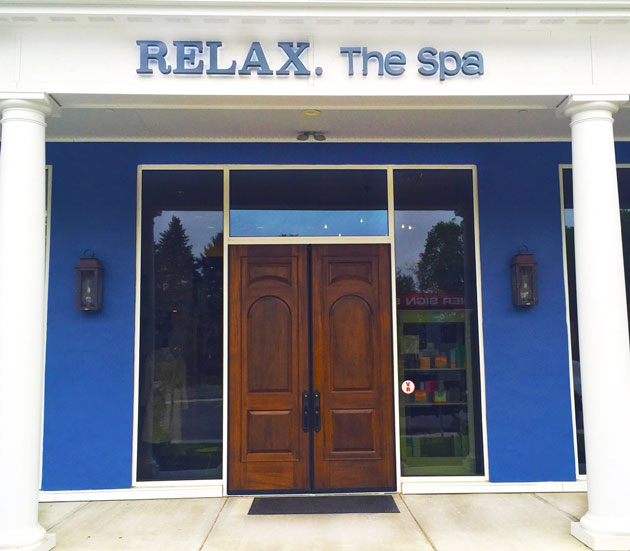 The reception area is crisp and clean with a great selection of products. Ask for a sample on your way out, wink.
There's nothing better to break up your routine in the dead of winter than to schedule a beauty treatment to unwind, de-stress, and bonus if it promises to make you look younger, and improve the health of your skin. Relax never ceases to send me to a new level of relaxation and bliss.  I was shown to the women's locker room, where slippers and a super soft, cozy robe were waiting for me.
The quiet room is where you start to unwind.  Low warm lighting, cozy chairs by the fireplace, and an array of snacks, teas and water are there for you to choose from as your stress melts away, your mind quiets and your energy shifts.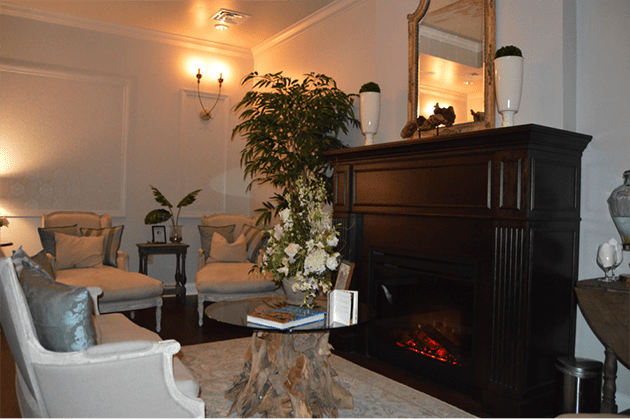 My esthetician greeted me and led me to the treatment room where the pampering happens.  A bolster props your knees as you lie back on a heated bed. Ahhhh.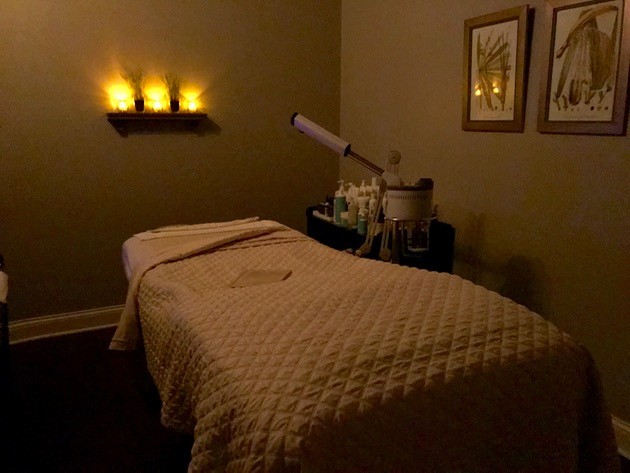 My esthetician was Lisa and I highly recommend her!  She has magic hands. MAGIC! The massage was one of the best I've ever received. Part of this facial includes a massage, which is nice but in this case, it was more than nice. It was heavenly.  Lisa's hands pressed on pressure points around my nose, sinuses and forehead which seemed to relieve the congestion thats been there for weeks (hello winter).  Something about that put me in a zen state. There were scented oils too.  The massage also included my head, shoulders and feet. Lisa is an esthetician not a massage therapist, but her massage was so incredible it is worth raving about. If she ever wants a new career, I would highly recommend she consider massage therapy.  Thats how good this massage was.
The Science behind it
The facial started with steaming and cleansing of the pores, exfoliation and a hydrating mask.  Next a Nuface tool is used to retrain the muscle to build collagen. Moving the tool from the jawline to the forehead, a micro-current stimulates the muscle while a hydrating mask is on the skin.  The product used in the process is by Lifeline.  Non embryonic human proteins and anti-oxidents renew the skin to repair and build collagen and increase elastin. The collagen and elastin in our skin is diminished due to age, sun, and sugar to name a few offenders.  The combo of the product line and the Nuface tool delivering the microcurrent plump the skin.
The verdict: my skin looked incredible.
Did it build collegen and elastin? I think it did. It's hard to measure but my skin definitley looked fantastic in an I'm not sure why way. The best kind.  The kind where someone says to you, you look great, what's different?
This facial will bring your skin health back to where it should be: beautiful, and younger.  It is also a heavenly experience. Relax is offering an exclusive deal for A-Listers on this facial during the month of February. This beauty treatment just got even more amazing!
-Amy Riposo, A-List Editor
Save 15$ in February on a Stem Cell Facial with code A-List.  You can also keep up the results at home with the facial toning device and product line. Both are 20 % off this month.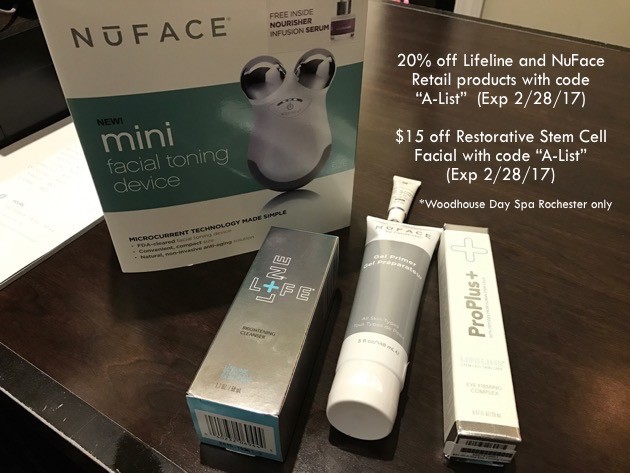 ********************************************************************************
RELAX The Spa Rochester is located across from Eastview Mall behind the Northface Store.
Let me tell you, this is no ordinary spa! In case you missed it in the intro., A-List Editors will be sampling services and sharing their favorite seaweed, wine and honey experiences, and quiet room secrets about the youth-inducing beauty treatments at RELAX The Spa. Each month, we'll share an inside look at a new service you'll get to sample with a special discount offered all month.