Thank you for trusting us to give you the dish on all the best things in Rochester: From shopping to spa services, fine dining to the cocktail scene… we'll help you find new businesses to love and in this case spa services to covet.
RELAX The Spa Rochester ♥ 235 High Street Extension, Victor, NY (585) 412-4994
RELAX The Spa Rochester invited A-List editors to experience some of their beauty treatments and relaxation services they are receiving accolades for across the country. Let's just say, it's been a beautiful season of facials, wraps, massages, all in the name of research. Wink. We're sharing our experiences (one each month) and RELAX The Spa is extending an exclusive offer to A-Listers to enjoy the service for yourself. *Exclusive Discount Offer for A-Listers Below.
Get On Your Lazy Butt
It's not in your purse, it's not on a shelf in the Target beauty aisle, and it's definitely not underneath your bathroom sink. The secret to healthy, radiant skin is deep beneath the murky waters of Ireland.
Hi there, A-List reader. I'm Meredith. I'm officially 30 years old and, up until this past Sunday, my idea of "pampering" meant cramming an amateur 20-minute at home mani-pedi into the tail end of a busy week night and ruining it not even 5 minutes later when I go to pull my Pizza Rolls out of the microwave. I know, I know, LIVIN' BIG, people!
With April upon us, daylight saving time has officially flung Rochesterarians into a joyful orbit of hope as we slowly begin to crawl out of the deep, dark, desolate canyon of winter skies and, if you're anything like me, endless abyss of dry skin.
Lazy Day Renewal Ritual
On a cold March day, I went to RELAX The Spa in Victor with a heated desire to sit back, relax, and sample all that is their celebrated Lazy Days Renewal Ritual Treatment, and let me tell you, my inexperienced perception of "pampering" is forever changed.
As fate would have it, my appointment was set for a Sunday, the one day of the week that promotes laziness. As I pulled into the spa parking lot, my jaw unhinged and dropped to the salty car floor mat below. I was met by a grand, breathtaking Victorian-esque estate that oozed the perfect blend of classic beauty and modern charm.
Since this was my first visit, I was given a tour by the friendly receptionist, which ended in the locker room. I know what you're picturing; gym class, walls of imprisoning gray metal lockers, outdated checkered tile, and the slight hint of musty, stale air. Am I close? This was anything but. Deep, rich wooden lockers, marble countertops, touches of tasteful décor, and the faint trace of lavender surrounded me.
I was even directed to my very own plush white robe and pair of slip-on reflexology sandals, that just so happened to be the perfect size. Would ya look at that!
It was on to the Quiet Room, where I was invited to stretch out on lavish chaise lounge and enjoy a cup of hot cinnamon spice tea before my service.
Susan was my assigned Massage Therapist, and from the moment she smiled and said "hello!" I knew I was in the right hands, literally. I was to fill out a brief questionnaire regarding my massage preferences and health history, so that my treatment could be tailored to my specific wants and needs. Giant plus! Insert thumbs up emoji here.
I was escorted to my treatment room, or as I like to call it, my personal mythological paradise of tranquility and repose. Soft, dimmed lighting, fresh, natural aromas, and a simplistic melody that instantly put me at ease.
The Lazy Days Renewal Ritual began with a heated massage table and hot towels wrapped around my feet. It was a balmy 20 degrees outside, so these two elements, which may have commonly been overlooked, made a world of difference. An all-over body buff application of ground, organic seaweed was gently massaged into my skin, re-energizing and re-mineralizing with every stroke. In the midst of lathering, Susan dabbed RELAX The Spa Serene Bath Oil onto her fingers and had me take a slow, deep breath in. Have you ever inhaled and just felt total calmness and peace? This oil transported me to a mental realm of relaxation that I had never experienced before. I instantly opened my eyes and shouted "What IS that!? It's amazing!" Luckily for guests, the boutique has a beautiful display of 100% pure and natural RELAX The Spa products ready and raring to bring the total-spa experience home.
Once I was cased in an armor of body buff, Susan left me solo to indulge in the soothing waters of a seaweed bath in the stunning cast iron claw foot tub that had been eyeing me from the moment I entered the room. I soaked for about 20 minutes, rubbing hand-picked organic seaweed, plucked straight from the waters of Ireland and mixed with Dead Sea salt, all over my awakened skin. I could feel my body slowly repairing itself, basking in a new found level of moisture and bliss.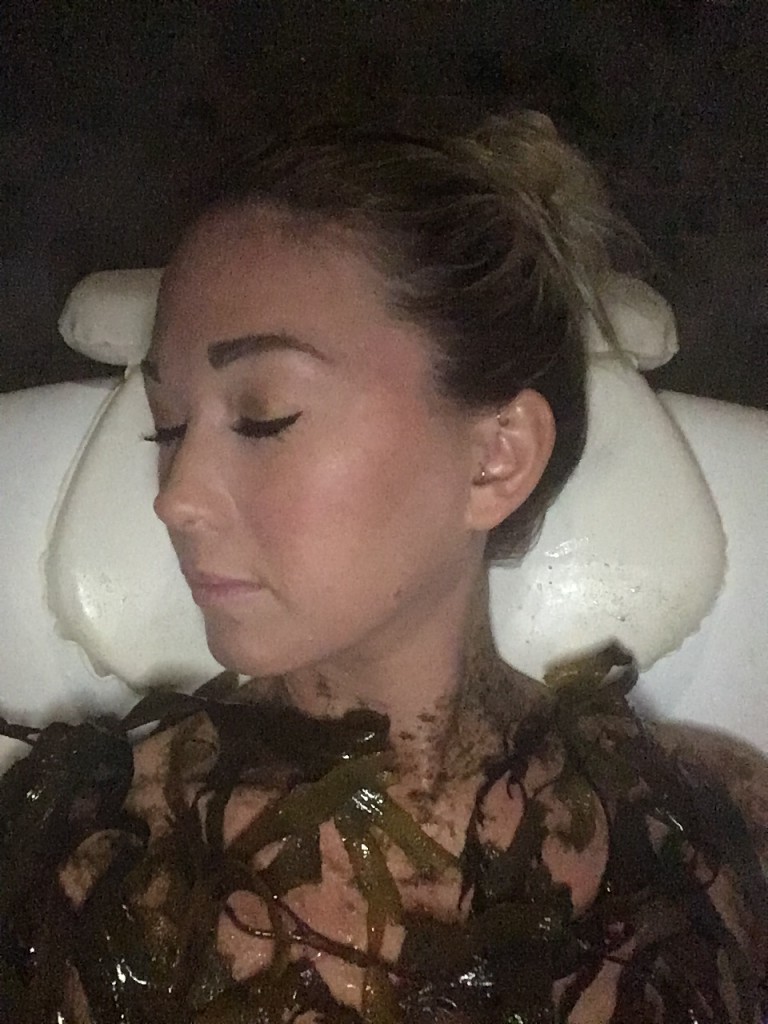 I really didn't want to get out of the tub. Who would? But I reminded myself of what awaited; a full body Swedish massage using nothing but the finest exotic seaweed extracts. "Heavenly" doesn't come close to doing the experience justice. Pretty sure I fell asleep. Sorry, Susan.
When I first learned that my RELAX The Spa treatment would revolve mainly around seaweed, I was immediately thrusted back into every childhood nightmare memory of visiting the local lake and becoming entangled in the green arms of the unknown that crouched deep beneath surface. Little did I know these green goblins also come with whole slew of good. Generations have been using organic seaweed to fight against the signs of aging and cellulite, and just the overall care and repair of skin, for years. I left my treatment feeling like a completely new person. Renewed, rejuvenated, and ready to take on a new week. I highly suggest booking your Lazy Days Renewal Ritual treatment ASAP, and if your appointment just so happens to fall on a Sunday, take full advantage of the meaning of "lazy."
RELAX The Spa is offering an exclusive deal for A-Listers on the Lazy Day Renewal Treatment during the month of April.  You will LOVE it!
-Meredith Opitz, A-List Contributor
Save $20 in April on a Lazy Day Renewal Treatment with code A-List.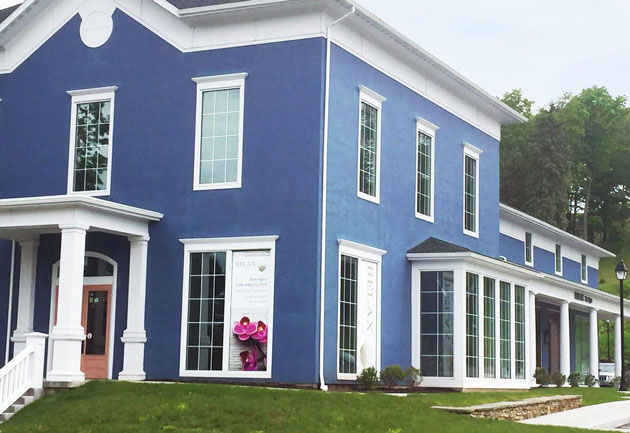 ********************************************************************************
RELAX The Spa Rochester is located across from Eastview Mall behind the Northface Store.
Let me tell you, this is no ordinary spa! In case you missed it in the intro., A-List Editors will be sampling services and sharing their favorite seaweed, wine and honey experiences, and quiet room secrets about the youth-inducing beauty treatments at RELAX The Spa Rochester. Each month, we'll share an inside look at a new service you'll get to sample with a special discount offered all month.