Thank you for trusting us to give you the dish on all the best things in Rochester: From shopping to spa services, fine dining to the cocktail scene… we'll help you find new businesses to love and in this case spa services to covet.
The Woodhouse is now known as RELAX The Spa Rochester
♥ 235 High Street Extension, Victor, NY (585) 412-4994

Relax The Spa Rochester invited A-List editors to experience some of their beauty treatments and relaxation services. We couldn't say yes fast enough! Relax is receiving accolades across the country. We're sharing our experiences (one each month) and Relax is extending an exclusive offer to A-Listers to enjoy the service for yourself. *Exclusive Discount Offer for A-Listers Below.
Salvation for Winter Skin (and Arthritis)
Let's talk about dry, itchy winter skin. The thankless b*tch that keeps us scratching in our sweaters and yearn for tanning oil and pool-side piña coladas. In my younger years, luxuriously slathering on rich lotion after showers kept winter skin at bay. Today, as a full-time working mommy, showers are more like Olympic time trial– the faster I'm through, the better.
Winter skin comes on like a vengeance and always at the worst times. Like during that super dull 3 o'clock meeting, at an unattainable spot between your shoulder blades where there's no way to reach smoothly or gracefully, but it's so itchy you consider asking Jim from IT to scratch your back. Thankfully, this HR nightmare can be avoided.
In an attempt to conquer my dry winter skin, I checked out Relax, a beautiful little retreat in my own backyard, and tried their Warm Spice mud wrap service on a Wednesday night after work.
First, I cannot thank Relax enough for evening hours during the week. To be able to get a full service midweek, without having to leave work early or feel rushed, was relaxing in itself.
The package consisted of my attendant, Stephanie Schutt, applying the Warm Spice mud wrap, followed by shoulder and facial massage, and ending with a Vichy shower to rinse off the mud.
I went in thinking my wrap would smell like cinnamon or cider, and while there were hints of that, the mud scent was more eucalyptus. It had that great "spa candle" smell.
Hot/Cold Vichy Shower
After about 20 minutes in the wrap, I chose to try the hot and cold water Vichy shower, which alternates water temps for, as Stephanie described it, "intense" experience. Here are some of the benefits Stephanie listed for anyone who's curious about trying the hot/cold Vichy shower:
Boosts metabolism and increases blood flow
Circulates oxygen in the body
Acts like a three to five mile run, rejuvenating muscles
My unexpected favorite part of the service was Stephanie brushing my skin at the beginning to prepare it for the mud wrap. It was like a chorus of angels started singing – it was such sweet relief from winter skin. The facial massage was also completely wonderful. With a million things on my mind, it was refreshing and calming to simply focus on my breathing, inhaling the clean scent of the treatment.
I can't recommend this wrap enough – My sister called me afterward and she said even my voice sounded more relaxed.
Here's a couple of tips I'd pass along to you when you make your appointment:
Maybe this is obvious, but get naked. Like no jewelry, in the buff, naked. (Silly me went in with my Alex and Ani bracelets and rings on). Relax has a neat and secure area for your belongings.
Remove your makeup. Also, if you don't want your hair to get wet, Relax provides shower caps.
Drink water before and after. If you'd had a massage before, you were probably told this advice. Stephanie, my attendant, recommends it even more strongly if you chose the hot and cold Vichy shower.
Stephanie recommends the Warm Spice mud wrap as an especially great fit for anyone with arthritis, dry skin (YASSSS!) or feels like the winter has drained their skin of nutrients (which might be every Western New Yorker).
If you are looking for a break from constant itch of winter skin – and a few hours away from reality — try the Warm Spice mud wrap at Relax.
P.S. If you are a man and were forwarded this article from your girlfriend or spouse, get this sweet woman a gift card for Valentine's Day! Better yet, enjoy the spa's services together! Relax has comfortable, private couple's massage rooms. This is your chance to win major brownie points. Looking out for you brother!
-Alanna Stage, A-List Contributor
Alanna is a full-time wife, mommy, and marketer for a Rochester-based software company.
It's only right that we extend an exclusive discount to try this amazing service for yourself.  Save 15$ in January for a warm spice mud wrap with code A-List.  Your skin is going to thank you.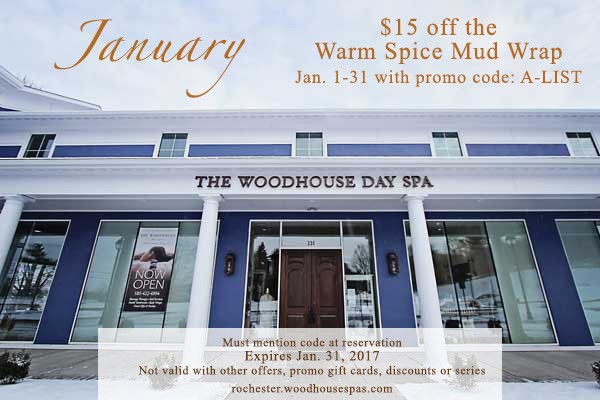 ********************************************************************************
The Woodhouse now known as RELAX The Spa Rochester is located across from Eastview Mall behind the Northface Store.
Let me tell you, this is no ordinary spa! In case you missed it in the intro., A-List Editors will be sampling services and sharing their favorite seaweed, wine and honey experiences, and quiet room secrets about the youth-inducing beauty treatments at RELAX The Spa Rochester. Each month, we'll share an inside look at a new service you'll get to sample with a special discount offered all month.