Our A-List Beauty Editors (all of our editors want these assignments) love to spa and try new spa and beauty services. Amy Riposo went to AE Spa in Brighton to see what the hype is about vacuum therapy.
AE Spa ♥ 1855 Monroe Avenue, Rochester, NY (585) 461-4310
I Tried the Non Surgical Butt Lift and An Hour of Bliss and Beauty
Hi, I'm Amy, a spa junkie and explorer of beauty treatments that make you look younger. 
I get particularly excited about treatments that are good for you and/or inspire your body to heal itself. I stay away from toxic chemicals in my skincare. Only organic lotions, oils and serums for me. You get the idea. I am a natural girl.
Imagine how excited I was to hear from a fellow kayaker at an A-List Adventure that the spa she works at has a new therapeutic cupping service that can contour your body and lift your face. She had me at "lift your face". After reading about vacuum therapy, I was beyond excited to try it out especially reading that a non-surgical butt lift was one of the service options, and all over the internet as the trending beauty craze. Could there be help for me to increase the size of my very small butt and lift it up as well?
I tried the non surgical butt lift and while I was at it, and in the name of being thorough in my vacuum therapy research, I also tried AE Spa's vacuotherapy signature wrap which included massage cupping for face and full body contouring.
As my appointment day approached, I realized I didn't know if it would hurt or not. When I arrived, my service provider Rachel welcomed me and assured me it does not hurt. I exhaled my minor nervousness and headed to the infrared sauna to prep for my treatments. 
The AE staff recommends the infrared sauna as a good way to prepare the body for cupping treatment, so I added this option when I booked my appointment. As an infrared sauna newbie, I looked forward to trying a sweat session and the color therapy lights promising more good things. Curious? See what the colors do for you here.
Once in my private room with my own private sauna in it, I undressed and slipped into the terry wrap left for me. I stepped into the sauna and sat on the bench opting not to listen to music, instead relaxing my mind and observing how I felt. It was hot. I checked the door because I am a little claustrophobic and it could open so I settled back in, beginning to unwind and to sweat. After a while I opened the door because it was too much for me. Rachel informed me people new to saunas should start with as long as they feel comfortable and work up to more time. Their standard booking of time is 40 min. While I didn't feel a difference with the different colors, it was fun to try them all and I enjoyed knowing there were other things benefitting me while I was sweating. With winter ahead, I think sauna sessions will be life savers to get through some of those days when you just can't warm up.
After the sauna, it was on to the treatment room which had a massage table and the vacuum cupping machine.
I was ready!
My service provider Rachel is a licensed practical nurse and certified cupping therapist. I felt I was in good hands, and she was kind enough to fill my little nerd head with answers to all of the questions I had. Rachel massaged the back of my legs, and hips using the cups. Instead of pushing and kneading the muscles, the cups lifted but the sensation was similarly relaxing to traditional massage and felt great. Next, a large cup was placed on each butt cheek and left there for 30 min. See the photo above of butt lift cupping in progress. 
This part, I'd describe as feeling weird. It was an odd sensation, but didn't hurt. While the cheek cups were working their magic, Rachel used smaller cups to continue massaging my back, legs and arms. Tightening the skin on the back of my arms sounded like a fantastic idea. Then she moved on to my face with even smaller cups paying special attention to the nasolabial folds which could certainly use tightening and stimulation of collagen production. The body and face cupping felt very relaxing and I found myself in my usual massage trance I fall into.
How Vacuum Therapy Works⠀⠀⠀⠀⠀⠀⠀⠀
Suction stimulates the muscles, increases blood circulation, stimulates elastin & collagen production, and reduces cellulite & dimpling for a smooth, lifted appearance. Additionally, the suction reaches every level of skin down to the cellular level to separate tissue increasing lymphatic drainage eliminating congestion and toxins. Our bodies are complex. I'm a nerd and think the complexity of our bodies and how things work is super cool stuff. Vacuum Therapy is helping your body return to function in its ideal state providing medical, physical and beauty results.
You may have heard of or had a cupping massage that leaves marks. Vacuum Therapy is different. Cups are attached to a vacuum machine and the suction is adjusted to fit the treatment and the client. The treatment does not leave marks and cups are not left in one area long other than for the butt lift and breast lift.
The results?
Butt Lift Results- My butt was sitting higher; it looked muscular, and it was more rounded. It even felt bigger. Although the size increase was slight, I know my body, and it felt and looked like I had been doing glute exercises for weeks at the gym.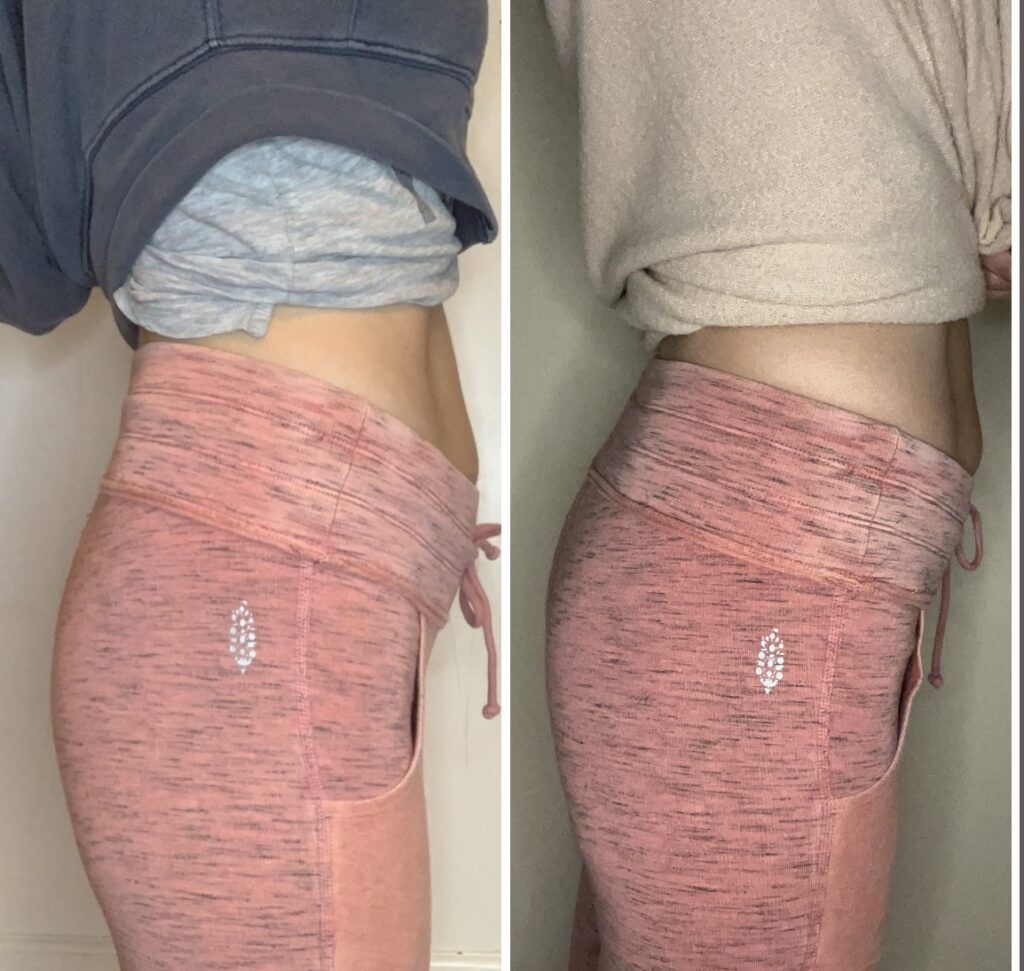 The biggest difference to my back-side was the back of my legs. My back-side view looked better, more youthful and lifted. I was impressed. I looked like a younger version of myself. If you're looking for subtle, natural-looking results, then vacuum butt therapy is worth a try. While it won't give you a dramatic size increase of your tush, it'll enhance the shape of your booty with less of a paid-for look, if you know what I mean. Butt Lift results are not permanent. Multiple treatments are recommended to see full results. I would recommend the non surgical butt lift if you are going on vacation or just want to look good for a special occasion. It was also fun to try. I'd do it again. AE Spa also offers a breast lift service. I was most impressed with the difference I saw to my body and face.
Body and Face Contouring Results – I was floored by the results of the cupping on my body and my face. I would run, not walk to get this service. I looked younger, better and more youthful. My nasolabial folds were plumped, my eyes lifted and as I mentioned, the back of my legs looked more youthful which is an area I'd say for me, I have noticed aging the most. Would it last?
One week later
My body and face still look lifted and younger.
In addition to the beauty benefits I experienced, here's a list of some of the issues therapeutic vacuum cupping can treat- lymphedema, fibromyalgia, acid reflux, IBS, parkinson's, loose skin from weight loss, c section and other scarring, and allergies. I even read it helps with the flow of your qi (chi) in the body which I am totally into. Qi if you're not familiar, is a Chinese word meaning life force or energy. Much like the body can have muscle tension and blockages from stress or injury, your chi can be blocked as well.
*My recommendation- customize and do one service with the add-on of time to have them hit your areas of concern- back of arms, abdomen, face. If you try it, tell me what you think. What I like best about this service is you're getting a massage to relax and relieve tension and leave looking great with a lifted more youthful appearance. Yes and yes.
xxoo,
Amy
If you try this service, snag some bonus time with the exclusive perk AE Spa is offering A-Listers.
*******
AE Spa is offering an exclusive deal for A-Listers on Vacuum Therapy. Purchase any Vacuum Therapy Service and receive a complimentary 15-minute Facial Cupping. Just mention you're an A-Lister when booking. This offer is good through Dec. 31, 2021.