Panache Vintage and Finer Consignment ♥ 1855 Monroe Avenue in The Brighton Commons, Rochester  (585) 473-5343
Barbara Ellen of Barbara Ellen Shops Local takes us to Panache and Panache Home and Design for some vintage and luxury resale finds for this season's holiday entertaining.
Don me now our gay apparel. Especially during the holidays, party style tips might end with the dress. But they begin with the home!
Mansion or apartment and everything in between, make sure your home sparkles as
festively as you this holiday season.
Quickest, most stylish, + most affordable way to deck your halls?
x
Timeless Tradition. The pieces you purchase from Panache will translate cross-season & certainly holiday to holiday.
Conversation Starters. One-of-a-kind, hand selected pieces that boast of taste and history.
On Trend. Who doesn't want a little fancy for their holiday? At Panache Home & Design, buy on-trend items that never feel gaudy, tacky, or cheap. Two words: Mid-Century.
THE DESIGN TEAM
Panache Home & Design, adjacent to Panache Vintage & Finger Consignment, is curated by three designers who, "mix different eras for a fresh & contemporary touch." This is what Amy Hockenbrock, owner of the Reed Homestead, explained as she showed me around the furnishings at Panache.
""we desire to inspire and help you live beautifully"
-Designer, Amy Hockenbrock
x
Courtney Craig – "Courtney Craig Textiles" – Textiles and Wallcoverings
Meredith Kulik – Vintage Made Fresh " Sweet William Vintage" painted furniture and upholstery
Amy Hockenbrock -"Reed Homestead" – Historically Inspired Decor
"stories behind the pieces"
-Amy Hockenbrock
x
The best part about decorating or gift-giving with and from Panache Home & Design is the Stories behind the pieces. Particular in a fabulous way about what's brought-in, the designers at Panache come to know the previous lives their pieces have seen. As Hockenbrock explains: "it has a little bit of history, but still feels new when giving it."
Here are my picks:
x
DECOR
1. Timeless Tradition – Fiesta Ware. (Bonus – Ice Bucket shown beneath is vintage.)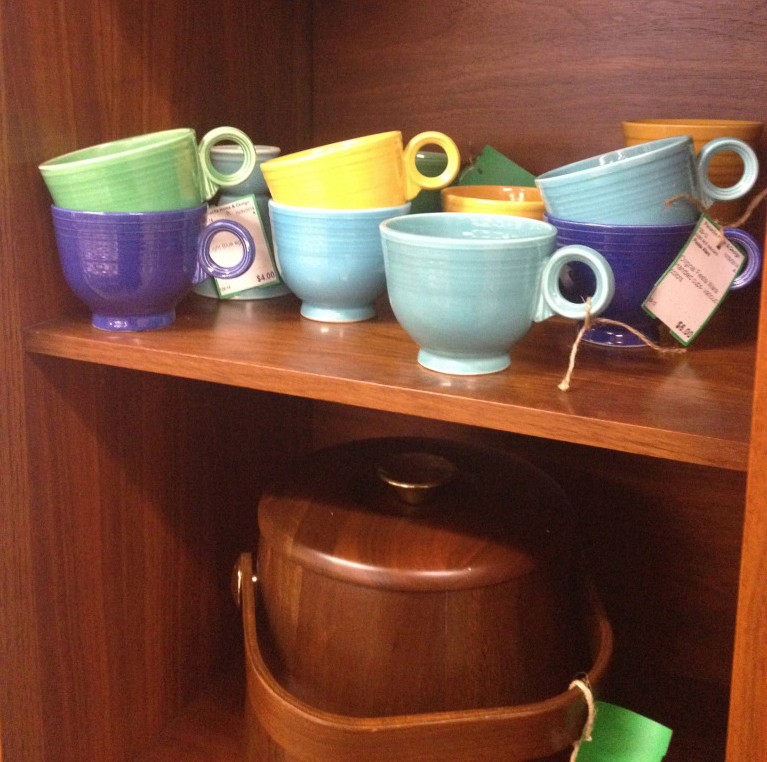 x
2. Conversation Starters – Antlers. (Bonus – Bavarian Hunting Trophy pictured below is from a NYS vendor, made of resin, & brand new.)
x
x
3. On Trend – Mid Century. Who doesn't want an elegant table while still looking relaxed?  Use of vintage and consigned modern show's your individual flair while being green! (Bonus – These sail boat glasses are the perfect vessel for every holiday cocktail … and they work in the summer, too!)
x
GIFTING
1. Timeless Tradition – MacKenzie Childs. (Bonus – Signature, Hand Painted, Local, & Quality. You can only go right.)
x
2. Conversation Starters – Courtney Craig Textiles. (Bonus – Buy pillows for a one-of-a-kind comfort.)
x
3. On Trend – Cutlery. (Bonus – Never been used and invaluable to any cook in any kitchen, any time of year.)
be a "savvy shopper" -Amy Hockenbrock
Before logging onto your favorite online shop & browsing their wares, step inside Panache Home & Design.  Located near 12 Corners in Brighton, NY – it's hardly 15 minutes from anywhere (or everything) in Rochester.  Allow an expert from the Home team to assist you with home goods & gracious gifts that make you feel even better as well as help you with your decorating needs.
Panache Home & Design is located at 1855 Monroe Avenue at the Brighton Commons
Open Tues, Wed, Fri 10-5:30 , Thursday 10-7 and Saturday 10-4.
look good, feel good
This holiday season, Shop Local Rochester reminds you to #Roc the Holiday & to Look Good, Feel Good while doing it. Panache Vintage & Finer Consignment along with Panache Home & Design do just this.
(And just in case you're curious … I bought it!)
Make Panache a part of your home, holiday, & look this season!
Happy Holidays … And Happy Shopping.
x
x
x
♥ Shop Local Rochester

-Barbara