These energy bites are everything you never knew was missing from your life.
Ask anyone who knows me, I am far from a chef and the last thing I thought I would ever do is share a recipe to the masses, but this one is loved by everyone who tries them, so there you have it, a new first for me. I combined a few similar recipes I found online to make this recipe below.
Here is how you make the magic happen. It's easy, quick and they are great after freezing too so you can make a large batch and freeze some. The recipe is customizable too so you can try different variations. My favorite variation is with agave or a mix of agave and one of the other sweeteners, and I use slightly less sweetener.
INGREDIENTS:
2 cups Old-Fashioned Oats (dry)

1 1/3 cup sweetened coconut flakes
1 cup Peanut Butter
2 tbs chia seeds
4 tbs ground flax seeds
Pinch of salt
¼ tsp cinnamon
1 cup mini-semi sweet chocolate chips
2/3 cup of honey, agave, or maple syrup (I use local raw hone)
2 tsp. vanilla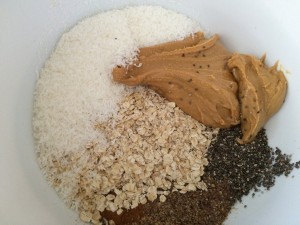 DIRECTIONS
1. Through everything into a bowl and stir until completely combined.
2. Refrigerate "dough" for about 30 minutes.
3. Roll into balls (about 1 inch in size). I used a cookie scoop to make it go a little faster and to get more uniform *balls*. Store in an air tight container for about 7 days in fridge.
Notes:
It is not really necessary to refrigerate the dough. It does make it a little easier to form the balls though if the dough is chilled.
-Amy Riposo, A-List Editor
Top Photo courtesy of Let's Get Cookin'