By Amy Riposo, A-List Editor
The Autumn Festival of Ales is one of the most unique beer festivals around.  On Saturday Sept. 30th, from 1-5pm, over 2,000 beer lovers will travel to Honeoye Falls to sample over 40 different craft beers. Many people don't know this, but CB Craft Brewers brews all of the beer sampled at the festival.  This includes their own CB brand beers, as well as some of the private label & contract beers brewed by CB for pubs, restaurants, and breweries all over NY. This festival is the one time you can sample them all in one location.  Check out the list of private label beers.  You've probably had some and didn't even know it was brewed at CB Craft Brewers.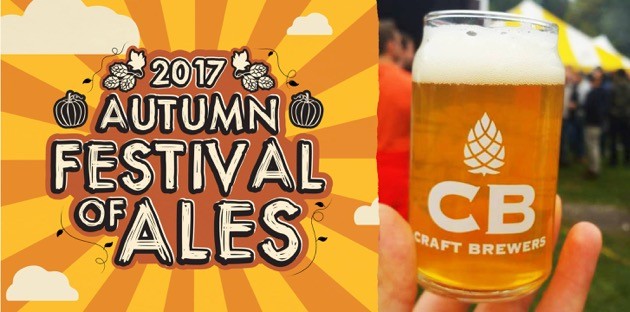 The festival takes place in the Fireman's Field located at 270 Monroe St., in Honeoye Falls, NY.   Each year (this is the 19th), the festival also features live local music and food vendors. This year's fest features the local band Dave Riccione and Friends, a chili cook-off to benefit Mercy Flight, Dukes Donuts, Smoking' Pete's BBQ food truck, California Rollin' Sushi, and Santiago hand rolled cigars.
Get your tickets in advance and save $10.  Or better yet, enter to win a pair at the bottom of this post.
Tickets are $35 in advance, $45 at gate, $7 non-drinking (available only at the gate).  Tickets are available at the local establishments who proudly serve CB Brand and CB Signature Beer.  View Ticket Locations…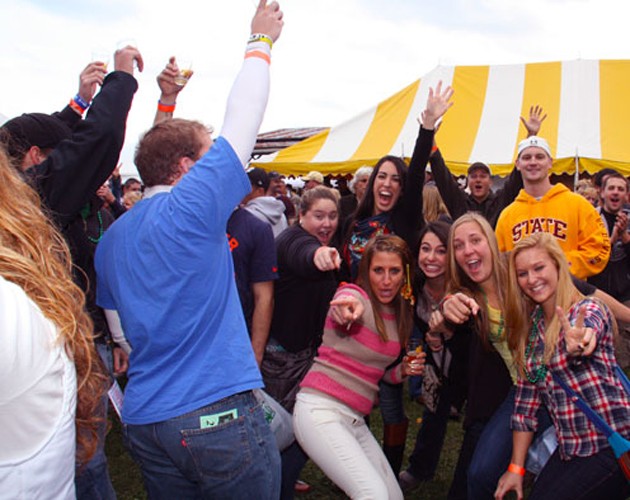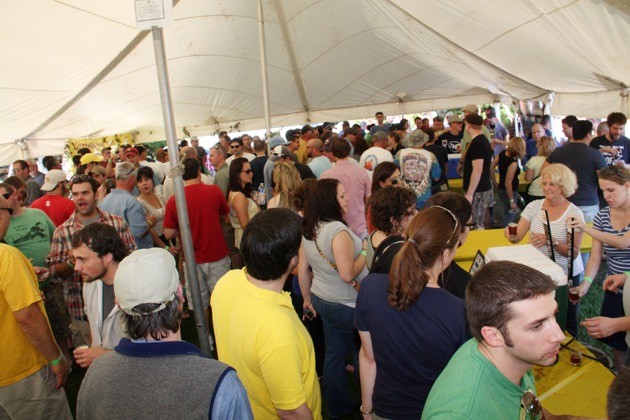 INSIDER INFORMATION:  Festival goers will receive a complimentary collectible tasting glass, as well as have access to sampling specialty brews like the CB Wet Hop Caged Alpha Monkey IPA and CB Brewer's Whim Munich Dunkel Lager. Tickets are scarce the Thurs. or Fri. before at the restaurant/bar locations so plan ahead. If you don't, you can pick them up at CB Craft Brewers until 8pm Fri.  There is usually a line to start off the day's event at 1pm. There is usually a line to start off the day's event at 1pm. Wait until 1:30 to avoid standing in line, or use the time to go to the brewery for a free tour before the festival.
Festivals are even more fun if you win your way in. Enter to win the pair of tickets A-List is giving away.  Winner will be announced Wednesday Set. 27  at noon.
More about CB Craft Brewers
We've all heard of CB Craft Brewers, one of the first breweries in our area, but how many have been there? Well quite a few. If you are not one of them, I strongly suggest you make a visit to this brewery a plan in your immediate future.  They're known for their gourmet burgers (Thursdays they're only $9) and the tasting room is a great place to sample beer. Flights are only $6 and include six 3.5 oz pours of any of the beer they have on tap that day.  They also serve a popular brunch which includes a beer cocktail menu with options like the Owl Nighter with Night Owl Cream Porter, chilled Mocha, topped with ice cream or the Hairy Mary, their version of the blood mary with Mackumba Double IPA.  View the Beer Cocktail and Brunch Menu
Celebrating 20 years of brewing craft beer
CB Craft Brewers is in the middle of a field with no visible neighbors. It lends to a unique atmosphere. One of their tag lines, is Fresh Air, Fresh Beer. Another unique aspect of CB Craft Brewers is that they brew over 100 different beers a year. As I mentioned above, they brew their own beer and private label beers. They also brew contract beer which is beer they brew from another breweries recipe for that brewery. Its a good partnership for breweries who may not have the expensive brewing equipped, space to brew their own, or may not want to.  This year, CB celebrates their 20th anniversary of brewing craft beer. In 1997, owner Mike Alcorn started brewing beer in a small brewery in Honeoye Falls called Custom BrewCrafters. 10 years later, they outgrew the space and moved out of their 1,500 sq foot facility in Honeoye Falls to a 10,000 sq foot building just down the road from their old brewery.  They've been there for ten years.
Live Music Saturdays
This August, the brewery added their Barnyard Bandstand and they're hosting live music Saturdays through Oct. (with the exception of Sept. 30th when the Bandstand is going down the road for the Autumn Festival of Ales).  Bands play afternoons and evenings creating a unique ambiance with lawn games, and an outdoor grill master cooking delicious grilled skewers. View the music line-up 
################
CB Craft Brewers  ♥ 300 Village Square Blvd., Honeoye Falls, NY (585) 624-4386
Want more? Check out our Inside Look Video as the ROConnoisseur tries their new brunch and beer cocktails.
Click here