Who Made the List? Absolutely Delicious Restaurant Selections.
What to Order Where in Rochester.
Our seasonal Best Dish List highlights area chefs and the most recommended dishes in town. 
Restaurant:  Vive Bistro and Bakery, 130 East Avenue, Rochester, NY  (585) 481-2021
Chef: Mark DeMara
Summertime is on the horizon, which means outdoor dining and summer flavors surfacing on new menus. Vive Bistro and Bakery set up outdoor seating, and unleashed their new seasonal menu June 1 featuring gorgeous dishes that are both pleasing to the eyes and to the palate. Vive will "feed your passion" with their take on artisanal French cuisine where vegetables, fruits, nuts and grains take the center stage.  Owner Pamela Hathaway and Executive Chef Mark DeMara also work with local farmers and producers to bring diners the freshest ingredients.
x
The Yuzu & Melon is one of the featured dishes, crafted to represent the falling raindrop from a leaf.  What is Yuzu?  It is a Japanese citrus fruit that can enhance and build a flavor within a dish.  The result is a light dish that is citrusy, crisp, and fresh.  It is the perfect representation of summer.  Watercress laces the top of the dish, with perfectly crisp and sweet candied pine nuts delicately placed throughout.  Grilled pineapple adds a pop of color throughout the dish.  When the pineapple is grilled the sugars caramelize the sweet fruit and the flavor is intensified.  One bite and it's as if the heavens have opened.  It's the "ahhhh" moment.  
x
This dish is light and intended as an appetizer, rather than a main course.  The great news is that it will pair perfectly with many of the new menu items.  If you are looking for a heartier pairing, then the poutine is a must featuring fresh cut fries with smoked mozzarella vegan cheese in a rich mushroom gravy.  The poutine is undeniably the best poutine I have ever had.  If you are looking for a lighter pairing, then the Forager, containing warm and cold mushrooms, pickled ramps, blood orange, English peas, swish chard, and crispy salsify is a perfect dish to complete your meal.
 x
Executive Chef Mark has an undeniable passion for crafting the beautiful presentations that feature both simplistic and complex flavors that can be seen in the new menu. Live easy; enjoy the new menu at Vive Bistro and Bakery while sipping on a tasty in-house drink special thinking about summertime.
 x
-Sip and Savour Rochester blogger Stephanie Hanna, A-List Contributor
To learn more about Vive Bistro and Bakery visit the Sip and Savour Rochester blog for the June posting.
 x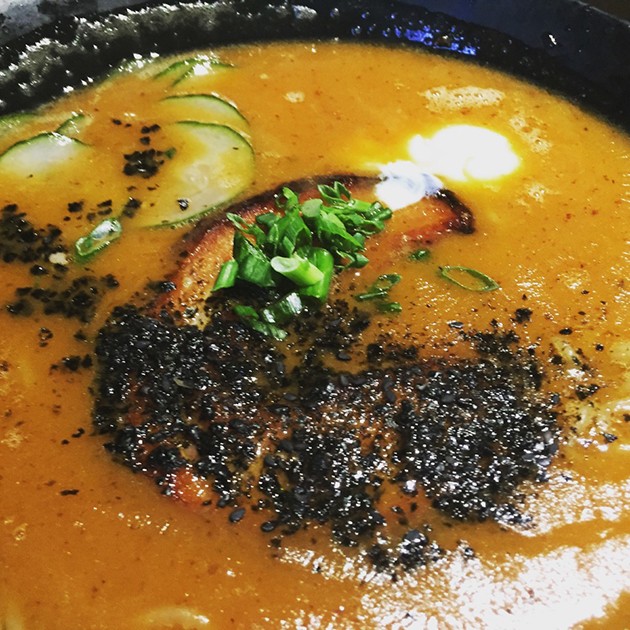 Dish: Ramen Bowl
Restaurant:  ButaPub, 315 Gregory Street, Rochester, NY  (585) 563-6241
Chef: Asa Mott
If you are familiar with celebrity chef David Chang, you are fully aware of the ramen bowl trend that has infiltrated the food culture. Chang's Momofuku restaurants dish out some of the best ramen in country, influenced by his time spent in Japanese ramen shops. Lucky for the people of Rochester, we have an eatery in the ButaPub that can keep up with this ramen craze. Their marque ramen dish comes in a large bowl of delicious broth. Then, layered throughout are a creative assortment of miso-chile tare, light ramen noodles, pickled cucumber, poached egg and sprinkled with a furikake seasoning. The tastiest part to this dish is the two pieces of perfectly cooked pork belly that are placed on top. All of this items mix together for an unbelievable soup that is packed with Asian flavors. Another dish to get while at ButaPub are the Korean style chicken wings that laced with a ginger sauce, sesame and scallion.
Seize the Weekday is a great (local) website to keep you in the know about Rochester area weekday deals. Check them out!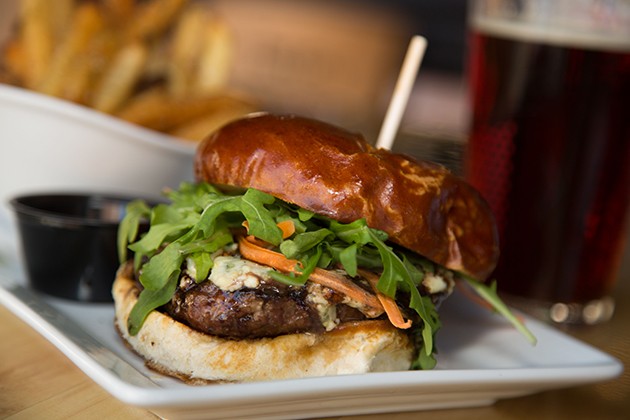 Dish: Balsamic Blue Cheese Burger
Restaurant:  Bar 145, 71 Celebration Drive, Rochester, NY  (585) 360-2458
When a new restaurant makes big claims about their big burger, I make it my business to investigate. Because I know you're counting on me. And because, well, burgers.
x
Recently opened in the new College Town development near the campus at the University of Rochester, Bar 145 is a gastropub that specializes in burgers, bands and bourbon. Their menu says the restaurant got its name because 145 degrees is the temperature of a perfectly cooked medium rare burger.
x
My expectations were high.
x
There are 10 burgers on the menu but you can also build your own from their selection of 10 artisan cheeses, 14 house-made sauces, and more than 23 toppings. When reviewing a dish, I prefer to order from the menu, out of respect for the chef's vision and to better represent what you, our reader, would be likely to sample. I also believe that the test of a good burger is whether it can it can stand on its own without a lot of fancy finishes. When it comes to the burger at Bar 145, the answer is a resounding yes.
x
I chose the Balsamic Blue because of the simplicity and originality of its preparation, which gave me the opportunity to appreciate the burger itself, and also to get a sense of just how gastro a gastropub Bar 145 was likely to be.
x
Friends, I'm going to say something surprising now. Something I've never said before. This was the best blue cheese burger I have ever had.
x
As you've heard me say many (many) times in this column, innovation and creativity never go unnoticed by me, but ultimately I'm a stickler for quality and harmony. Give me simple, well prepared ingredients that are best in quality, combined to enhance each other other's natural flavors and you've made me a happy food writer. In consideration of that ideal, this burger was an unmitigated success.
x
The obviously fresh, perfectly prepared char-grilled patty was delicious in and of itself. It came topped with fresh, tangy, rich, Stella bleu cheese which melted into the meat, enhancing the flavor of the beef. A subtly sweet balsamic glaze balanced the saltiness and sharpness of the cheese and richness of the meat. In a twist I didn't expect, fresh arugula and shaved carrots were a welcome addition, balancing all that rich, fatty goodness with freshness and crunch, while a pretzel roll kept it earthy and light-hearted. The burgers are also served with fresh cut truffle fries of the same impressive quality. At just $13, this is a fantastic burger at a fantastic price.
x
-Allison Zimmer, A-List Contributor
x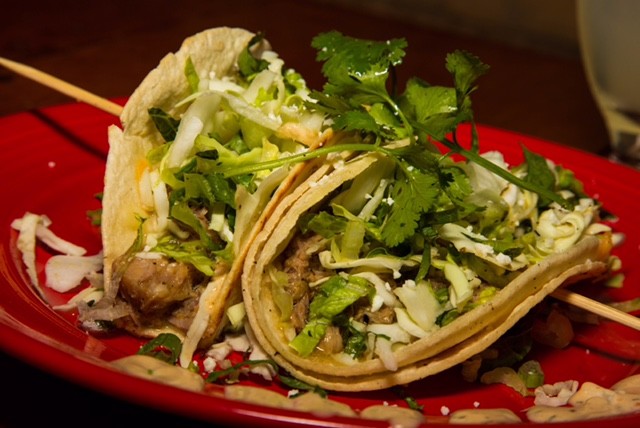 Dish: Pork Carnitas Tacos
Restaurant:  La Casa, 93 Alexander Street, Rochester, NY  (585) 730-5025
x
This Best Dish piece wanted so badly to be a Best Patio piece, but I'm sorry, sunny, spacious patio, the pork carnitas were just too good.
x
On this gorgeous, sunny spring afternoon, plenty of people were already taking advantage of the margarita special and the unseasonably warm weather out on the patio, but I was here for the tacos.
x
Like the burgers, pizzas and sandwiches we've reviewed, the pork carnitas tacos at La Casa sound simple but earned Best Dish status thanks to thoughtful preparation and best in quality ingredients – in this case, a citrus and cerveza marinated pork shoulder roasted low and slow, wrapped in a pillowy flour tortilla and topped with a spicy-sweet chipotle cream, cheddar-jack cheese blend, house made pico de gallo and fresh romaine with a hint of what I suspect was cabbage.
x
Every taco on their menu is cooked to order, made without shortcuts and using only the finest ingredients. When a dish is as simple as this one is, you can't hide the quality of the ingredients, and La Casa doesn't try. Instead they let them proudly stand out in both beautiful presentation and proportion, for a messy, flavor-packed, immensely satisfying taco. As always, before diving in I took the time to appreciate each ingredient on its own, and found that the pork absolutely melted in my mouth, the pico de gallo was bright and fresh, and the chipotle cream packed just the right amount of smokiness and heat.
x
Bold, bright flavors, rich, succulent pork, and an atmosphere that seems to make even Tuesday afternoon feel like a celebration. Viva La Casa.
x
 -Allison Zimmer, A-List Contributor