Who Made the List? Absolutely Delicious Restaurant Selections.
What to Order Where in Rochester.
Our Best Dish List highlights area restaurants and the most recommended dishes in town.

Sapori Cafe & Catering – Roasted Pumpkin Soup
Powers Bldg., 16 W Main St, Rochester, NY
We couldn't possibly write a column about the flavors of fall without talking pumpkin. And man alive, did we ever have a harvest bounty of pumpkin options to choose from. We made the excellent choice of stopping by Sapori Cafe for their house made, seasonal Roasted Pumpkin Soup with fig balsamic drizzle and grated asiago cheese.
You won't find canned pumpkin in this soup. Chef Joe is roasting fresh, local pumpkins whole and pureeing them to create a dish that manages to be both satisfying and hearty without being overwhelmingly rich. That's largely thanks to its chicken stock base, a departure from the heavy, cream based root vegetable soups we're accustomed to seeing. The roasted pumpkin and chicken stock are gently blended with brown sugar, cinnamon, nutmeg, garlic and lastly, sherry wine, the magic ingredient that's waking up the flavors of this soup and giving it a level of interest uncommon to this familiar dish. I adored the soup itself, but as he so often does, Chef Joe outdid himself by topping the soup with a tangy, sweet balsamic fig drizzle full of harvest flavor, and a grate of fresh asiago cheese. Layers of flavor and texture, and a salty, nutty bite from the cheese made this soup unequivocally a Best Dish
-Allison Zimmer, A-List Contributor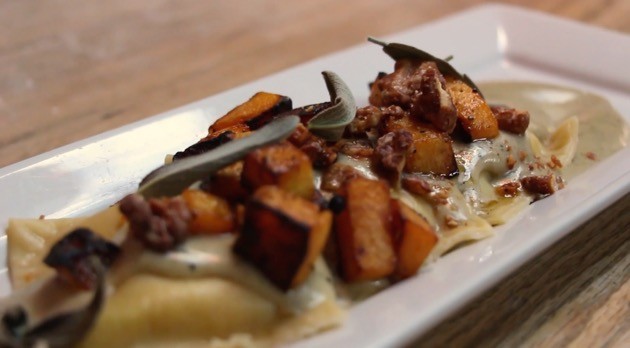 2 Vine- Pumpkin Ravioli
24 Winthrop Street, Rochester, NY
Website (585) 454-6020
There's a reason why certain dishes become classics, and why we revisit particular flavor combinations time and again. The pumpkin ravioli at 2Vine is an excellent example of both. This longtime fall favorite is getting the 2Vine treatment this autumn, wherein a simple – and admittedly sometimes tired – dish is reinvented as an offering worthy of the word "special". In keeping with their commitment to quality, 2Vine is offering the pumpkin ravioli only as a special and not on the regular fall menu, owing to the limited availability of fresh, 2Vine quality pumpkins. Those lucky pumpkins that make it to the 2Vine kitchen are seasoned with traditional fall spices and wrapped in fresh, house made pasta, then tossed with a luscious brown butter cream sauce. The final flourish is a sprinkling of crunchy, toasted walnuts, which further enhance the seasonal flavor and add texture and dimension. Whether you love pumpkin or hate it, the pumpkin ravioli at 2Vine is well worth a try. These delicious little pockets of fall sunshine are a beautiful melding of sweet and savory flavors, with tender pasta and creamy sauce playing against crunchy walnuts for a dish unlike any you've had elsewhere. Rich, flavorful, memorable, this is a special worth waiting for, and an all around Best Dish – in season or out.
-Allison Zimmer, A-List Contributor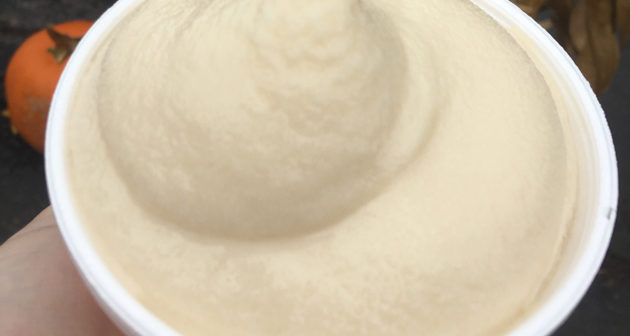 Shutt's Apple Mill – Apple Frost
1063 Plank Rd., Penfield, NY
Nothing consoles New Yorkers at the end of summer quite as well as the tastes and smells of fall. From cider to cinnamon, there's a wide range of ways to get your fix. One unique dish that brings crowds of visitors to Schutt's Apple Mill in Penfield, is the Apple Frost. Apple Frost is the perfect name for this refreshingly sweet, frozen creation of apples and cream.
Made in collaboration with Pittsford Dairy, Schutt's freezes new batches of the treat every day. To best describe the dish, I would call it a mixture of sweet cream ice cream and frozen applesauce. It's not overwhelmingly sweet, but rather the perfect balance of tart apples and ice cream. This dish is unlike any other frozen treat I've tried. I highly recommend snagging one next time you are in the Webster/Penfield area. PS. Eat quick, it melts fast!
– Christina Kostarellis, A-List Contributor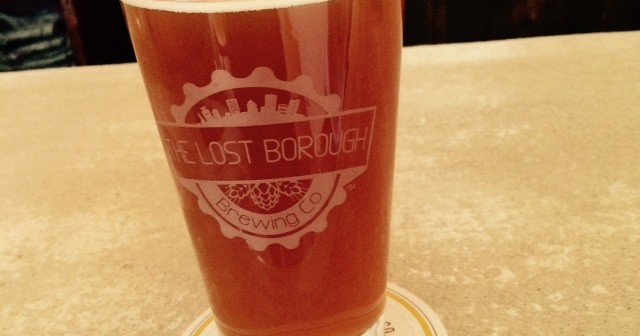 Lost Borough Brewing – Scarecrow Pumpkin Ale (gone for the season)
543 Atlantic Ave., Rochester, NY
This beer is one of my favorite pumpkin beers. I am an Ale fan and a pumpkin fan so together I was expecting good things. Unlike most pumpkin beers, this one is crafted using the real stuff- no inauthentic pumpkin flavor or pumpkin additives.
It is made with real pumpkin, delicately chopped and smoked to perfection. For real. The brewer, smokes the pumpkin himself for this delicious beer. The result is a subtle yet seasonal ale. The pumpkin isn't overpowering and as each sip touches your lips you are reminded of fall. What really makes the flavor stand out is the addition of ginger, cinnamon and other special ingredients for a spice profile unlike any other.
– Amy Riposo, A-List Editor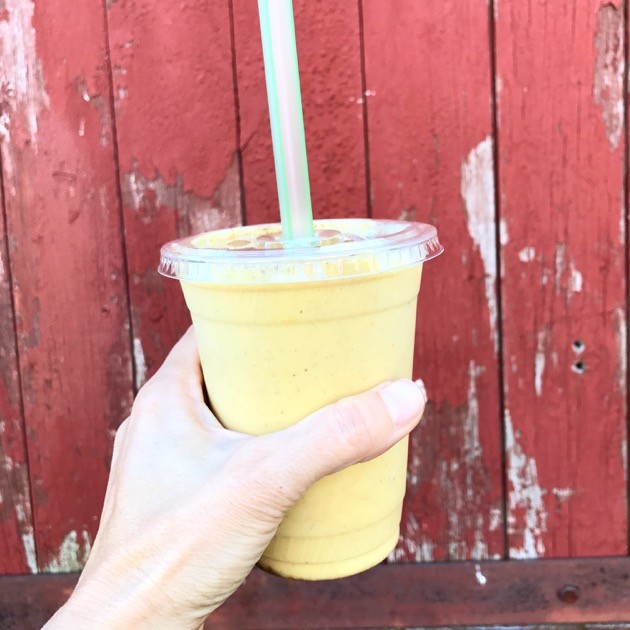 Soul Juicin'
7 Shoen Place, Pittsford NY
The seasonal pumpkin smoothie at Soul Juicin will feed your soul with fall flavors and its packed with nutrition so you're fueling your body with ingredients that are good for you. Thats what I call a win win. This beauty is made with real organic pumpkin blended with nut milk, banana, cinnamon and vanilla creating a miraculously luscious smoothie. Creamy and thick, just this side of sweet. Soul Juicin has a line of nut milks so you can try it with almond, cashew, walnut or hazelnut milk. Vit. A, C and antioxidants will help you look good and feel good! Now its a win, win win. It's also dairy free and gluten free for those of you with food sensitivities. Soul Juicin also has other fall treats to try like the pumpkin bar made there, and chai latte which also knocked my socks off. The Chai latte is made with The Chai Guy tea and it's another example of how real food should be- made with real food, not powdered artificial flavor packets.  If you dont care about any of that, get one becasue its also darn tasty!
– Amy Riposo, A-List Editor
Rochester A-List is committed to finding and linking A-Listers to the best of everything in Rochester, NY. Go out and try these delicious dishes and tell us what your favorite dishes are on our Facebook Page.