Who Made the List? Absolutely Delicious Restaurant Selections.
What to Order Where in Rochester.
Our monthly Best Dish List highlights area chefs and the most recommended dishes in town. 
Dish:  Vegan Voodoo Sandwich Paired With a Side of Kale Tabbouleh
Restaurant:  Hart's Local Grocers,  10 Winthrop Street, Rochester NY  (585) 521-4278
The sandwich was a true indulgence, vegan comfort food at its finest. The "meat" of the sandwich was a Field Roast smoked tomato, which created a savory flavor bearing a texture similar to tempeh. I liked that it wasn't trying to be anything- and definitely gave the sandwich substance. However, I felt that the real stars of this sandwich were the sidekicks- bitter-sweet arugula, grilled onions, red peppers and ohhh the chipotle veganaisse took me to my happy place, all served up on a fresh baked ciabatta roll! I felt…like I was eating a vegan rueben. So. Good.  Another bonus that warms my heart is that those roasted red peppers I mentioned- did not come out of a jar but were roasted up fresh in-house!
I was also eyeing the kale tabbouleh salad as I walked by prepared foods department, and decided to add it as a compliment to my awesome sandwich. Not only because my horoscope told me to amp up my immune system to avoid a pesky virus- but because it looked like the freshest thing on earth. A traditional tabbouleh salad has a ton of parsley, and this one has some, but gets most of it's green from kale, my favorite lean-green-germ-fighting-machine. The vibrant finely chopped kale is joined harmoniously with fresh lemon, olive oil, shallots, grape tomatoes, cucumbers, and organic bulgar wheat. You simply cannot possibly get a better ratio of great flavor to health. This will be a new staple of mine, as I can snag a decent portion of it to go.
As a busy vegan, I'm stoked to find more exciting eats, and I'm certain all of the above will be well received by even by the most dedicated meat connoisseurs.
-Amy Hebert, A-List Contributor
Dish:  Acai Bowl
Restaurant: Breathe Yoga,  5 Locations (Pittsford, Rochester, Greece, Webster, and College Town). Visit the website for location details and phone numbers.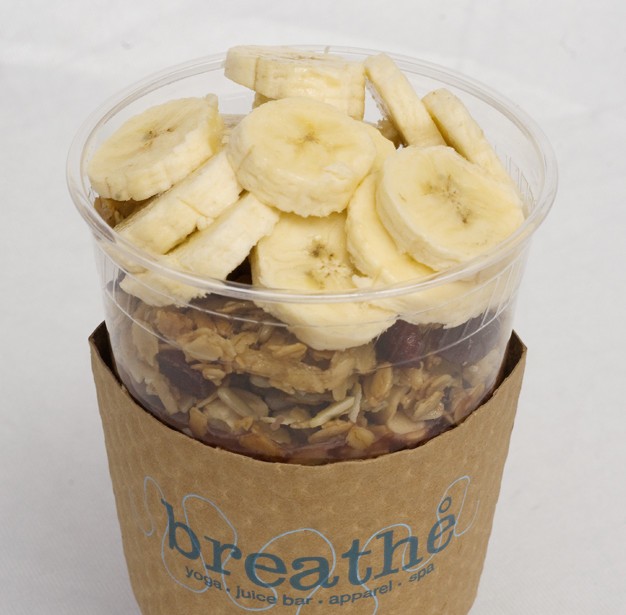 Imagine you are looking for a new dish to try that incorporates fresh and whole ingredients, that is prepared from scratch in a simple way, and is not only good for you, but makes you feel even better after consuming it. Well look no further, the Acai Bowl from breathe yoga has come to your rescue!  Cyndi Weis, owner of breathe yoga and creator of this dish believes in using whole real foods to help us make good choices and keep our bodies in balance.
 The Acai Bowl is comprised of 4 delicious ingredients: Acai (ah-sah-EE) blended with your choice of milk (Soy, Almond, or Hemp) topped with the breathe Housemade Granola, and sliced bananas.  The Acai berries are sourced from Sambazon, straight from the Palmberry Trees in the Amazon and are known for their powerful antioxidants. These berries are blended with your choice of milk (Soy, Almond or Hemp); it's up to your preference which one, but I enjoy mine with Almond milk because I enjoy the nutty flavor it brings.
One of my favorite parts of the bowl and truly the secret ingredient of this dish is the housemade granola. This was actually a recipe passed down from Cyndi's mom, who was a pioneer in healthy eating. Don't you love this dish even more now? All of this crunchy granola goodness is topped with fresh sliced bananas to round it out. You can customize this bowl to your liking with not only which milk you prefer, but their other optional add-ons as well. For a little extra you can add the Cacao Nibs, which have a chocolatey taste and are rich in fiber and magnesium. Add on seasonal berries for some more flavor. Pomegranate berries are in season right now. I personally love adding the Cacao Nibs and Pomegranate seeds; makes me feel like I'm indulging but in a good way! This dish is special not only because of the ingredients, but the love Cyndi and her staff pour into making this dish and everything else they execute. I now have a new go-to dish for breakfast, lunch, and dinner!
– Sir Rocha Says blogger Linh Phillips, A-List Contributor
Dish:  Socca Pissa
Restaurant: Vive Bistro and Bakery,  130 East Avenue, Rochester,  NY  (585) 481-2021
I am thanking my lucky stars for Vive right now. No. Really. I am smiling as I write.
Three best friends: Pam Hathaway, Nick Lemesis, and Keith Savino opened Vive Bistro and Bakery this past month on East Avenue in downtown Rochester. An upscale French vegan bistro + comfortable casual vibes = a fresh take on vegan fare we have yet to see in le Roc. Oui, s'il vous plait!  (Yes, please!)
There were so many items on the menu that I wanted to try (don't worry I'll be back), and I finally decided on the Socca Pissa.  The "Tomato, Tomato, Tomato" to be precise. A twist on the traditional pissaladiere, socca is a crust made from chickpea flour.  This version is infused with rosemary and oregano, and it's gluten free and full of protein. Many compliments to the chef for the texture of the crust. It was "spot on" as Gordon Ramsey would say- and with just the right combination of soft and crunchy.  I enjoyed my first slice with a base layer of savory tomato pesto, topped with Provencal roasted tomatoes and fresh sliced tomatoes. And don't forget the magical drizzle of balsamic reduction.  Magnifique!
Vive is la best. I am one satisfied French vegan girl.
-Amy Hebert, A-List Contributor
Dish:  Shanghai Waldorf Salad
Restaurant: P. F. Changs China Bistro,  Eastview Mall, Victor,  NY  (585) 223-2410
Kale.   It's an ingredient so popular that it's almost become a buzzword. We're juicing it, sauteeing it, baking it into chips and blending it into smoothies. But it may surprise you to learn that there aren't many restaurants simply serving it in a salad.
x
Shame on them. 
x
The Shanghai Waldorf Salad at P.F. Changs China Bistro is at heart, a kale salad.  They're not hiding the kale by tossing it with mixed greens, or shying away from the boldness of its flavor and texture by over-dressing it. Instead, fresh, leafy green kale is the star, its unique flavor and hearty texture appearing front and center. The greens themselves are sliced into delicate ribbons, perfect for a salad. The deeply green, almost cabbage like flavor is complemented by a miso lime vinaigrette thoughtfully crafted from rice vinegar, soy sauce, agave nectar, shallots, minced garlic, ginger, chile paste, fresh lime juice and miso paste. It's the perfect accompaniment to the flavor and texture of the kale (strong enough to stand up to it but not overpowering)s applied in just the right ratio – I was able to discern both the distinct flavor of the dressing and the unique (and delicious) flavor of the kale. Perfect. 
x
Also in perfect balance to the kale are the salad's other elements; crunchy candied walnuts, crisp apples, plump grapes and ripe grape tomatoes, adding the sweetness and crunch we all love in a salad, and which are especially important against so strong a flavor profile as kale. The salad can also be ordered with chicken, which I chose (and it was juicy and delicious, thanks) but alone it is definitely hearty enough for a meat free main course (and lunch the next day) (seriously, did you see the size of this thing?).
x
This was a wonderful taste of spring in the dead of winter – a memorable salad with a gorgeous presentation, and I enjoyed every bite. 
x
-Allison Zimmer, A-List Contributor