Who Made the List? Absolutely Delicious Restaurant Selections.
What to Order Where in Rochester.
Our Best Dish List highlights area restaurants and the most recommended dishes in town.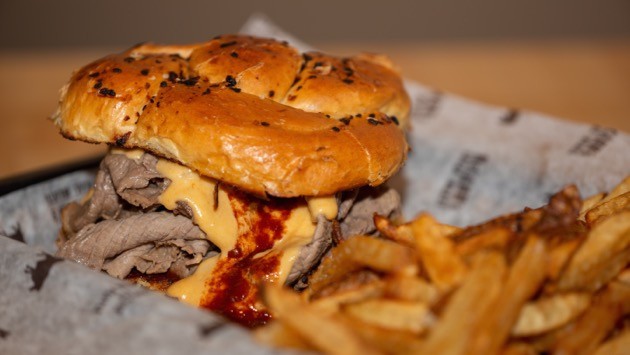 McCann's Local Meats- The Farby
739 S. Clinton Ave., Rochester, NY  (585) 328-6328
Website
An open and honest jab at its fast food counterpart, its name is actually short for "F$*k Arby's" – and they mean it. It's a delicious slow food twist on a classic fast food favorite. You won't find any processed ingredients or compressed beef here. Like every ounce of beef you'll find offered at McCann's, the roast beef inside the Farby is sourced from family farms within 60 miles of the shop. In this dish, it is also seasoned in McCann's own proprietary rub and cooked to exactly 130 degrees, before being gently heated in its own mouth-watering au jus.
It doesn't stop there. In an effort to recreate a better, 
slower,
 stronger version of the sandwiches he loved as a kid, McCann turned to 
Amazing Grains
 just down the road in Fairport. They were able to give him exactly what he wanted: a delicious, fluffy, chewy, tasty, freshly baked version of the roll we all know so well, complete with those (delicious) little burned onions on top. McCann's gives it a final gourmet flourish by grilling it with mayonnaise instead of butter, which provides superior flavor and texture.
The cheese sauce was given a similar treatment. It's scratch made from Genesee Cream Ale (brewed right around the corner at the 
Genesee Brewery
) and delicious, tangy cheddar from 
Muranda Cheese Shop
, arguably one of the best cheese shops around (they've got my vote) and accompanied by a heap of caramelized onions. McCann also worked tirelessly over a period of months to recreate a homestyle version of Arby's signature barbecue sauce, an effort that has paid off in spades. Juicy, hearty, cheesy, tangy and wholly satisfying, the Farby is not only the single best roast beef sandwich that this writer has ever had the pleasure of sampling, it is also among the best all around sandwiches I've ever enjoyed (and between you and I, dear reader, that's really saying something).
Stop in to McCann's on your next lunch hour and treat yourself to a sandwich that is both a nod to nostalgia and an excellent example of good food, done right, by good people. Maybe you won't leave saying, "F&*k Arby's", but I'll happily excuse you for saying, "F&*K yes, McCann's!"
-Allison Zimmer, A-List Contributor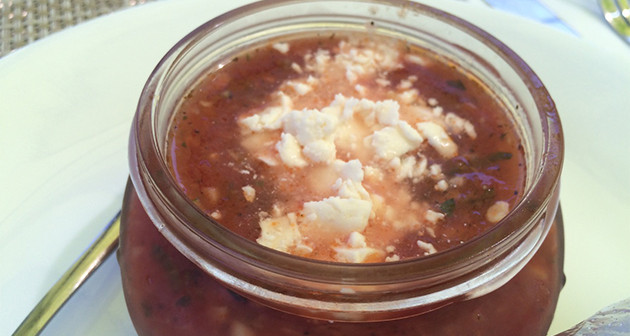 Olives Greek Taverna- Watermelon Gazpacho
50 State Street, Shoen Place, Pittsford, NY (585) 381-3990
Website
Tucked in on Shoen Place along the canal in Pittsford, is one of Rochester's best spots for authentic and delicious Mediterranean cuisine. Olives Greek Taverna dishes can transport you to the Mediterranean with the flavors of Greece without leaving town.
Traditionally Gazpacho is a summer hot-weather soup, which makes sense. It's served cold. You may think it odd to recommend a cold soup in the fall, but this delicious soup is a customer favorite and it remains on the menu through October or when it gets cold due to customer requests long after summer ends, so you are in luck. There's still plenty of time to go try a cup or a bowl.
I've had a love affair with Gazpacho since I first tried it on Martha's Vineyard at Louis' Cafe, sadly no longer there. Since then, I've been on the hunt for any versions that compare and have even perfected my own recipe. In short, I am a Gazpacho snob.
Olives version is a unique twist to the traditional made with the addition of watermelon. Chef Nick's inspiration was a popular greek watermelon salad. Fresh tomatoes, peppers, cucumbers, and onion are hand chopped, then combined with a puree of watermelon, fresh mint, champagne vinegar, and extra virgin olive oil. The result is delicious served with a sprinkle of feta on top. Hurry and get yourself some of the best Gazpacho I've ever had right here in Rochester, NY.
It's available for both lunch and dinner (but you'll have to ask for it. It's not listed on the menu).
– Amy Riposo, A-List Editor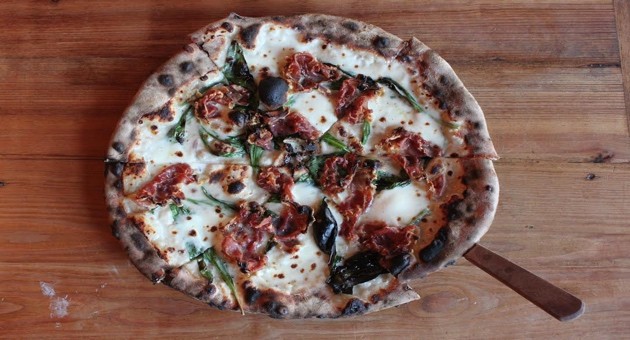 Rohrbach Beer Hall & Brewery – Wood Fired Pizza
97 Railroad St, Rochester (585) 546-8020
Website
The Spring time mood shift is officially upon us! People are smiling, windows are open, and our favorite sunshine fares are popping up on menus across the city. Now, I don't know about you, but when I close my eyes and picture my ideal sunny weather, kick back n' relax meal, my mind instantly goes to a fresh, sizzling pizza, straight out of the oven, paired with a crisp, cold beer. I've had my share of wood-fired pies in the past, and my foodie travels have led me to believe that no one does it quite like Rochester's very own Rorhbach's Beer Hall & Brewery!
Chef Steve Frank puts the Beer Hall's authentic, 800 degree wood-fired oven to work daily, serving up perfectly charred crusts that bed only the freshest of locally sourced ingredients, every time. With new pizza specials featured week in and week out, I was super pumped to see what Beer Hall Manager, Emily Hoyt, had in store for my visit. Light, fluffy, but packed with a punch of flavor, my Rorhbach Blueberry Ale was partnered up with a pizza that set the bar higher than high. The airy, yet stable crust was slathered with a truffle béchamel base and topped with a harmonious quilted layer of fresh mozz, wild ramps, and prosciutto. The salty tang of the meat melded nicely with the earthy, garlicky spread of sauce and blanket of melted cheese. It was a deliciously funky bite that kept me coming back for more, and more, and more.
Casual, refreshing, and always savory…the Rorhbach's pizza and beer train is a ride you do not want to miss!
-Meredith Opitz, A-List Contributor
Proiettis – Chicken Riggies
9980 Ridge Rd, Webster, NY 14580 (585) 872-2330
Website
As a person of Italian heritage, I know firsthand that there is no substitute for real Italian food made from scratch, slow cooked with love using fresh ingredients from the garden. Chef Whitey Proietti takes the same approach, and it's been just as good for his spirit as it was for my palette. He has been feeding people for 53 years and informed me, "I haven't worked a day in my life". You can taste his love for cooking in every bite he serves at his popular, long standing Webster, NY restaurant.

 
We visited on a weeknight in July when the restaurant was bustling with regulars, as usual (we even spotted local radio personality Brother Wease!). It was easy to see why the tables stay full all year long. We were blown away by everything we ordered, but two dishes stood out as table favorites – the Squash Ravioli, and the Chicken Riggies. Weeks later, I still find myself dreaming of them.

 
A specialty dish which originated in the Utica/Rome area, the Chicken Riggies are a well known customer favorite at Proietti's, and with good reason. Their distinctive variation on this local favorite starts with a mouth watering sauce made by combing the restaurant's scratch made marinara and alfredo with just a touch of their Arrabiata sauce. Sauteed chicken and sweet peppers are tossed with plump rigatoni and then the entire dish is treated to a luxurious coating of that fabulous sauce. The result is a creamy, tangy, richly flavored dish with just the right touch of heat – enough to make it memorable and cut through the richness of the sauce, without overwhelming the palette.

 
The generous portion size provided plenty for us to take home and enjoy another day, and I think I speak for our entire party when I say, I look forward to enjoying many more meals from Proietti's in the future.

 
– Amy Riposo, A-List Editor
Rochester A-List is committed to finding and linking A-Listers to the best of everything in Rochester, NY. Go out and try these delicious dishes and tell us what your favorite dishes are on our Facebook Page.