Who Made the List? Absolutely Delicious Restaurant Selections.
What to Order Where in Rochester.
Our monthly Best Dish List highlights area chefs and the most recommended dishes in town. 
Dish: Bulgogi Sandwich
Restaurant: McCann's Local Meats, 739 South Clinton Ave, Rochester, NY (585) 328-6328
Owners: Kevin and Yeonmo McCann
View menu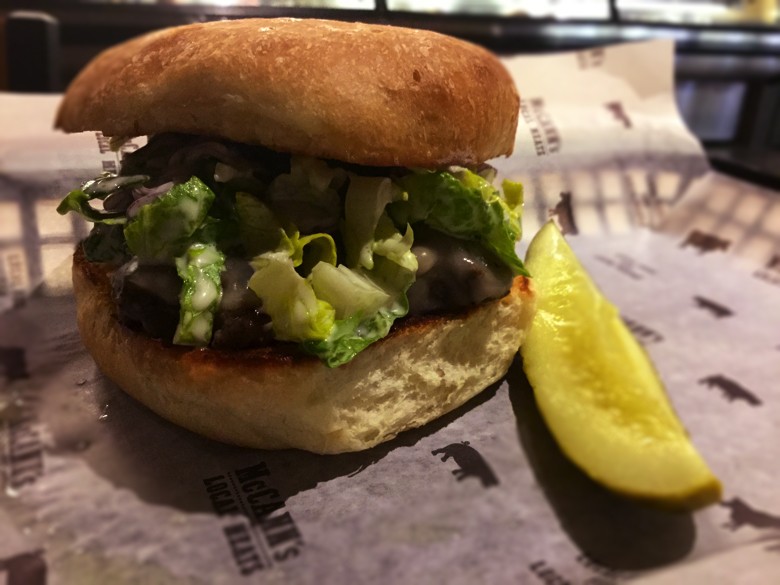 In its simplicity, the creation of the sandwich has to be one of the most ingenious designs. It is the cornerstone of a modern meal, with many options to fill between two perfect slices of bread. The Bulgogi Sandwich at McCann's Local Meats is at the top of the list of the best sandwiches around.  Owner and craft butcher, Kevin McCann serves up a deliciously heaven-sent Bulgogi Sandwich, as the weekly Tuesday special. Truth be told, you can order this sandwich every day of the week, so don't be shy and ask if you don't see it on the menu.  The recipe is treasured and closely kept by wife, and culinary expert, Yeonmo.
Bulgogi is a Korean BBQ dish, that consists of shaved steak, marinated in a blend of soy sauce, sesame oil, scallion, and garlic. McCann's version of the Bulgogi Sandwich is served on a perfectly toasted bun, sourced locally from Baker Street Bakery, on Park Ave. The sandwich is topped with shredded romaine, provolone, and a rice vinegar slaw. The tender juicy bites of the shaved steak topped with the juices running from the tangy slaw are the perfect combination. Plan on feasting with several napkins at your side and do not be afraid to mop up the juices with your last few bites…a true sign of an alluring sandwich. This is not just a sandwich, it is an experience.
Couple the perfect sandwich, with a business partnership with local, sustainable farms, and you have yourself a dream food location. Kevin and Yeonmo incorporate their culinary background, knowledge of craft butchery, and utilization of all cuts of meat to bring an enticing food experience to the foreground, here in Rochester. The open kitchen concept shows that there is nothing to hide. Kevin encourages customers to come and look at their techniques and ask questions, creating a close connection to the average customer. Daily specials include mouth watering dishes that will showcase different cuts of meat at their best. Kevin and Yeonmo continue to deliver and draw customers from all over Rochester.
–Sip and Savour Rochester blogger Stephanie Hanna, A-List Contributor
Dish:  Duck Meatballs
Restaurant: Erie Grill, 41 North Main Street, Pittsford, NY  (585) 295-2839
The atmosphere is friendly and relaxed the
Tuesday
evening I stopped by the Erie Grill. Located on premise with the Spa at the Del Monte, the restaurant has large windows and an inviting setting. The highly recommended Duck Meatballs are on my mind, and if you're like me and don't know what to expect the answer is a delightful surprise.
This dish is a flavor-inspired masterpiece consisting of 3 large meatballs each served on a cushion of rice and goat cheese and topped with pickled mushrooms and apple cider vinegar sauce. The fork splits the outside of the meatball and meets the fluffy smooth interior. Chef Freezee explains that the buttermilk from Pittsford Dairy across the street creates the appealing internal texture. The flavor of the duck is apparent, and balanced by the earthy flavors of the rice and goat cheese keeping your palate level. Then the sauce announces itself from the background, like a shock wave of flavor, but you're ready for it — a Peruvian pepper has been utilized because it is potent, but by no means overpowering. It adds the perfect amount of Latin flare to a traditionally sweet and sour sauce.
Chef Freezee's insistence on otherwise using as many local ingredients as possible pays off, perpetuating responsible food practices for his establishment that can be afforded once per week if you like. "If we're going to serve it, we're going to do it right," he says, listing the local vendors that supply the Erie Grill with it's diverse ingredients, including Baker Street Bakery, Finger Lakes Produce and Grassland Farms.
Browsing the menu reinforces the idea of delivering interesting food by putting new spins on more familiar dishes. Best of all, the portions are the perfect size for an ordinary appetite, and with so many intriguing options, you'll want to share. The recommendation to begin with the game-changing duck meatballs cannot be underscored enough, and if you happen to go after work on a
Tuesday
like I did, you'll be met with outstanding wine specials and even a waived corking fee so you can bring your own bottle to pair with your first foray into duck.
-Nick Palermo, A-List Contributor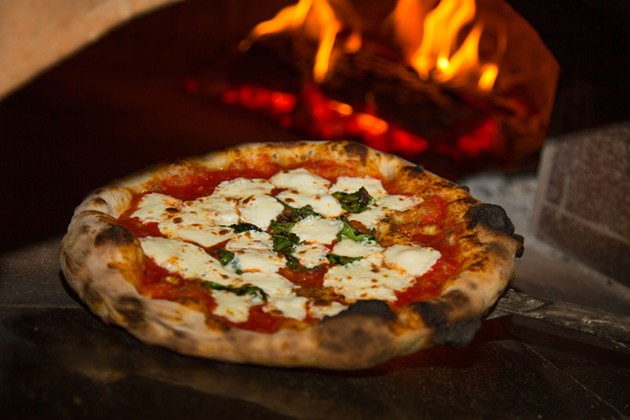 Ah, the humble pizza. This open-faced sandwich has had more incarnations than Meryl Streep has accents, and I love them all (except for you, dessert pizza. You sir, are an imposter). As a food writer I've sampled some of the best dishes coming out of today's kitchens, from the truffled to the bruleed, but there is nothing I love more than a simple slice of pizza.
x
The tricky part, as anyone who has ever traveled outside of New York knows, is that making a truly delicious pizza really isn't all that simple.
x
Enter Fiorella.
 x
Nestled in the heart of the bustling Public Market, Fiorella is taking a traditional, heartfelt approach to Italian cooking, executing classic dishes in the way they were meant to be served.
x
The wood fired pizzas are a perfect example of the care and intention that goes into every dish they serve. Sourced from the highest quality ingredients (that public market location was no accident) and prepared thoughtfully in a fashion that honors its heritage, the pizza at Fiorella is not the greasy, convenience meal we've come to expect here in the United States. This is a meal you are meant to savor; a dish you sit down for and enjoy slowly and in good company. And that's how it is prepared – slowly, by someone who loves what they are doing.
 x
Chef and owner Gino Ruggiero starts with organic flour milled here in New York State, and leavens it naturally – no yeast here, nor any of the preservatives or additives that come with it. This is traditional pizza making and the result is an airy, tender yet chewy crust with a subtle sourdough tang, complemented beautifully by the blistered edge created by the 800 degree oven. It's topped with a bright, acidic sauce that is perfectly balanced by fresh, creamy mozzarella, pungent oregano and sweet, aromatic basil.
x
Every bite of this dish is a treat, and a brilliant reminder of the way that integrity in preparation and sourcing, combined with a true passion for the process and the product, can elevate something so simple to something truly remarkable.
 x
-Allison Zimmer, A-List Contributor