"It's not quite breakfast, it's not quite lunch, but it comes with a slice of cantaloupe at the end."
— Jacques explains brunch to Marge on The Simpsons.
What meal better suits the American appetite than brunch, a time when it is acceptable to partake of both a waffle bar and a carving station at the same time, or to publicly pair alcohol with your morning coffee. Once reserved for Mother's Day and Easter for everyone but the country club set, brunch is enjoying a revival thanks to innovative approaches that have brought gourmet twists and international flavors to a once tired menu.
While you can still find the traditional warming trays heaped with bacon or a the slabs of hand carved meats, some of Rochester's most beloved eateries are putting a new spin on brunch, making it bigger and better than ever before.
While reviewing all of these great local brunches, we found three more, that we felt the list wasnt complete without adding them. Click here to read 3 More Great Rochester Brunches.
7 Schoen Place, Pittsford (585) 383-8310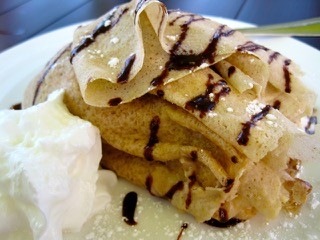 As the name implies, Simply Crêpes takes a daintier, gentler approach to brunch, serving up both sweet and savory fare blanketed in their gorgeously light, golden crêpes. Choose from fresh cut fruit with whipped cream and Nutella, or go for a heartier selection like my favorite, the Crêpe Madame, which features an egg battered crepe stuffed with hardwood smoked ham, gruyere, and cream sauce served with a fried egg & Vanilla Porter bacon jam. You'll also find naughty and nice combinations like the creme brûlée oatmeal – creamy oatmeal served with honest to goodness creme brûlée and fresh bananas and strawberries. Be sure to try the current fan favorite, the Maple Sausage Stackers made with Bostrom Farms maple sausage. From steak or roasted veggie filled crepes to protein packed smoothie bowls, Simply Crêpes offers delicious options perfect for both a leisurely brunch and a weekday treat.
168 Main Street, Honeoye Falls (585) 624-1700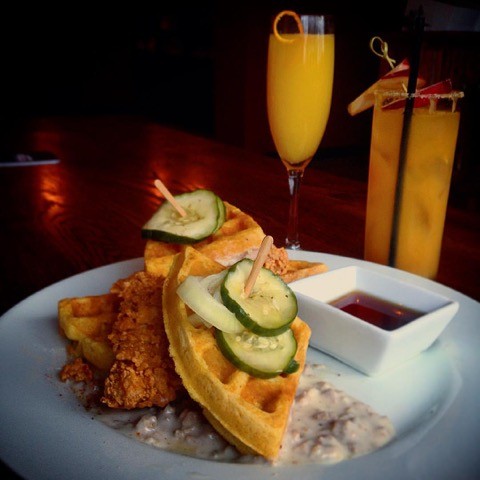 Honeoye Falls Distillery is renowned for their award-winning, locally sourced craft spirits, and they're employing the same care and dedication to their brunch menu. In 2016 they opened a full-service kitchen that allows them to share their passion for high-quality, locally sourced culinary creations. They've partnered with a regional network of farmers and vendors to deliver a robust, unique sensory experience that is exemplified in their carefully crafted brunch menu. Food and drink are both available ala carte, but for those who love the grand tour synonymous with brunch as we know it, there is the bottomless brunch for $29.95 – a necessary accompaniment to their (very necessary) offering of bottomless drinks. But this is where the likeness to the traditional brunch ends. The thoughtfully and responsibly crafted menu features fresh local meats from Bostrom Farms and McCanns and bread from Bakers Street Bakery.  Every offering is lovingly house-made from scratch, including their incredible cocktails.  Tastings are available all day on Sundays as well, and tours are available if you call ahead, making brunch at Honeoye Falls Distillery not just a meal, but an experience.
758 South Avenue, Rochester (585) 471-8569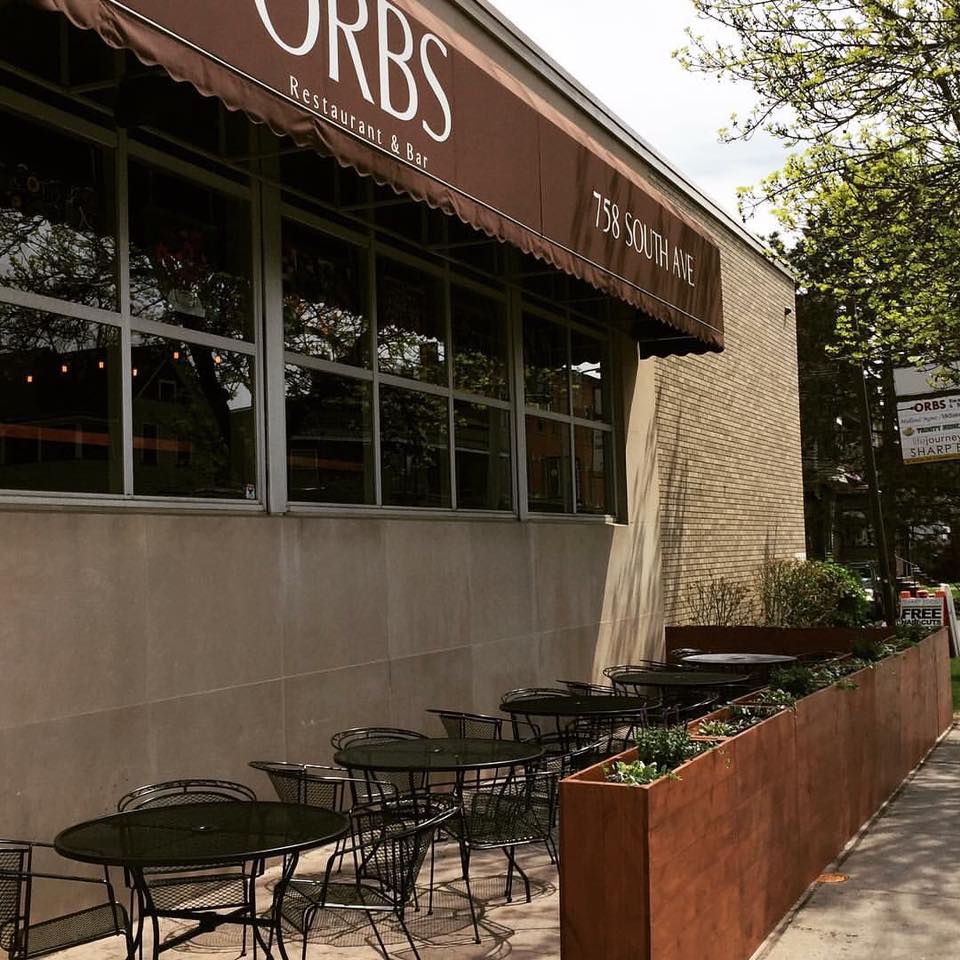 If you're thinking, "Meatballs? For breakfast?" think again. Orbs expands beyond their deliciously standard territory with a fresh, fun, inventive approach to brunch that includes both vegan and vegetarian options as well as their noted small plates. Balls do have their place here of course, but in this case they're composed of fresh sausage wearing a variety of outfits, from delectable country sausage gravy with biscuits to chipotle hollandaise, or sitting alongside such classics as southern beans and beer cheese. For those looking for lighter fare there is a gorgeous beet cured salmon, and the menu abounds with fresh produce in various preparations. The only thing more expansive than the food menu is the cocktail menu. In addition to fresh takes on classic cocktails (like their Citrus Mule, made with Balls vodka, lime, orange, and fizz ginger beer) Orbs also boasts a selection of coffee cocktails and signature mimosas, as well as a build your own mimosa offering. My brunch date, a well known beer enthusiast, jumped headfirst into the Kind of a Cocktail, made with 3 Heads Brewing The Kind IPA, fresh orange and grapefruit juice and blood orange, proving that you can teach an old dog new tricks – if you offer the right kind of treats. Reservations recommended.
"One should not attend even the end of the world without a good breakfast."
― Robert A. Heinlein
739 South Clinton Avenue, Rochester (585) 363-5694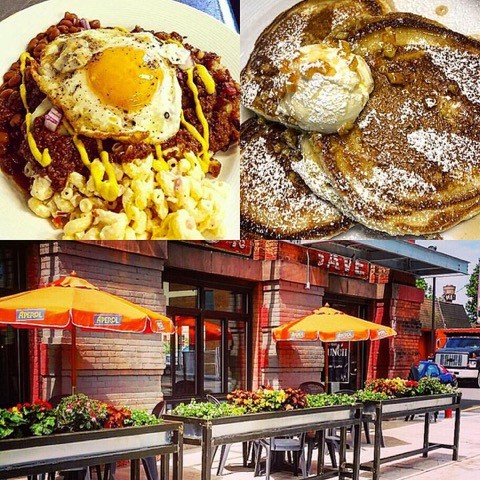 Though their rotating seasonal menu is served during the traditional brunch hours of 11:30-3:30, brunch at the Cub Room is anything but the traditional experience you're expecting. Chef Greg Johnson builds his menu around the freshest fare of the season executed with his own signature flair, resulting in satisfying comforting food all dressed up in its Sunday best. From house corned beef to duck egg spaghetti carbonara, you'll rush to try every dish before it changes – and then you'll rush in to try those. Popular with diners, the Cub Room truly pairs both breakfast and lunch offerings on their brunch menu, including both classic morning favorites like biscuits and gravy and pancakes along with burgers, salads and even a nod to that ubiquitous Rochester favorite, the garbage plate, an off menu selection they call the Prohibition Platter (ask for it by name). Watch for their quarterly Iron Smoke Whiskey Brunch – and move fast; it sells out quickly. A perfect complement to the food is the live music which gives this brunch its fun, funky, Austin, TX style vibe. Don't miss out on the fresh squeezed orange juice, and while you're at it, indulge in their unparalleled vodka Bloody Mary.
800 South Main Street, Canandaigua (585) 394-7070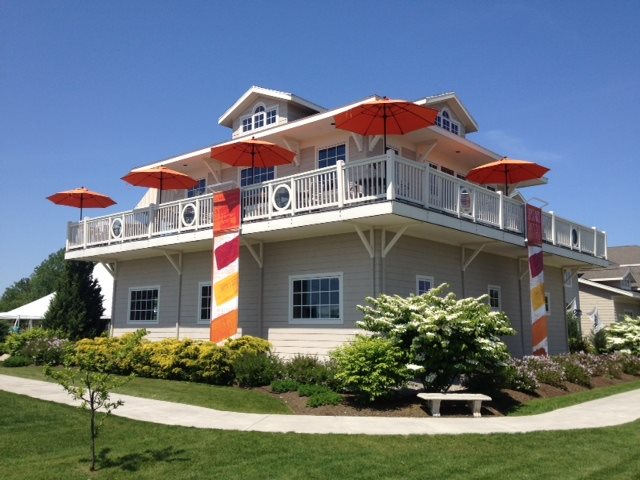 If you really want to put on the ritz and do brunch in style, the New York Wine & Culinary Center is the way to go. It's not easy to make the food fancy while keeping the atmosphere fun but they're managing – spectacularly. The high energy upstairs bistro overlooks Canandaigua Lake and offers fabulous outdoor lake view seating, the only way I know of to make a great glass of New York wine even better. Locally sourced ingredients and a spirited and innovative menu make the meals even more rewarding than the atmosphere- and that's saying something. The NYWCC was created to showcase the finest in NY agriculture, wine, craft beer, spirits and food industries, and that translates clearly in the bistro menu. The desserts change seasonally, the pizzas are grilled, and they're making an incredible leek fondue. Not to mention coffee molasses braised beef short ribs, truffled potato wedges and a gourmet burger with sweet marmalade and compound butter. Celebrate everything that makes New York great by enjoying locally sourced ingredients turned into memorable dishes served against a view of one of New York's most scenic lakes. This will definitely be a brunch to remember.
1290 University Avenue, Rochester (585) 340-6454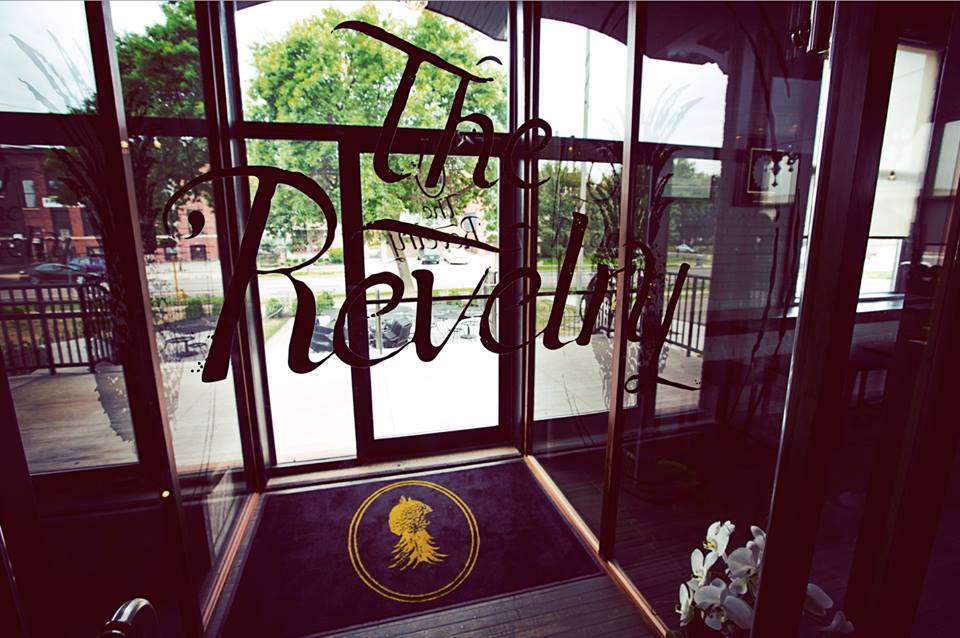 It didn't come by its name accidentally. Few places make a simple brunch feel more like a celebration than the Revelry. The first Rochester spot to take a Southern-meets-gourmet approach to an oft-repeated menu, brunch at The Revelry manages to be fun and spirited and yet warm and welcoming, a meal worth getting excited about. The menu here honors the food of the Lowcountry region of the South, including dishes like chicken and waffles and shrimp and grits, as well as brunch staples like a crab cake benedict and huevos rancheros. Head over to The Revelry for brunch and you'll find it tough to choose between the HUGE sticky buns, smoked duck tacos, fried green tomatoes and house made doughnuts (house. made. doughnuts)(did you read that? Go back and read it again). Make your Sunday truly special and add some levity (and revelry) to your next brunch. You'll like it, we promise.
145 Culver Road, Rochester (585) 270-5460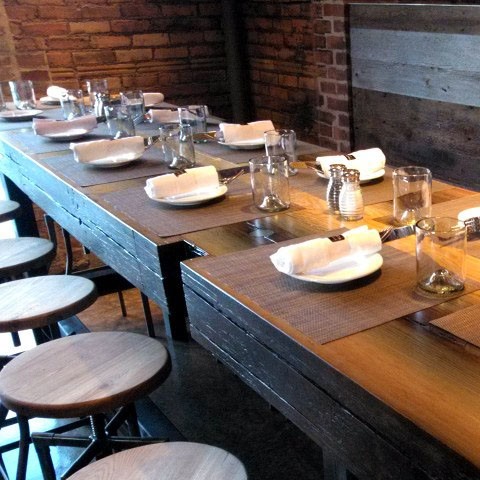 Can't get your fella out of the drive-thru and into the brunch line? TRATA can help. Introducing the Beer-mosa, the fastest way we know to get your fella off the couch and out of the house. Part of their wildly diverse (and super awesome) menu, TRATA is also offering handcrafted bloody marys, and detox drinks like produce packed smoothies and fresh juices, the perfect healthy accompaniment to their decadent cornflake crusted, deep fried PB&J sandwich, a whimsical twist on stuffed french toast. I'm a big fan of the French press for two, for one. Located in the super hip Culver Armory, the exposed brick, flattering modern lighting and sophisticated feel makes this my Pretend This Is Sex & The City brunch choice (heels optional) and a perfect spot for everything from a birthday to a first date or a raucous brunch with the girls. A welcome addition to the Armory, I suspect brunch at TRATA is going to become a top item on many To Do lists for years to come.
284 Exchange Blvd., Rochester (585) 319-3388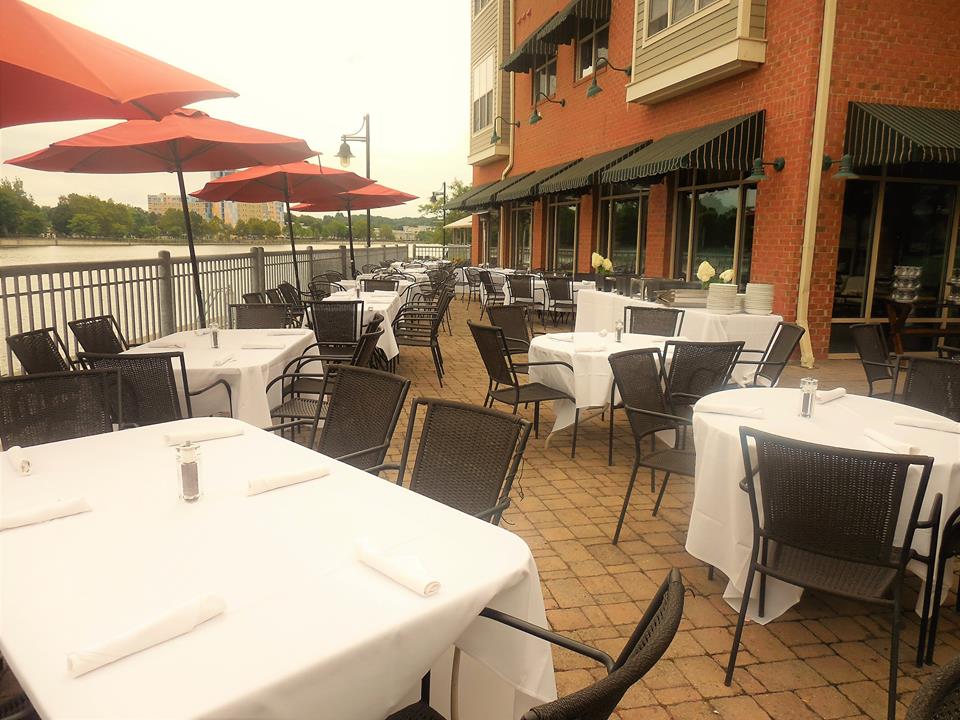 I was going to start and end this review with "unlimited bubbly" but then I'd miss out on the opportunity to tell you about the gorgeous river view and the amazing eggs benedict. Served with your choice of duck, crab, langoustines or exotic mushrooms atop soft, pillowy slider buns, this dish is worth climbing out of bed for – just like another crowd favorite, the Crunchy French Toast, which is made with rich, buttery brioche and covered in homemade granola and apple compote, then topped with fresh New York maple syrup. The brunch menu is offered on Saturday and Sunday from 10:30am-3pm, and their lunch offerings are available all day. Watch their website or social accounts for their featured flatbread. And about that unlimited bubbly – it's part of their Yoga Bellini Brunch, a $20 special which includes a yoga class, brunch and that luxurious unlimited bubbly. I can't think of a better way to start a Sunday.
47 Russell Street, Rochester (585) 445-8700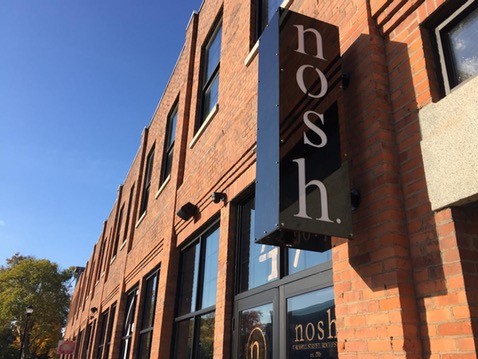 Nosh threw its hat into the brunch ring on March 19, and they're definitely fighting to win.  The creative menu offerings are innovative and extraordinary, packed with unexpected flavor combinations like those in the Vive La Fig, which includes fresh baguette, lemon mascarpone cheese, sesame crust, fig compote, and brown butter maple glaze. Items like the Crack Buns- a fried egg and crispy pork belly snuggled inside a fluffy steamed bun and drizzled with brown butter maple syrup – have had crowds clamoring for more. The same is true for their signature cocktails, bloody marys and mimosas. The infamous 45 oz tomahawk cut bone-in ribeye makes an appearance here as well, this time as the Breakfast Tommy ($90). In its brunch clothes this eye-popping, mouthwatering steak is served with six eggs cooked your way, brisket hash, and your choice of two breads. Proving just as popular as their dinner offerings, brunch is crowded and reservations are recommended.
2188 North Clinton Avenue, Irondequoit (585) 544-1300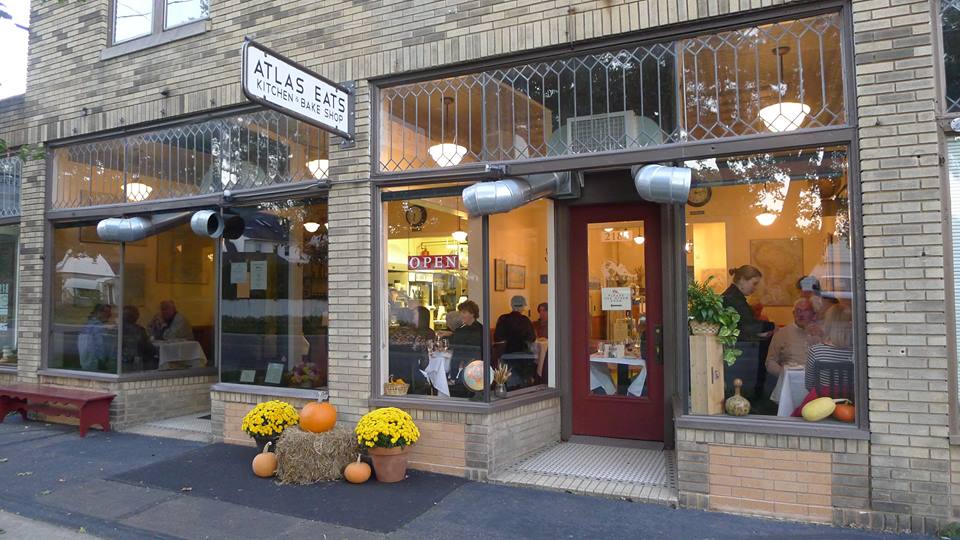 Uncompromisingly hipster in the best possible way, Atlas Eats is small and unassuming, but it's churning out huge flavors. The vibe here is neighborhood store turned restaurant and bake shop, the perfect spot for a quick breakfast cooked slow. Their internationally inspired menu featured flavors from around the globe, including their sweet and savory kimchee pancakes served with house made kimchee dragon sauce, and their spicy chorizo sausage gravy. The menu changes seasonally and includes a wide range of specials (like their must-try package specials), so check online to keep up. Their constantly evolving menu has also been updated to include Sunday pizzas as well, another reason to get down there and check them out. With just 22 seats Atlas also offers takeout, a perfect option on a sunny spring day when eating in the park sounds like more fun than tucking your legs under a table.
Village Gate Square, 274 Goodman Street North, Rochester (585) 271-3470
Served only once a month, brunch at Lento is a meal worth waiting for, thanks in large part to a menu that looks almost completely different from one month to the next, owing to their seasonal farm to table approach. As with their dinner menu, everything is made in house from scratch with as many local products as possible, including all their breads, cream cheese, sausage and bacon just to name a few. In addition to their delicious dishes, their fun and welcoming patio and urban rustic cool vibe in the heart of Village Gate plaza makes brunch at Lento something extraordinary. Follow them on Facebook and Instagram or check their website to see their latest menu announcement.
50 Public Market, Rochester (585) 563-7941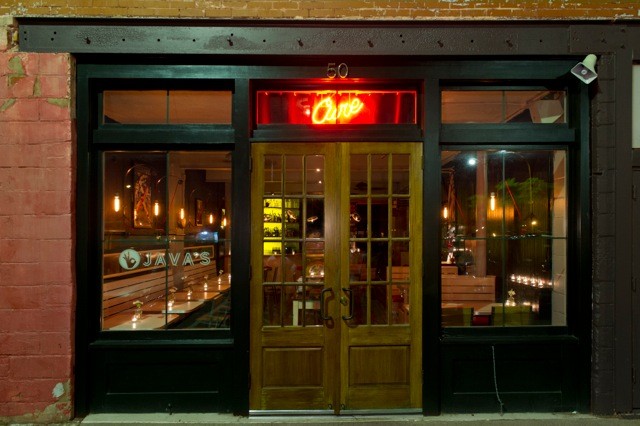 Served on Sundays from 11 to 2 only, the brunch menu at Cure is as selective as its availability. Like many of the options on this list, Cure is using best in quality ingredients and sourcing them locally whenever possible. Fresh breads and delectable pastries and other baked goods from Flour City are featured throughout the menu, which also includes inventive, upscale offerings like an avocado salad featuring blue crab, a braised beef hash, and thoughtfully and meticulously prepared ingredients like their house churned butter. Can't decide? A freshly brewed cup of Java's coffee and a chocolate croissant never fail to please.
1344 University Avenue, Rochester (585) 319-5279
Sometimes the greatest delights appear in the most surprising places. Those who expected Joe Bean's pleasures to stop at their house roasted, farm sourced coffee will be thrilled to discover their brunch menu. Featuring an assortment of popovers (the only popovers to grace our list) as well as a fall harvest worth of fresh produce, the bold creative flavors featured here will certainly transform your perception of Joe Bean as a simple coffee shop to a must-try brunch hotspot.
500 University Avenue, (Inside MAG), Rochester, NY  (585) 506-9725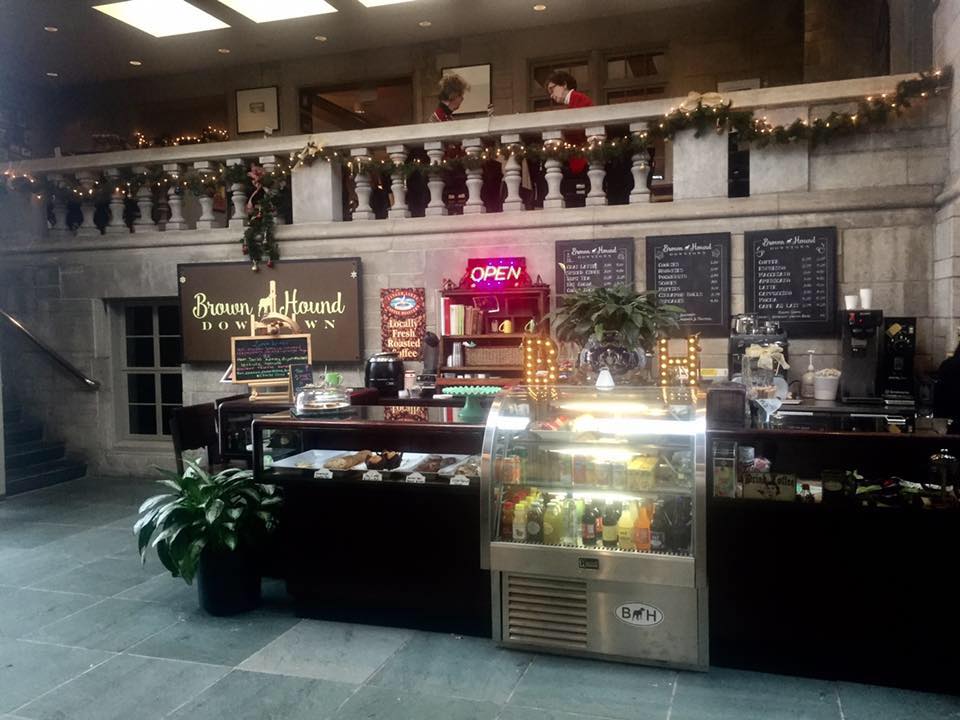 If you want to appear especially cultured and sophisticated, Brown Hound Downtown is the place to go. Located inside the Memorial Art Gallery, their menu selections change with the seasons in order to provide you with the freshest, best tasting ingredients in a setting that is a feast for both your palette and your soul. Check the menu before visiting to see what the chef is serving up. Options include scratch made soups and inventive salads along with brunch classics like eggs benedict made with farm fresh eggs; decadent pancake and waffle concoctions, and surprising – but welcome – additions like their own take on poutine, or their Croak Madame, grilled toad in the hole served with ham, swiss cheese, and cream sauce.
280 North Union St., Rochester (585) 428-6907
You could probably assemble yourself a pretty fabulous brunch from samples alone at the Public Market, but then you'd really be missing out on the numerous (delicious) prepared options available everywhere. Freshly made breakfast sandwiches, empanadas, handmade crepes and more line the streets and stalls in and around the market. There are plenty of places to grab a steaming cup of coffee or tea, and whatever your schedule or preference – sit down or stroll around, gourmet or Go To – there are more than enough options at the Market to suit your tastes exactly. Not the sort of leisurely, mimosa-fueled brunch you might have imagined, but one could certainly argue that strolling around, cup in hand, fresh flowers and bowers of produce everywhere, it might just be even better.
While reviewing all of these great local brunches, we found three more, that we felt the list wasnt complete without adding them. Click here to read 3 More Great Rochester Brunches.
-Allison Zimmer, A-List Contributor