By Amy Riposo, A-List Editor
Some Rochester, NY restaurants and eateries have loyal fans of loved menu items. Evidenced by lines out the door, regularly selling out and instafamous photo shares, coupled with my personal foodie travels, I've curated a list of 12 bites, chef specialties, and treats to serve up a Rochester food bucket list. Is this list complete? Definitely not. Is everything on this list delicious? You bet. Rochester is no doubt a foodie city, and there is no shortage of amazing food coming out of chef kitchens and bakery ovens. I'm presenting unmistakable places that are pushing food forward creatively. For me, "bucket list" means a bomb-ass meal, snack or dessert, white tablecloth not required. Some (many) of the best things I ate this year were only on the menu for the night so dinner is underrepresented on this bucket list. Amazing food is plentiful in Rochester. Here are 12 to kick-start your own food bucket list.
I hope this list makes your year just a little bit happier, because food after all is a source of happiness. And this year with a pandemic that doesn't seem to end, we all need ideas for increased happiness in our lives. If you've had any of these foods or there's something you think should be added to this list, let me know. And if you bake, shake, fry or sous vide anything amazing (and available to the public), I love invitations. You can follow my food adventures on Instagram as I taste and recommend more great food in Rochester.
Hungry for more? I happen to know on good authority, A-List will be sharing new local dining best of features and more experiential food events in 2022. Not on our email its yet? Join our email list for invites and insider access to the best in town.
Smoothie bowls, fancy sandwiches and cannoli donuts: 12 local favorites for your 2022 food bucket list
1 McCann's Local Meats Bulgogi Sandwich
Neighborhood: South Wedge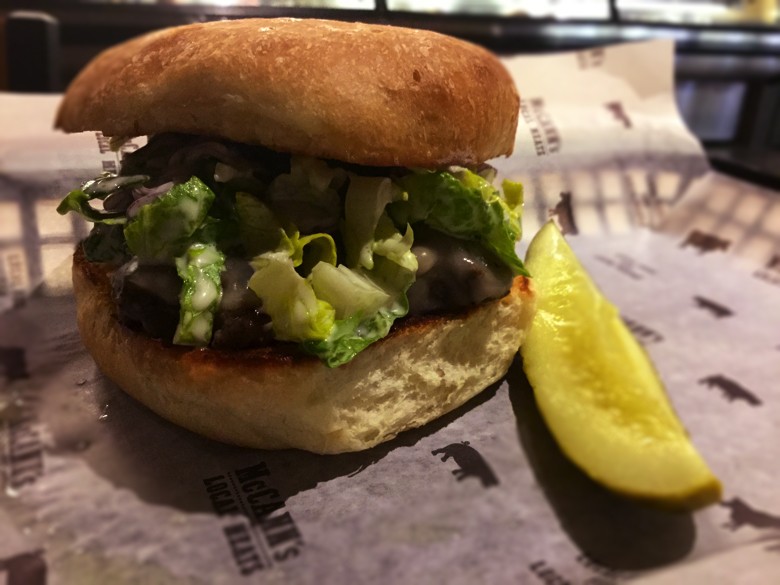 The Bulgogi at McCanns will warm your body and soul. This is THE best sandwich possibly in the whole world let alone Rochester. Thin sliced steak bursting with flavor from their secret bulgogi soy sauce marinade is topped with a cold Asian slaw. It's nothing short of perfect. McCann's version is served on a toasted bun, sourced locally from Baker Street Bakery, on Park Ave. In the summer months they have tables outside and it is also a great spot for to go orders. Service is quick and you order from the counter. You can choose any of their sides from the visible display case such as coleslaw, potato salad, and baked beans. There are tables inside as well but it is worth mentioning you are essentially eating inside a butcher shop, so the vibe is butcher shop chic if there is such a thing. It's not fancy and some may be put off by the hanging cuts of meat. Insider Info. This delicacy was initially offered as a Tuesday special but quickly became their most popular sandwich and is now available every day.
2 Jo Jo Bistro and Wine Bar for ambiance and brick oven za
Neighborhoods: Pittsford and Webster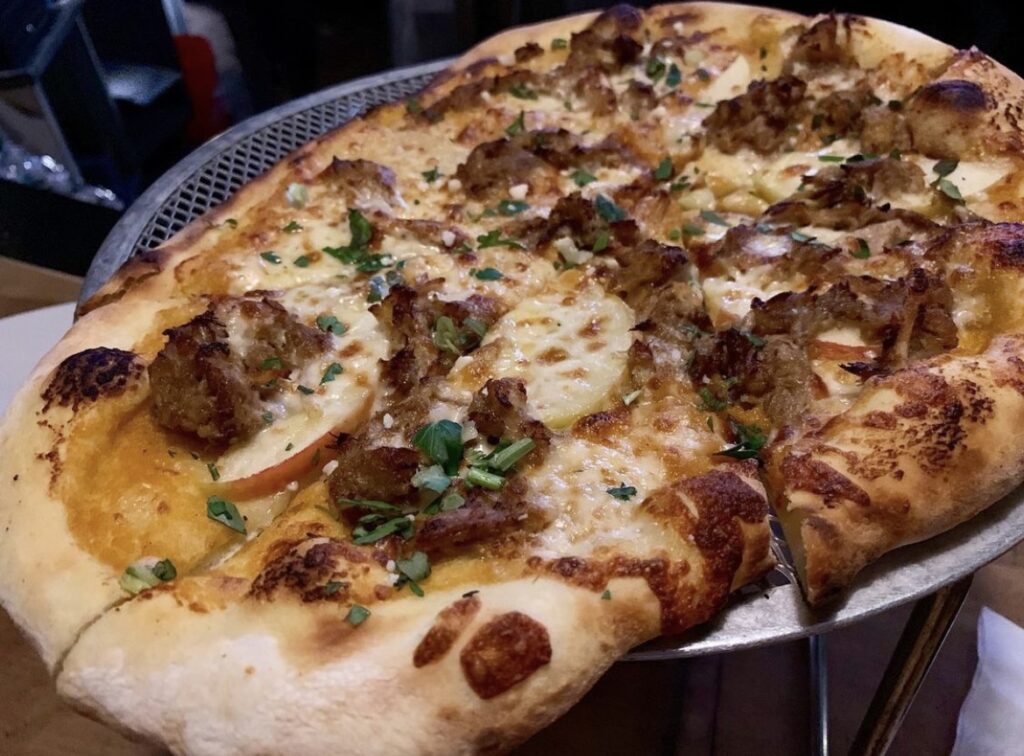 This one made the list for the combination of ambiance and the za. I'm referring to the Pittsford location, because I have not yet been to their Webster location. When it's cold in Rochester, sitting at the bar feeling the warmth of the brick pizza oven behind the bar, is one of my personal favorite nights out. The ambiance is inviting with dim lights and the restaurant has an open layout. There is usually a good crowd mingling at the bar, yet you can usually find a seat at the bar pretty quickly. You simply should not visit without ordering one of their pizzas. The wild mushroom pizza is one of my personal favorites. They also have rotating pizza specials. Each is on a thin crust made in house daily. The chef's special pizza pictured had pulled pork, apples, mozzarella and fontina cheeses and sweet potato base. If the chef is reading this, please put this on your regular menu. Insider Info. If you don't finish, the pizza is excellent the next day too. Gluten free eaters are in luck, Jo Jo also has a gluten free dough available.
3 McCann's Local Meats Farby Sandwich
Neighborhood: South Wedge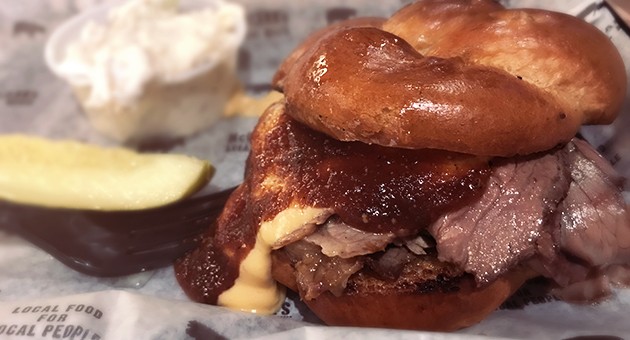 Two on this bucket list are from McCann's because both are worthy additions. This sandwich is an open and honest jab at it's fast food counterpart – it's name is actually short for F$%& Arby's. Slow roasted roast beef with melted cheese is a delicious slow food twist on a classic food favorite. It's served on a fresh bakery roll from Baker Street Bakery. The Farby will make your sandwich dreams come true. Insider Info. Go with a friend, order both this sandwich and #1 on this list and cut them in half to share and enjoy both avoiding the struggle with the decision of which of the two to order. You'll have as much trouble as I do deciding which you like better. Luckily you don't have to decide.
4 Ridge Donuts Cannoli Donut
Neighborhood: Irondequoit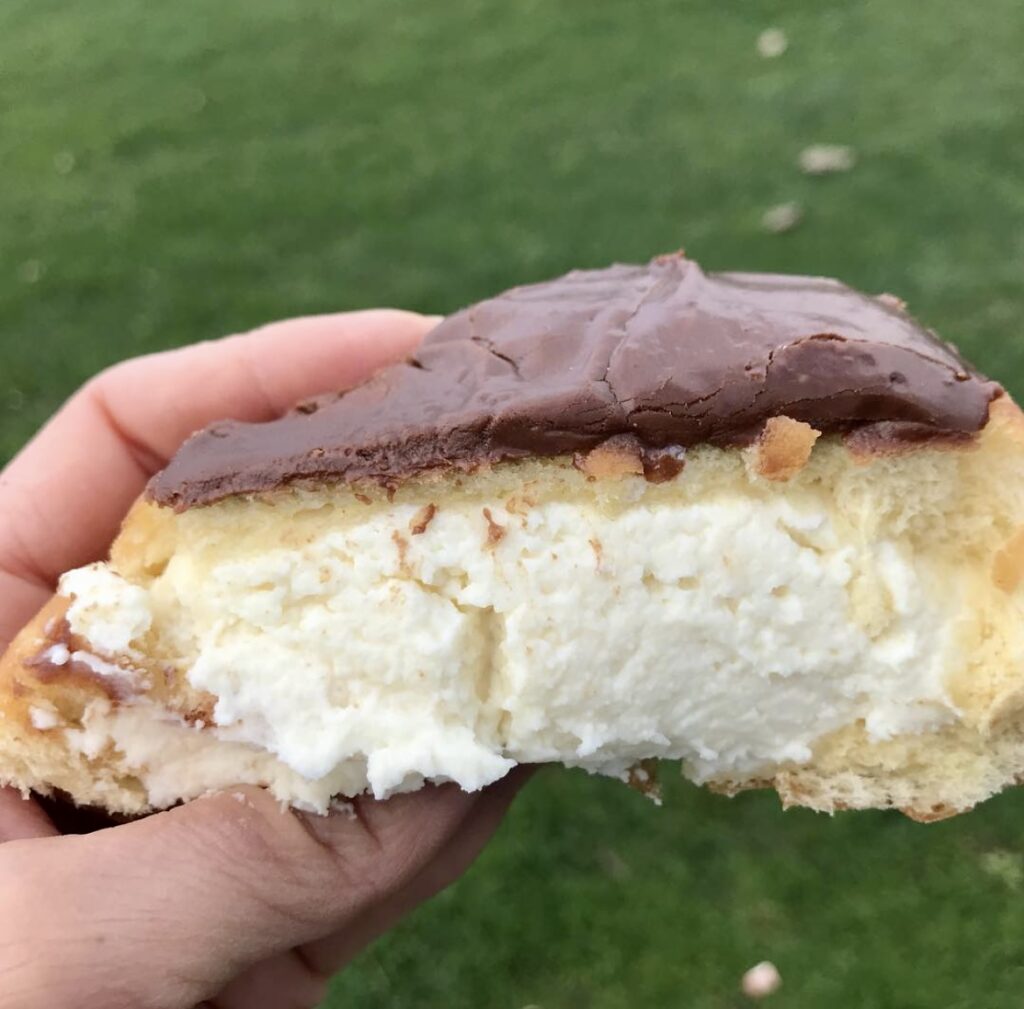 Rochester is a donut loving city and there is no shortage of great donut shops to make your donut dreams come true. Ridge Donuts in Irondequoit is one of the longest standing donut shops in the city. It has been in the Marcello family for over 40 years. The bakers are always experimenting in the kitchen to make fun flavors. One of those incredible donut creations is the cannoli donut. Choose powdered or chocolate frosted. Both are yeast donuts and filled with the delicious cannoli filling when you order them so they are as fresh as possible. The donuts are made fresh every morning and everything is homemade from start to finish including the frosting. Insider Info. They also have a donut cannot cake.
5 Edibles Veggie Burger
Neighborhood: NOTA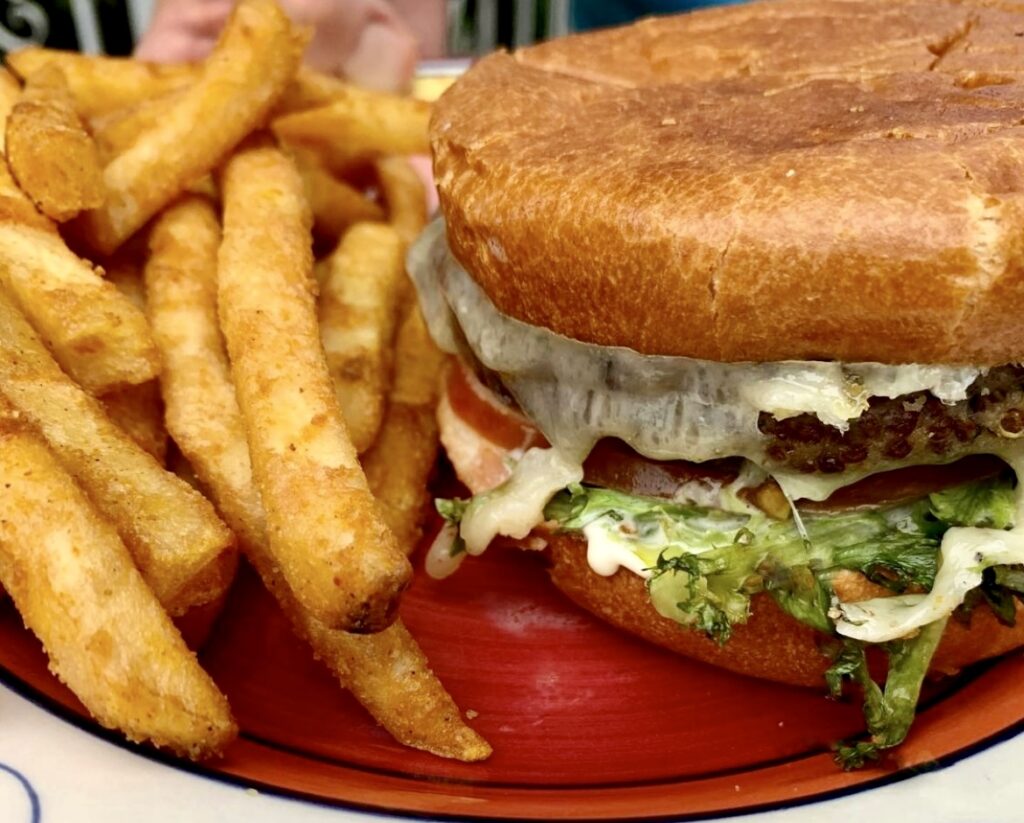 This one is for the vegetarians, flexitarians and anyone who just appreciates a good veggie burger. Edibles is a favorite local bar and restaurant serving American cuisine with a twist. The food is exceptional and that includes their veggie burger. Edibles' version is the best veggie burger I've had. It's made with quinoa and black beans and served with white cheddar and delicious house pickles. The fries are seasoned to salty perfection. You may have noticed my opinion that ambiance is an important influence on creating an enjoyable dining experience. Edibles is gorgeous with high ceilings, exposed brick and lots of windows. Insider Info. Follow Edibles on Facebook for peeks at their food, dinner specials which rotate, and fun cocktails. Try the Burnt Orange Margarita which I'd add to a Rochester cocktail bucket list. Hmmm, don't be surprised if a cocktail bucket list is an upcoming A-List feature.
6 Proietti's Chicken Riggies
Neighborhood: Webster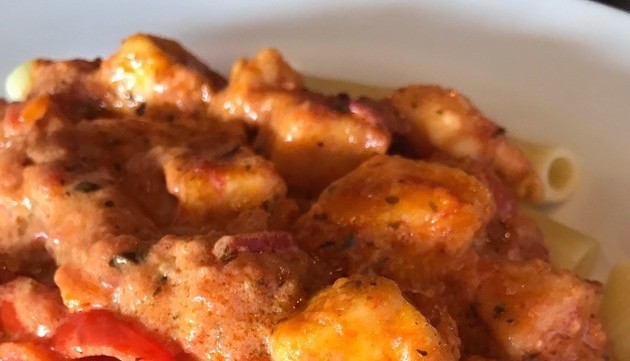 Rochester is home to one of the biggest Italian populations in the country, behind major cities like New York, Philadelphia and Boston. There is no shortage of authentic made-from-scratch Italian food in Rochester. One favorite Italian restaurant is Proietti's. Chef Whitey Proietti has been feeding people for 57 years. You can taste his love for cooking in every dish served at his popular, long standing Webster, NY restaurant. A specialty dish which originated in the Utica/Rome area, the Chicken Riggies are a well known customer favorite at Proietti's, and with good reason. Their distinctive variation on this local favorite dish starts with a mouth watering sauce made by combing the restaurant's scratch made marinara and Alfredo with just a touch of their Arrabbiata sauce. Sautéed chicken and sweet peppers are tossed with plump rigatoni and then the entire dish is treated to a luxurious coating of that fabulous sauce. The result is a creamy, tangy, richly flavored dish with just the right touch of heat – enough to make it memorable and cut through the richness of the sauce, without overwhelming the palate.
7 F.L.X. Wienery at Roc Brewing Carrot Dog (but also the Hot Dogs)
Neighborhood: Central Business District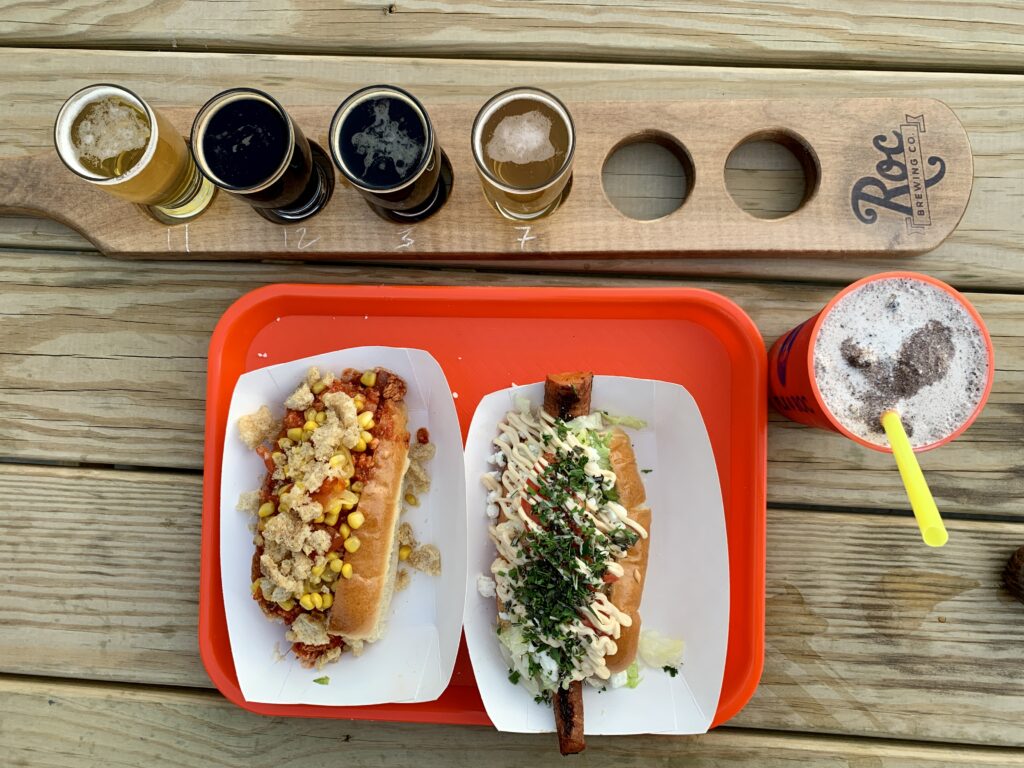 Roc Brewing partnered with F.L.X. Wienery in 2020 and a match was made in heaven. The brewery has a great vibe, a nice urban patio, and what goes better with beer than hot dogs? I'll answer that for you – these hot dogs. F.L.X. Wienery is one of several beloved Finger Lakes restaurants owned by the husband-and-wife team of Christopher Bates and Isabel Bogadtke. The duo also own F.L.X. Table, and F.L.X. Fry Bird. F.L.X. Wienery has a second home at Roc Brewing and the dogs are amazing. The chef driven topping menu sets them apart. There are 9 toppings to choose from, some of which are more of a meal on top of your dog. The carrot dog should be on any foodie's bucket list so if you've never tired one, this is a great place to check that bucket list item. If you are a carrot dog newbie, you might be envisioning one being similar to a veggie burger with carrots in an ingredient mix but you'd be wrong. A carrot dog is a straight up carrot that has been marinated for a long time and is the consistency of a hot dog. Their menu of offerings is a perfect pairing with beer and definitely one for your Rochester food bucket list, unless you count this as two. Pictured: The Local – goat cheese, lettuce, tomato, miso mayo and herbs on a carrot dog. Chili Smothered – chili, curds, and corn relish on a Zweigles red hot. Insider Info. they are currently closed Tuesdays and Wednesdays.
8 Simply Crepes Crème Brûlée Oatmeal
Neighborhood: Pittsford and Canandaigua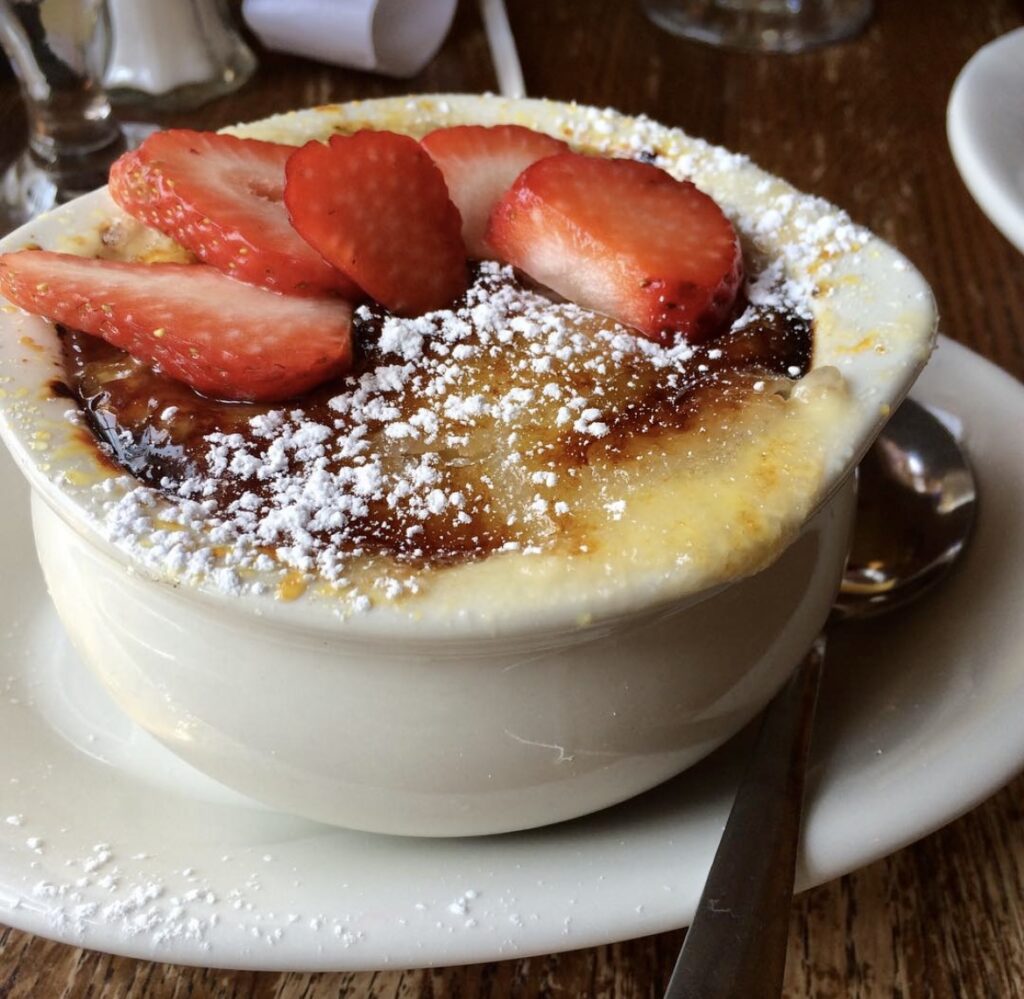 Quite simply the best oatmeal you'll ever have is a must-order when visiting Simply Crepes. Holy crepes, trust me on this. Whole grain creamy oatmeal has a sweet custard on top which is caramelized and topped with fresh bananas and strawberries. It's finished with a dusting of powdered sugar. Order a cup or a bowl. Simply Crepes is not the sort of restaurant you go to for just a bowl of oatmeal so go hungry, but don't overlook ordering this oatmeal. As the name suggests, this restaurant specializes in crepes and they serve inventive savory and sweet crepes all day long 7 days a week. They have an AM and a PM menu with a common theme of homemade dishes served wrapped in a crepe from the simple and classic strawberries and whipped cream to crepes like the Thai curry or the chicken French crepe.
9 Naan-Tastic build-your-own Indian bowl/wrap/taco
Neighborhood: Henrietta and Victor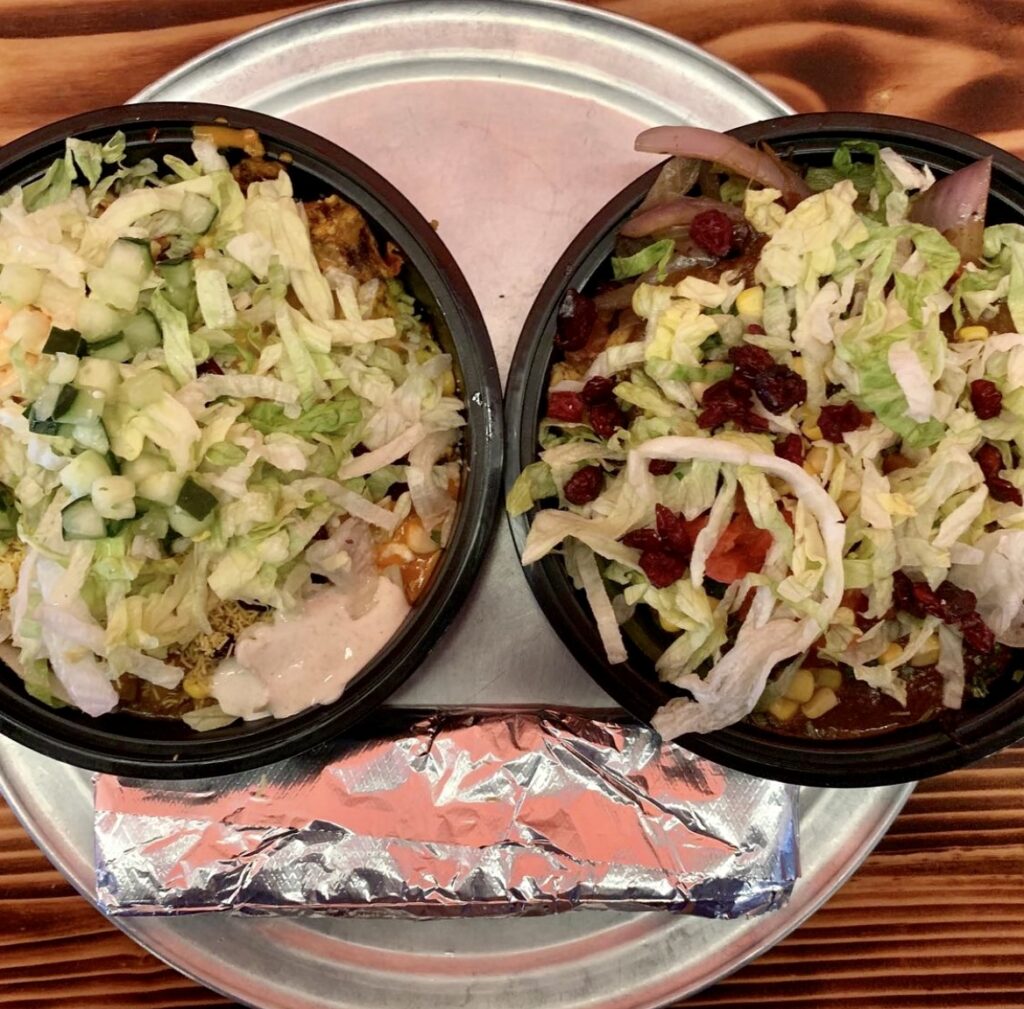 This one made the list because the food is darn good and because of this Restaurant's innovative approach to Indian cuisine. At least at the writing of this bucket list, fast casual and Indian food are not often found together and not a concept found in every city. Naan-Tastic brings them together here in Rochester adding in one of the biggest recent restaurant trends- customized ordering. You create your own bowl/wrap/taco in a Moe's style of ordering down-the-line. The Naan-Tastic staff is helpful in decoding what you're ordering and what is in each of the toppings, sauces and fillings. This is especially helpful if you are unfamiliar with Indian cuisine and also if you have any dietary restrictions.
The flavors of everything in your masterpiece including the accompaniments and the sauces and how everything comes together are bucket list worthy. Cold cucumber and lettuce on top of a warm bowl of something wonderful created by you is sublime. The recipes originate from the same family that also own the popular restaurant Thali of India. You'll find many options for gluten free and vegan eaters. Insider Info. Getting a naan taco is like getting a bowl and then the leftovers can be eaten like a taco. Another way to make the most of your order is to mix and match the sauces. It's like getting two different dishes in one if you keep them separate or three if you swirl them together in the middle. Two to try – the Makhani sauce is a sweet tomato creme sauce and the Masala is a caramelized onion sauce.
10. Pittsford Farms Dairy Ice Cream + Milk
Neighborhoods: Pittsford and Park Ave.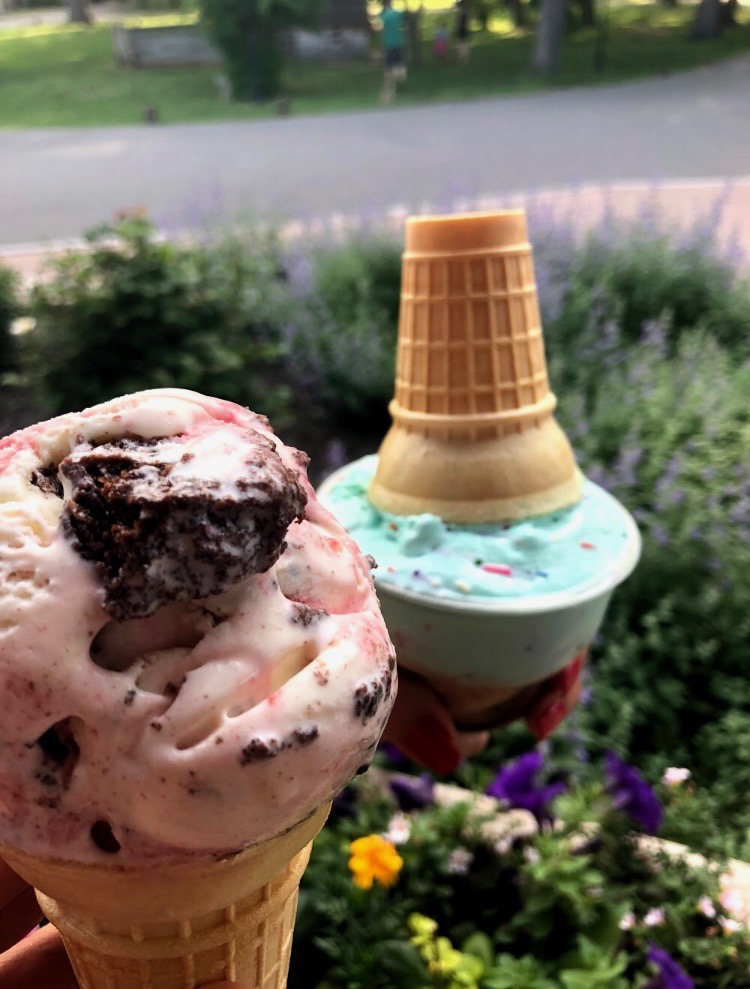 Raise your hand if you like ice cream! Oh, you too? The love bar is raised even higher when the ice cream is scratch made with real ingredients like cream, berries, sugar, vanilla and without fillers, and ingredients you can't pronounce or know what they are. One of the most celebrated spots for ice cream is Pittsford Farms Dairy. The ice cream is made on-site (at the Pittsford location) where quality ingredients are churned into magic by the skilled hands and palates that toil behind the swinging kitchen door. The magic starts with their own milk which to begin with is a treat. If you've had it, you know what I am talking about. If you have not had vat pasteurized milk in a glass bottle before, add it to your beverage bucket list and try some at Pittsford Farms Dairy, one of few places still producing milk this way. The milk is heated at a lower temperature which takes longer and retains more of the nutritional components in the milk and its flavor.
The result is amazing ice cream with a perfect creamy mouth-feel. Your biggest dilemma will be choosing your flavor(s). Ice cream, like most desserts has received a creative renaissance in the past decade. Long gone are the days of three flavors to choose from. Creameries are challenging the very notion of what could or should be placed on a cone (or stick, or between cookies). You be the judge and the creator of you ice cream treat. PFD has a large selection of classic, seasonal and creative flavors (24 at Park Ave., up to 42 in the summer months in Pittsford) plus 3 soft-serve custard flavors and dairy-free options and sorbets at both locations. Flavors like Pumpkin Chip, Lemon Oreo, Purple Cow – black raspberry ice cream, marshmallows, and chocolate chips, and Snap Dragon- sweet cream ice cream with ginger snaps and caramel have been known to cause a line out the door of people eager to satisfy their ice cream cravings. The original Pittsford location is where the processing plant and bakery are. It also serves as a community gathering space where it's a common site to see people sitting in chairs and on blankets on the lawn for a chill summer hang. In addition to ice cream, both locations are a one stop shop for local artisan breads, bakery treats, yogurt, juice, specialty foods, and dairy. Insider Info. If there is a line when you go, you can skip the line and grab a quart to go or one of the ice cream cookie sandwiches in the case.
11 Olive's Greek Taverna Gazpacho
Neighborhood: Pittsford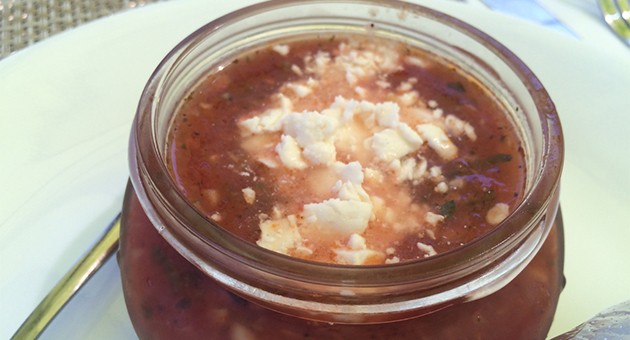 If you are a Gazpacho fan, be sure to get yourself a cup or bowl of this super delicious soup at Olive's. With gazpacho, you are either a fan or not. There is no in between. I am a super fan having tried every Gazpacho I've seen offered on a menu, since my first taste on Martha's Vineyard. I consider myself a gazpacho aficionado. Gazpacho is a chilled cucumber tomato soup where the end result is much greater than the sum of its parts. When made well, you've got a dream of a summer soup. Olive's has one of the best which is likely why it is on their special's board all summer long (mid May through mid September). Olive's version is a unique twist to the traditional made with the addition of watermelon. Chef Nick's inspiration was a popular greek watermelon salad. Fresh tomatoes, peppers, cucumbers, and onion are hand chopped, then combined with a puree of watermelon, fresh mint, champagne vinegar, and extra virgin olive oil. The result is delicious served with a sprinkle of feta on top.
An excellent accompaniment for your Gazpacho is one of their Gyros. They have 14 on the menu- I go for the traditional which is delicious and really inexpensive. Their menu also includes Greek pizzas, salads and entrees. Olive's is tucked in on Schoen Place along the Canal. Y'all should know by now ambiance is my thing, and in the summer, that is mostly focused on great patios. You'll find one of those at Olive's. There is nothing better on a hot summer day than a bowl of delicious chilled Gazpacho. Well, maybe ice cream, but you're in luck; Pittsford Farms Dairy is walking distance away. Insider Info. The gazpacho is also available in quarts to take home. Make time to walk along the Canal or stop by one of the two breweries steps away. You might catch some live music.
12. Refresh Cafe and Smoothie Bar Sunrise Acai Bowl
Neighborhood: Park Ave. and Greece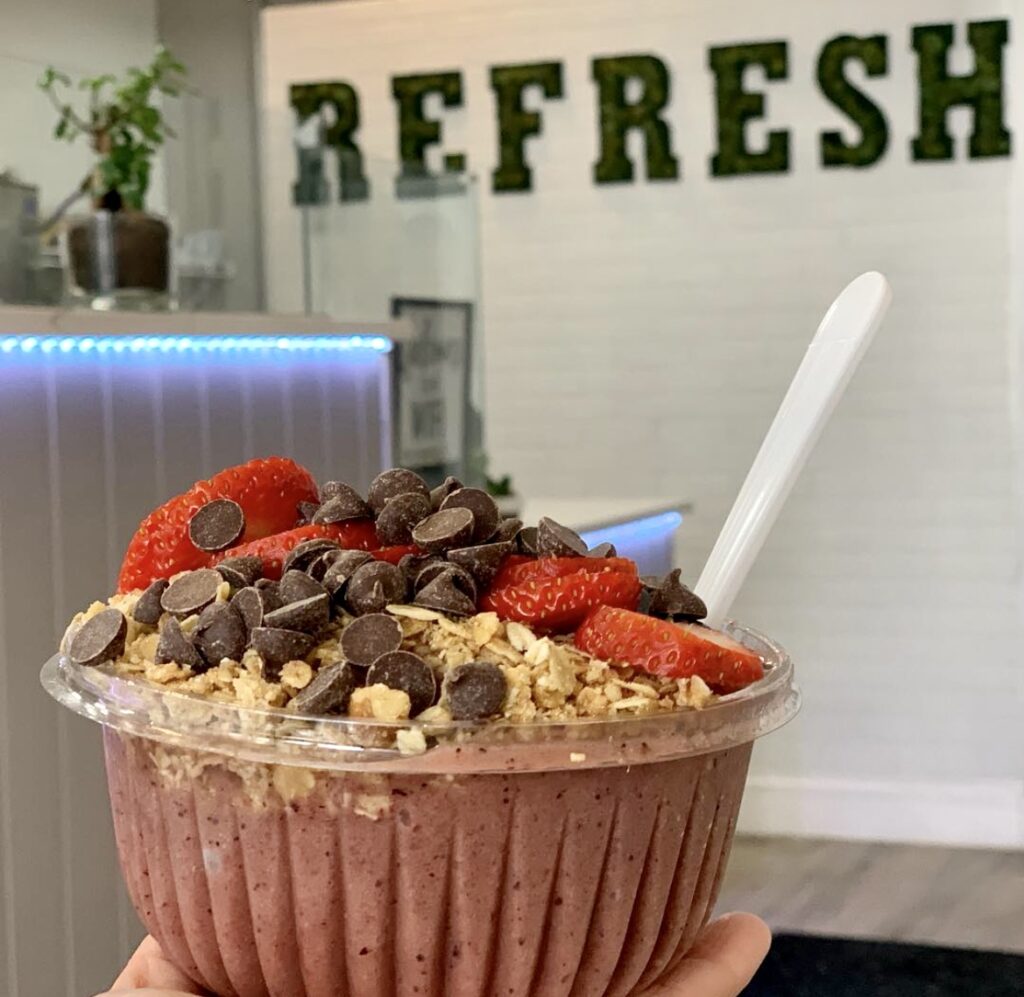 North easterners are tough. We don't need 12 months of sun to have a smoothie bar. Refresh on Park Ave. is open year round, and they recently opened a second location in Greece where they whirl up healthy concoctions served in cups and bowl. What makes a great smoothie? I always look for the freshest ingredients—real fruits is non-negotiable. Refresh uses real fruit and local when possible. The Sunrise Acai bowl is a customer favorite and one of my personal faves. The acai berry is hailed as a superfood linked to incredible well-being benefits, too many to list, and it tastes great. It's one of the ingredients in the Sunrise Bowl with the addition of honey, banana, blueberry, pineapple and mango. The bowls is topped with strawberries, blueberries, granola and dark chocolate chips. It's a hefty price ($13) but it is large. If you want something smaller, you can opt for a smoothie ($5 sm. and $7 lg. plus extra to add supplements or protein). The menu lets you choose your fruits and also includes meal replacements and refreshers which are a slushy or margarita consistency made with fruit, water and agave to enhance the flavor of the fruit ($4 and $6). Everything is dairy free, gluten free and no added sugar including their base which is somewhat secretive. Insider Info. Follow Refresh on Instagram for specials and seasonal menu offerings. Coming soon, the A-List smoothie. Park Ave. location has limited hours 11am-3pm Tues. -Sun. The Greece location is open longer hours and closed Sundays.
Rochester has an abundance of amazing food. These 12 stand out, but there is definitely more!