24 Winthrop Street, Rochester (585) 454-6020
Oh 2Vine, how do we love thee? Let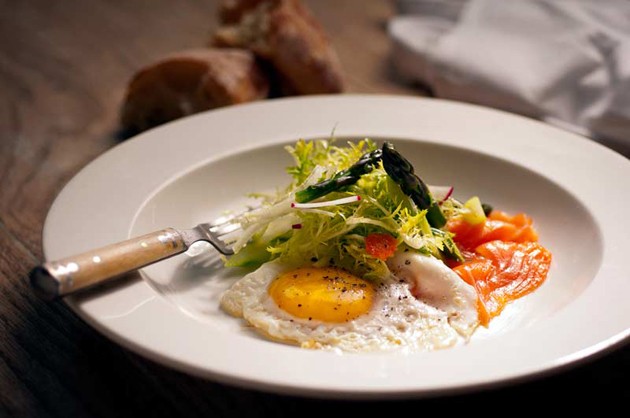 us count the ways. New to the brunch game but established players on the Rochester food scene, 2Vine offers you the cure to the giant buffet brunch. Pioneers in farm to table, 2Vine is noted for their exceptional quality and creativity and exacting attention to detail. The new brunch menu is full of big flavors, each dish ala carte and made to order. The hand crafted pastas you love from their standard menu appear here, along with salads, entrees and other small plates. You can also dine al fresco on the beautiful patio, enjoying one of their incredible signature handcrafted cocktails, or perhaps your very own french press full of coffee made from beans freshly ground just minutes before. I don't always choose coffee over cocktails, but when I do, I'm at 2Vine. And brunch or dinner, coffee or cocktails, I'm always glad to be there.
197 Park Avenue, Rochester (585) 442-4293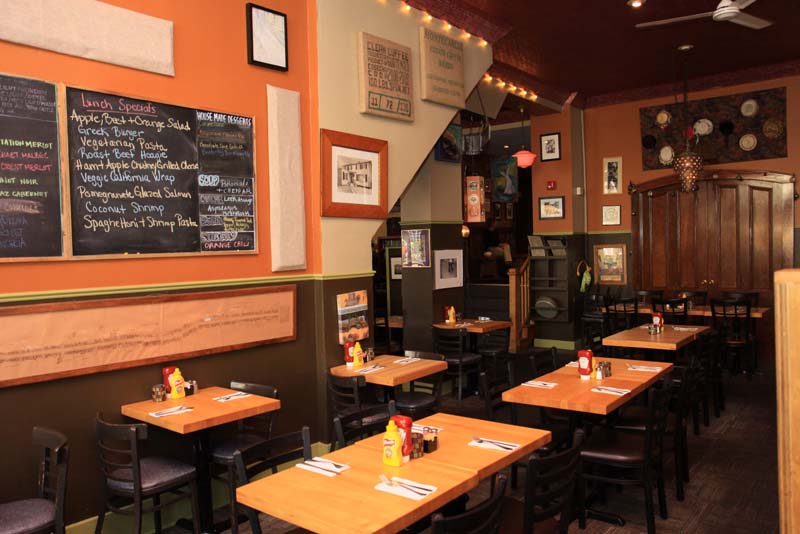 Hogan's Hideaway is a Park Ave. institution. If you've never been there before, you must be new. If you're not new, what in the heck have you been doing? Go get your keys. Hogan's website features the quote "Work hard and be kind and amazing things will happen." And they're clearly living by those words, executing dishes made with quality fresh ingredients and imagination, many of them comforting and familiar but with a twist that keeps you on your toes. This is my spot of choice for nursing a hangover and recounting the night before, but it's just as enjoyable when you're bright eyed and bushy tailed. The menu is large, the service is great and the vibe is laid back, a spot made for lazy brunches and long talks. Get there early in the spring and summer and take advantage of the patio seating.
2188 N. Clinton Avenue, Irondequoit (585) 544-1300
Put on your big black glasses and your skinny jeans and bike with me over to Atlas Eats, my pick for soon to be most hipster spot in town. The vibe here is neighborhood store turned restaurant and bake shop, the perfect spot for a quick breakfast cooked slow. A small spot, Atlas is featuring some big flavors from around the globe, including kimchee pancakes and chorizo sausage gravy. The menu changes seasonally so check online to keep up. With just 22 seats Atlas also offers takeout, a perfect option on a sunny spring day when eating in the park sounds like more fun than tucking your legs under a table.
1356 Culver Road, Rochester (585) 288-4250
James Brown's place is the classic American diner. From the long counter lined with stools to the overhead menu, this place is so classically diner it's almost a caricature of itself. The biggest nod to the diners of your youth is James Brown himself, dishing up incredible breakfast food at his counter side station, the perfect spot to connect and talk with his customers. Originally Jim's Clock then Mike's family restaurant, this place was born to be a diner – the same way James Brown was clearly born to cook, baking the bread for the french toast right on premises and living by the motto, "If you could cook like this at home you wouldn't be eating here". The only spot in the city I know of that will serve you your choice of breakfast gyro, this is the kind of place where you can bring the kids and order up the sort of breakfast egg specials you grew up with – and a few things you didn't. Diner food done right in an atmosphere that makes even newbies feel like family. There's a reason why we revere (and revisit) the classics, and James Brown's Place is it.
800 South Main Street, Canandaigua (585) 394-7070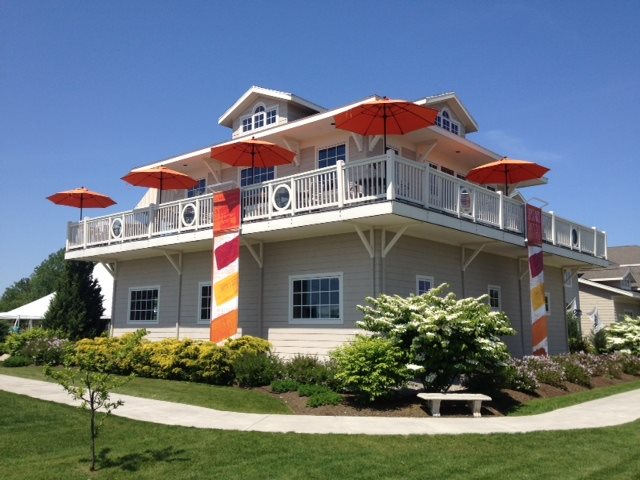 If you really want to put on the ritz and do brunch in style, the New York Wine & Culinary Center is the way to go. It's not easy to make the food fancy while keeping the atmosphere fun but they're managing – spectacularly. The high energy upstairs bistro overlooks Canandaigua Lake and offers fabulous outdoor lakeview seating, the only way I know of to make a great glass of New York wine even better. Locally sourced ingredients and a spirited and innovative menu make the meals even more rewarding than the atmosphere- and that's saying something. The NYWCC was created to showcase the finest in NY agriculture, wine, craft beer, spirits and food industries, and that translates clearly in the bistro menu. The desserts change seasonally, the pizzas are grilled, and they're making an incredible leek fondue. Not to mention coffee molasses braised beef shortribs, truffled potato wedges and a gourmet burger with sweet marmalade and compound butter. Celebrate everything that makes New York great by enjoying locally sourced ingredients turned into memorable dishes served against a view of one of New York's most scenic lakes. This will definitely be a brunch to remember.
1290 University Avenue, Rochester (585) 340-6454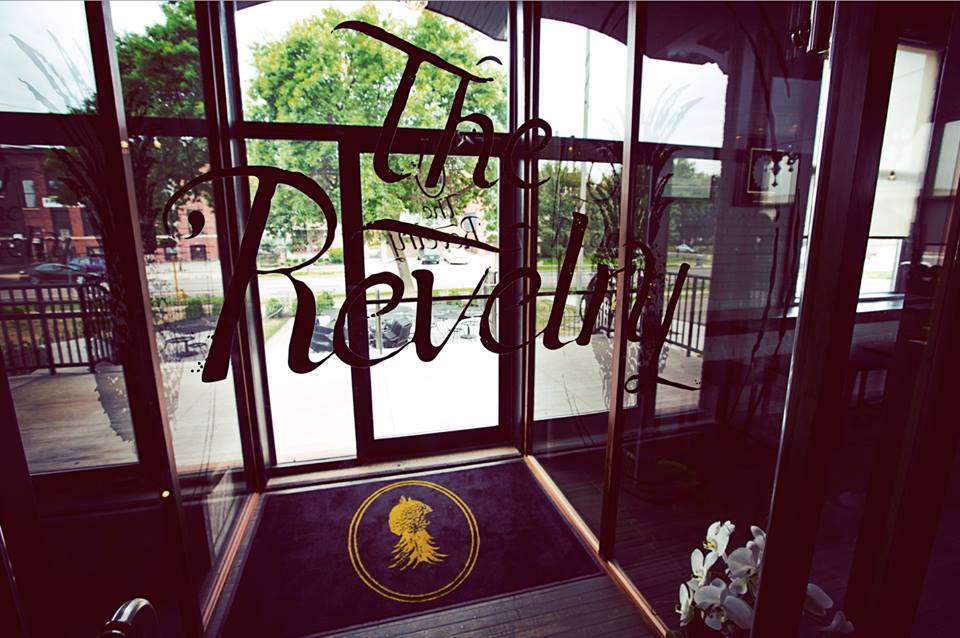 If Hogan's is the place to go after a night of partying, the Revelry is the where you head to keep the party going. Somehow the Revelry always manages to make me feel like I'm celebrating a special occasion, even when I'm just dropping in on a Tuesday (or maybe it's just all the cocktails I drink while I'm there…) This menu is, well, special, bearing little resemblance to the many brunches you'll find scattered around the city. Brunch at The Revelry manages to be fun and spirited and yet warm and welcoming, a meal worth getting excited about. The menu here honors the food of the Lowcountry region of the South, including dishes like chicken and waffles and shrimp and grits, as well as brunch staples like a crab cake benedict and huevos rancheros. Head over to The Revelry for brunch and you'll find it tough to choose between the HUGE sticky buns, smoked duck tacos, fried green tomatoes and house made doughnuts (house. made. doughnuts)(did you read that? Go back and read it again). Make your Sunday truly special and add some levity (and revelry) to your next brunch. You'll like it, we promise.
145 Culver Road, Rochester (585) 270-5460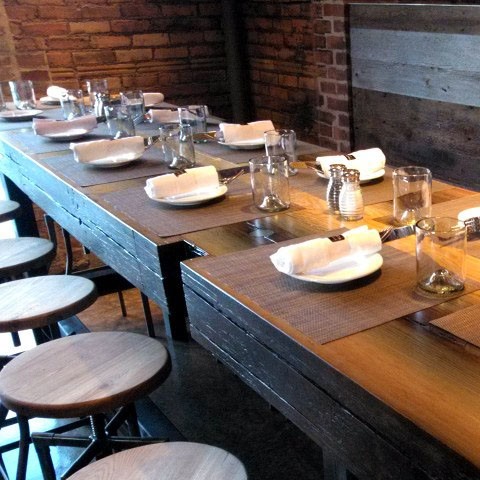 Can't get your fella out of the drive-thru and into the brunch line? TRATA can help. Introducing the Beer-mosa, the fastest way we know to get your fella off the couch and out of the house. Part of their wildly diverse (and super awesome) menu, TRATA is also offering handcrafted bloody marys, and detox drinks like produce packed smoothies and fresh juices, the perfect healthy accompaniment to their decadent cornflake crusted, deep fried PB&J sandwich, a whimsical twist on stuffed french toast. I'm a big fan of the French press for two, for one. Located in the super hip Culver Armory, the exposed brick, flattering modern lighting and sophisticated feel makes this my Pretend This Is Sex & The City brunch choice (heels optional) and a perfect spot for everything from a birthday to a first date or a raucous brunch with the girls. A welcome addition to the Armory, I suspect brunch at TRATA is going to become a top item on many To Do lists for years to come.
280 North Union St., Rochester (585) 428-6907
You could probably assemble yourself a pretty fabulous brunch from samples alone at the Public Market, but then you'd really be missing out on the numerous (delicious) prepared options available everywhere. Freshly made breakfast sandwiches, empanadas, handmade crepes and more line the streets and stalls in and around the market. There are plenty of places to grab a steaming cup of coffee or tea, and whatever your schedule or preference – sit down or stroll around, gourmet or Go To – there are more than enough options at the Market to suit your tastes exactly. Not the sort of leisurely, mimosa-fueled brunch you might have imagined, but one could certainly argue that strolling around, cup in hand, fresh flowers and bowers of produce everywhere, it might just be even better.
2740 Monroe Avenue, Rochester (585) 271-1111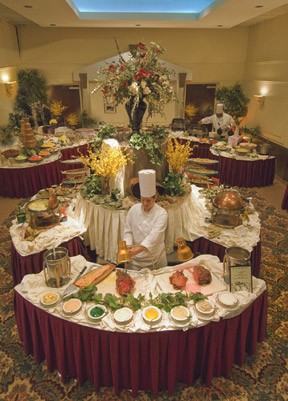 Awarded best brunch in rochester more than 20 times, Mario's is the granddaddy of brunch. It was Mario's who brought us Upstate NY's first chocolate fountain. We're talking serious brunch street cred here. This is the consummate buffet brunch, with an assorted meat carving station that includes beef, pork and lamb, a Belgian waffle station and a create your own omelet station as well as made to order crepes, assorted pastas, vegetables and a staggering array of cakes, tortes and pastries, not to mention mimosas and antipasti. Brunch at Mario's isn't just a meal, it's an experience. It's sort of like being invited to the best wedding reception ever, but without the hideous DJ (and you don't have to bring a gift!). With a history and a spread like this, Mario's is definitely the kind of brunch you should experience at least once. As you might expect, reservations are strongly suggested.
23 South Main Street, Pittsford (585) 586-0938
The perfect spot to invite your (starving) artist friends, or to feed both your stomach and your soul on dishes like Bananas Foster Pound Cake French Toast and Breakfast Potato Skins while soaking up work from local artists. Opened 1913, Hicks & McCarthy is an updated space that somehow holds on to the old-time vibe, something I love in a breakfast spot. It's an atmosphere that makes me want to linger with just one more coffee refill. That Hicks & McCarthy also promotes and showcases local artists is just the gooey maple syrup on top.
-Allison Zimmer, A-List Contributor