As seen in the print version of 585 Magazine May June issue
Read the Self-Guided walking food tour in Pittsford, NY
Delicious food and drinks in the East End paired with a walk
Another day of COVID quarantine? Don't stay inside feeling sad. I have another curated walk for you to get outside for a fantastic day or night out. This is walk #2 in my series pairing walks with delicious local food and drinks. Explore on foot favorite spots in and adjacent to Rochester's East End neighborhood.
If you aren't comfortable eating in restaurants yet, you can get everything to-go for a customized by you meal, beverages and dessert for a fantastic meal at home or somewhere special. Cobbs Hill is a nearby park and picnic spot with a beautiful view and spectacular sunset.
These walks combine fun social plans, exercise, and a delicious meal, appetizer crawl, or beverage tour depending on your mood and preference. Bonus that you're supporting local restaurants, and breathing fresh air which is really important for overall wellness and especially important now as we navigate the stress of this pandemic.
[Because this walk is take-out friendly, and you don't have to worry about the hassle of parking your car after your initial arrival, it's a great way to stock up on local favorites. Pro tip: bring a bag. Be sure to check with any business before you visit. Hours and offerings are subject to change.]
Self-guided walking food tour #2— the East End 
This walking tour is 3 miles (one hour of walking plus time to eat and drink). Start your tour parking at the Planetarium. See the final paragraphs for directions.
Are you ready? Your checklist – fellow eating/drinking/walking buddy(s), a bag for your local purchases, comfortable walking shoes, credit card or cash, charged phone for GPS directions and taking pics of the fun, picnic blanket if picnicking.
Here are some of my favorite local spots and where my friend and I went on our recent walking food and beverage tour in the East End. We wanted to check out the new Strangebird brewery and we hadn't yet been to Roc Brewing since the remodel and partnership with FLX Wienery. We timed the walk to start at 3pm on a Saturday since one brewery closed early and the other didn't open until 4pm. If you're not a beer drinker, this route is dotted with many other options for sweets, cocktails, and food.
First Stop: Ugly Duck Coffee  
Every good walk starts with a delicious beverage, so if you're feeling thirsty, I recommend you swing into Ugly Duck Coffee. We wanted to expand our beverage horizons and try something new (to us). I had the Sun Salutation and my friend ordered the Snug. Both unusual in the best way (see photo caption for description). We both ordered the smallest size and immediately wished we had extra large because they were so darn delicious. Turmeric is good for inflammation and I imagined it being a tolerable at best drink which is why it took me so long to try one. It was fantastic and I highly recommend you try one if you haven't already.
Another recommendation is to buy Gimme Coffee beans to brew at home. Although pricey, Ithaca's Gimme Coffee is my favorite and the beans Ugly Duck brews and sells.
Second Stop: Roc Brewing and FLX Wienery
This brewery has a great vibe, a nice urban patio, super fun menu and the food is fantastic. You order inside cafe line style at the counter, then they deliver to your table. I've been in a mood to try new things lately so I had to try a carrot dog. I envisioned one being similar to a veggie burger with carrots in an ingredient mix but it was a straight up carrot that has been marinated for a long time and is the consistency of a hot dog. Here's how we dressed it- The Local – goat cheese, lettuce, tomato, miso mayo and herbs. We chose the Chili Smothered for our Zweigles red hot- chili, curds, and corn relish. Both were exceptional and we pretty much licked our paper boats clean. Create your own tasting board with a flight of beer and if it's a nice hot day (or even if it isn't) add a milkshake.
Third Stop: Strangebird Beer 
Put this brewery on your radar. They took over the former space of Abundance Co-op and another business next door. At the time of our visit, they were only open for curbside pick-up of their beer. They plan to open this summer and we toured the space. The large bar and seating areas have plenty of natural light from windows and high ceilings. There will also be a patio and rooftop bar. We picked up a Bear Fight stout aged on cherries in rum barrels and a 4 pack of Infinite Cosmos – a pear ginger sour wit. At this point we were starting to realize how nice it is to be walking so we can pop into multiple places when we normally wouldn't be bothered with running all over town to get food, drinks and dessert in different places. Did you remember to bring the bag I recommended? You'll be glad you did.
Fourth Stop: Sinful Sweets
Whether you want them now, later or both, visit Sinful Sweets for fantastic cupcakes and more. Each cupcake, even the minis, have a filling and a frosting. I love cupcakes and these are some of the best I've had.
Final Stop Bodega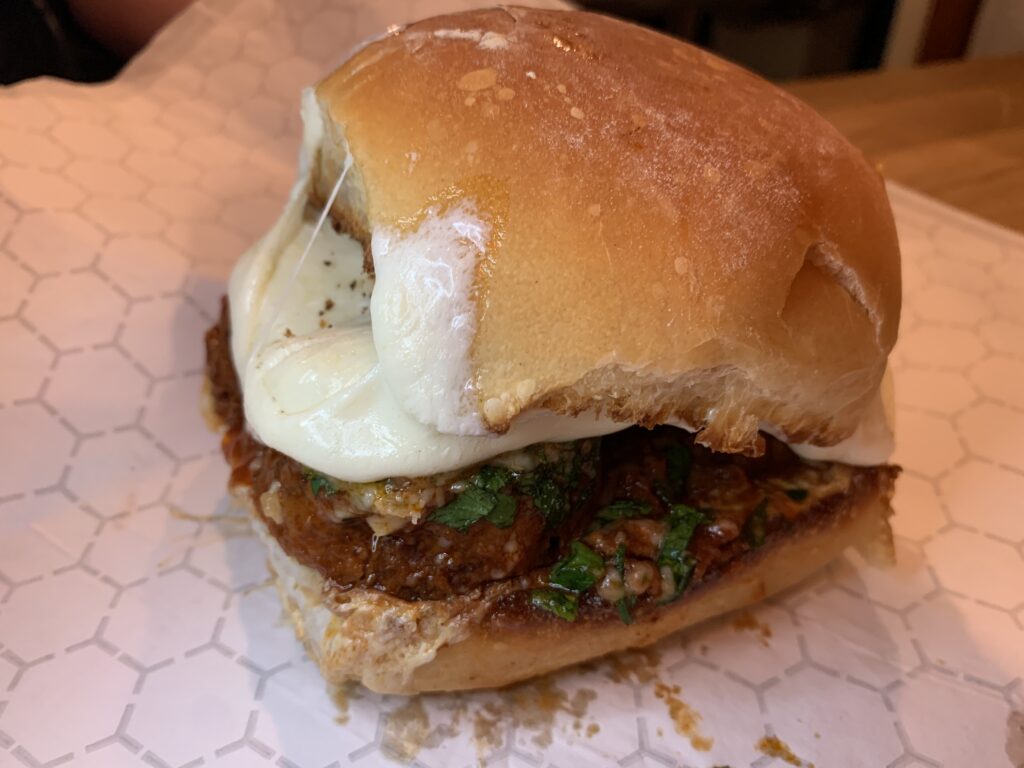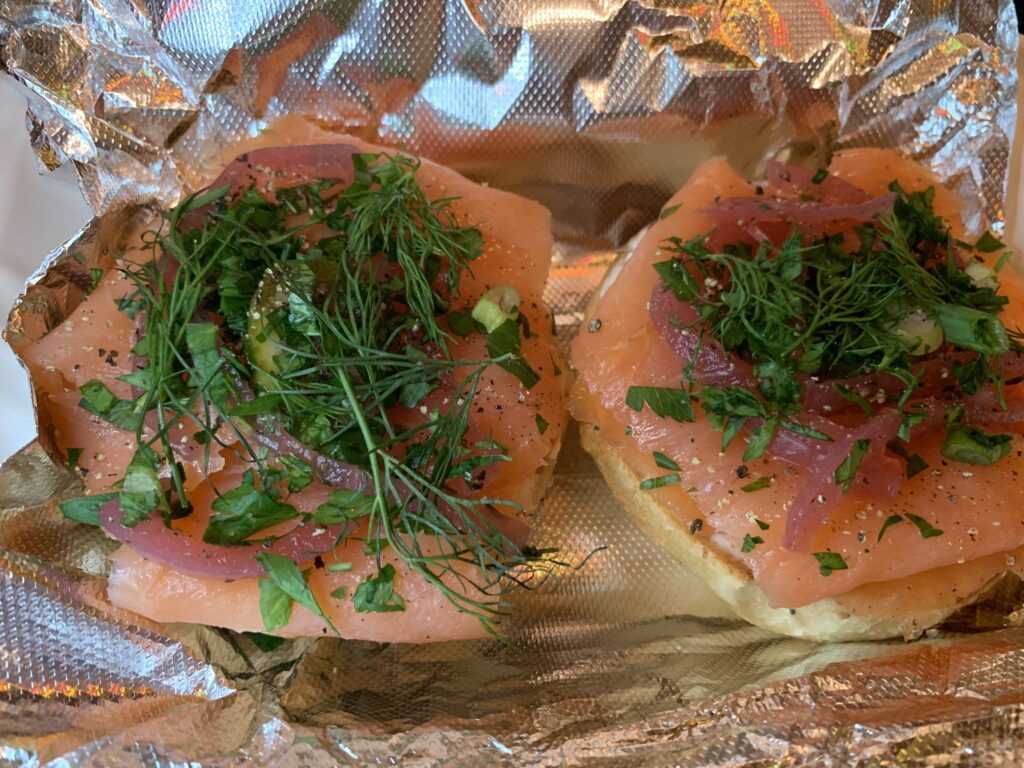 This little bodega has your cravings covered. Chef Mark Cupolo's latest is a feast for the eyes and the senses. Pick up any groceries you need since you've been having fun all day not grocery shopping. We ordered three items from the grill. The meatball sandwich had a large fluffy roll cradling delicious house-made meatballs, sauce and melted mozzarella. Italian girl approved for the sauce, the meatballs and ratio to roll. The egg sandwich was layered with thick cut ham and cheddar. We also ordered a smoked salmon bagel with cream cheese, and pickles for the walk back to the car.
Another great option to add to your night, is the Little Theatre. Make it a movie night and catch an independent film. It's one block from the coffee shop. At the time of writing this article, the Little is temporarily closed but with "virtual cinema" tickets, allowing you to see at home newly released films that would otherwise be playing on the big screen, and which are not yet available on other digital platforms. A perfect pairing for your last stop's takeout.
Directions:
Park in the lot behind the Planetarium at 657 East Ave. Start walking down East Ave. toward the city. After you pass the Little Theatre, turn right on Winthrop St. and cut through the parking lot of Redd to Ugly Duck (it's behind Redd). When Pitkin St. is no longer under construction, that's an alternate and more direct route to Ugly Duck. Roc Brewing is next. Retrace your steps back to East, and turn left, then right on Union St. You'll see the brewery on your left. Continue on Union to get to Strangebird Beer. Right on Monroe Ave. and a quick left on Marshall St. Before the end of the block is Strangebird on your right. To get to Bodega with a stop at Sinful Sweets, walk back to Monroe and turn right then left on Alexander St. Sinful Sweets is on the corner of Alexander St. and Park Ave. Bodega is a little further along Park Ave. on your way to where you parked. To get back to your car, continue up Park Ave. Turn left through the gate labeled 286 Park Ave. which leads down a sidewalk to the back parking lot of the Planetarium.
If you have any questions, or want to tell me about your tour, DM me on instagram @rochesteralist or email [email protected]. Tag me and @585mag in your walking food tour photos. We'd love to see you having fun on your adventure!
Amy Riposo is the founder and creator of Rochester A-List, a hub for connecting people to recommended food, drinks, entertainment and wellness in Upstate NY. She organizes food-centric events bringing like-minded people together to share and explore local food and drinks.