Rochester, NY BBQ
Good Smoke BBQ ♥ 135 West Commercial Street, East Rochester, NY (585) 203-1576
By Amy Riposo, A-List Editor
If you're like me, good food is often on your mind. You have a list in your head of restaurants you like to go, and places you want to check out next. If it is not already there, Good Smoke BBQ should be on your list if you're looking for BBQ in Rochester, NY. Catapulting to the top of the list of reasons is the food is delicious. I'm talking absolutely delicious. The grill masters have won over 600 awards in bbq competitions across the country. So let's start with their award-winning delicious food.
A great place for Rochester, NY BBQ. Grab your bib and dive into some menu favorites and more reasons to get your bbq on at Good Smoke.
Go Bills! Get in on their weekly $100 gift card giveaway during the 2022-23 football season. Details at the end of this article.
Good Smoke BBQ catered the A-List golf tournament and I returned that week to try more of the menu in the restaurant. We dined the way I love most- with a group ordering quite a few items from the menu to share. I can honestly say the options are pretty solid all around. You can order whatever you are in the mood for and be confident it will be delicious. Here's what we ordered and loved.
Buffalo Wings
Buffalo wings are one of the most popular game day foods. Meaty large wings are pre-smoked, perfectly cooked and coated in sauce – they have 10 sauces to choose from. Even their sauces have won awards. We went with the award winning People's Choice sauce which was slightly sweet and crazy good. Of everything we ordered, the wings were one of my group's favorites. Also pictured in this photo are the ribs. The award winning St. Louis spareribs are smoked daily with pork rub and sauced with rib glaze. Mouth watering is best to describe them.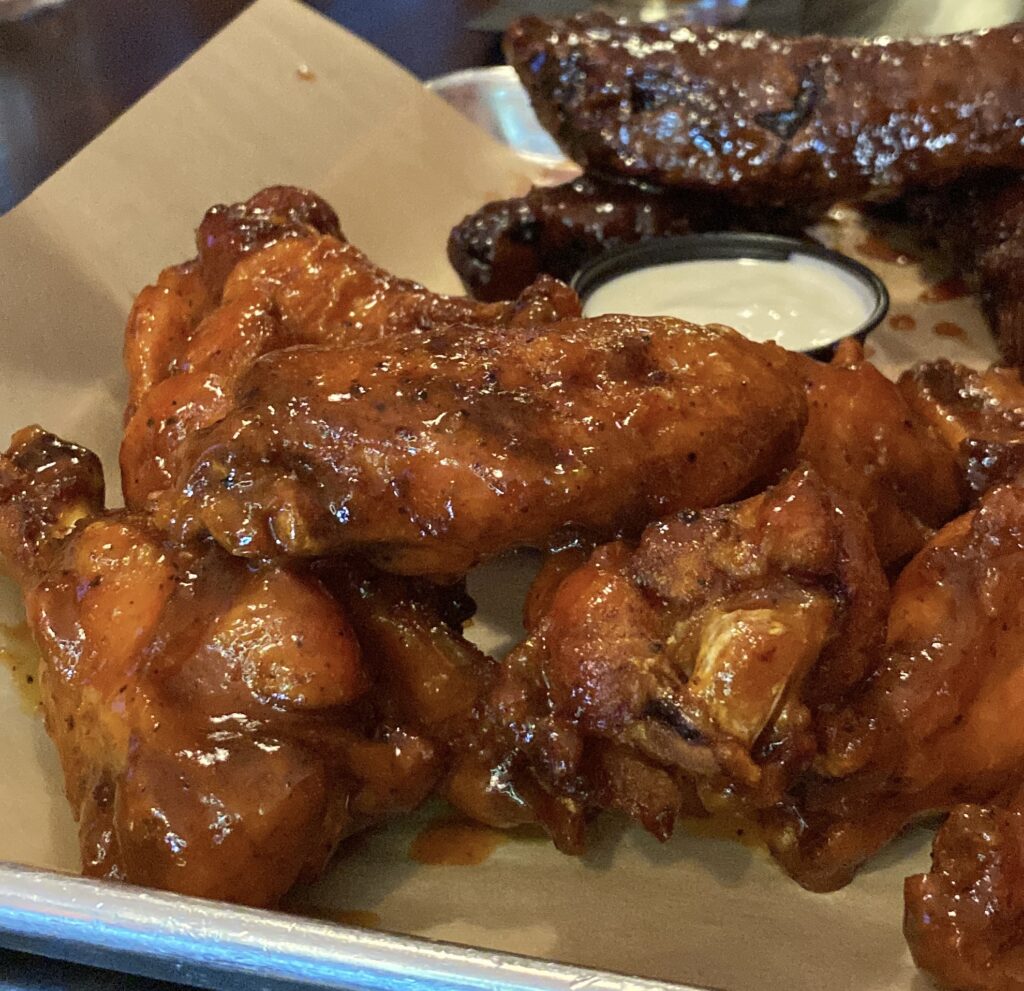 6 Sauces
Get your sauce fix! Insider tip if you're a sauce person, don't hesitate to request they bring all 6 to the table so you can try them all. In addition to the 3 shown, they also have Mustard Sauce, Roc Style and Traditional BBQ.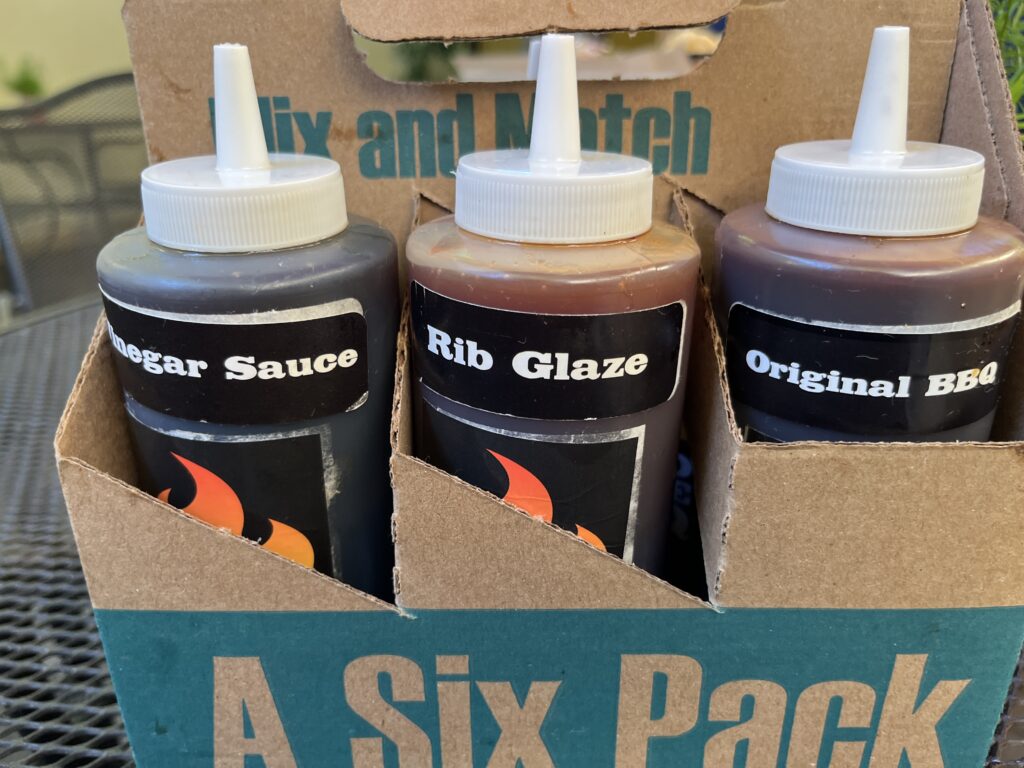 BBQ Sundae
The BBQ Sundae is layered with bbq beans, mashed potatoes, pulled pork and coleslaw. It's a great item when you're not sure what to order or want to try a few bbq foods in one dish. It's served with a side of their honey corn bread. We added two more sides – creamy mac n cheese and cajun tater tots with cheese sauce.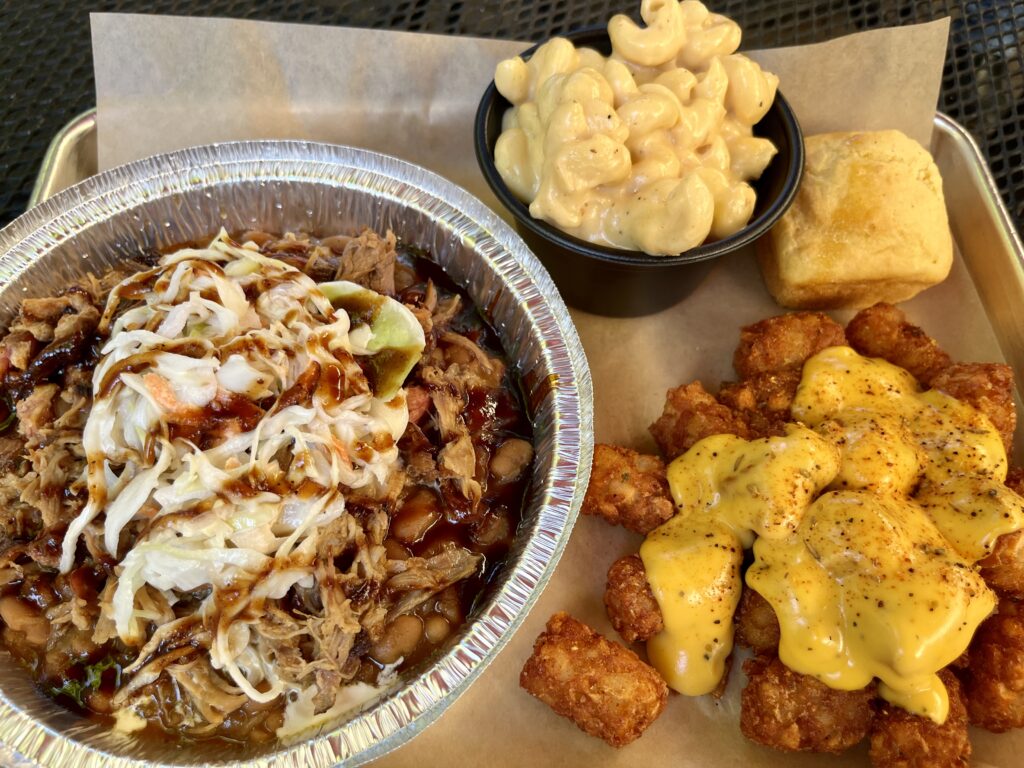 Tennessee Tacos
On the sandwich side of the menu, we ordered the Tennessee Tacos. Flour tortillas are filled with pulled pork and topped with homemade slaw and chipotle crema. Everything tasted fresh and full of flavor.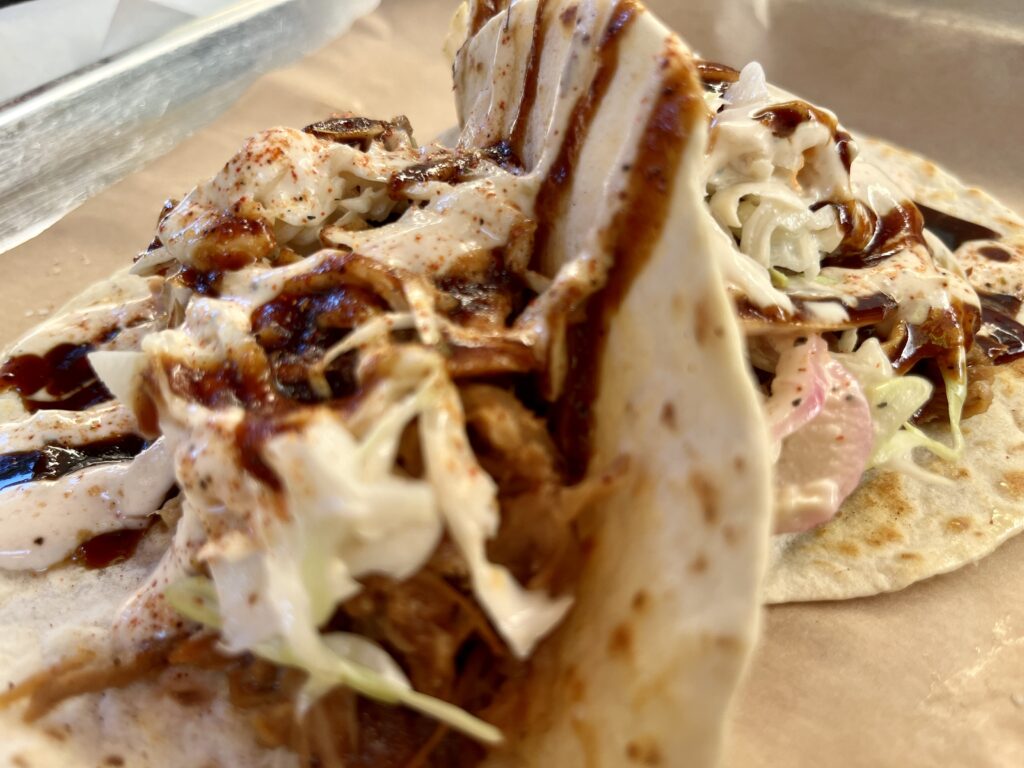 Award Wining Bacon Gooey Bar
Our server informed us this dessert won awards in several competitions and let me tell you, order it! Two vanilla bars are topped with bananas foster, caramel sauce with cinnamon and brown sugar and crumbled bacon. Enough to share.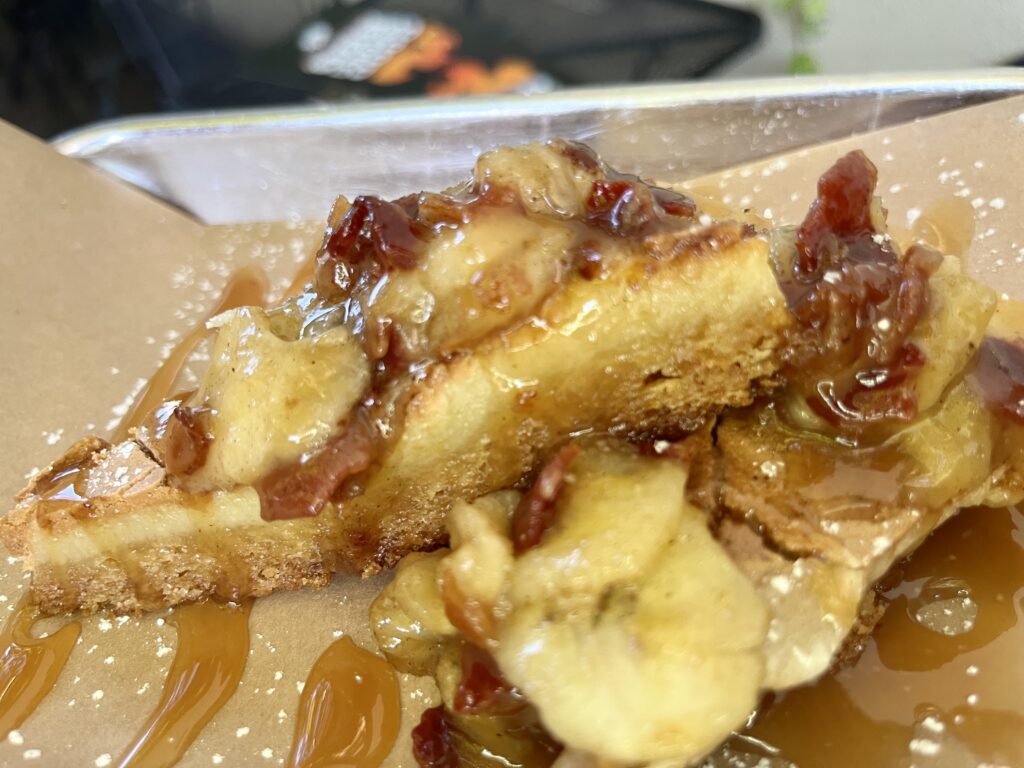 When I'm recommending restaurants, the occasion weighs in. Who is going- little ones, business lunch, watching the game, take-out? All solid options here. Gluten free friends and vegetarian friends, there are a lot of options for you and the menu is marked with vegetarian and GF items.
Little Piggy Menu
If you have little ones, they have a menu just for them. The Kids Q menu has a smaller pulled pork sandwich, chicken fingers, grilled cheese and kids rib meal. Each is served with cornbread and one side.
The Patio
I know it is October and patio days are winding down, but when warm days and nights return, we're all looking for and trying to remember which restaurants have great patios. The courtyard patio is gorgeous with two trees growing on the patio.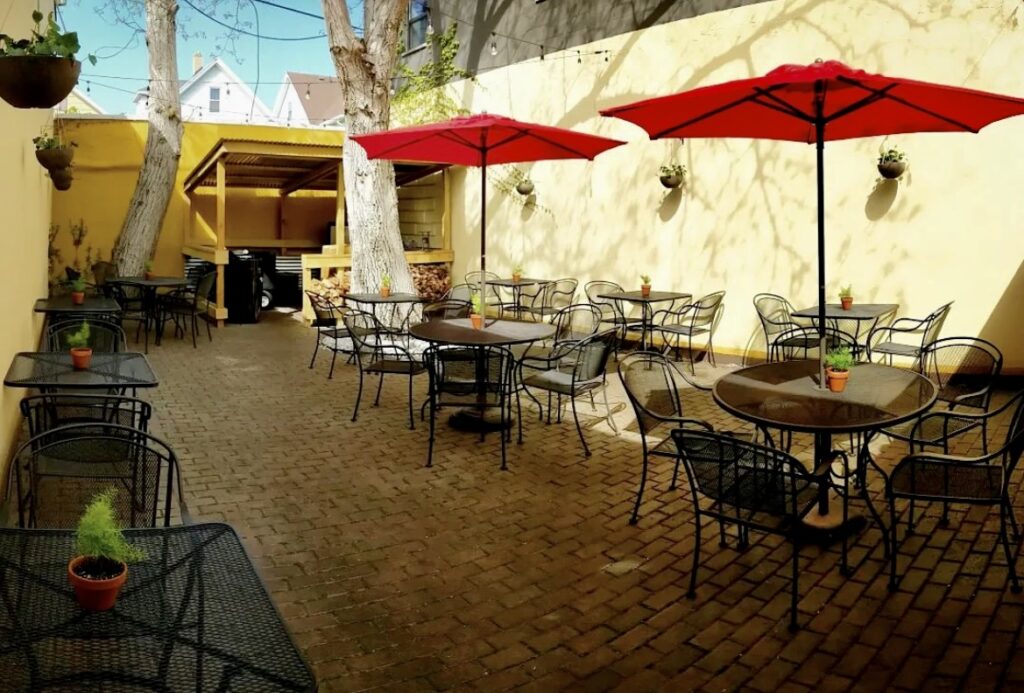 Last but certainly not least, the restaurant also has a nice bar.
Try a New Bourbon or Whiskey When You Visit (or pick up take-out)
Their bourbon and whiskey menu is extensive. They have over 60 bourbons and 100 whiskeys so you can try one when you visit or pick up a to-go order.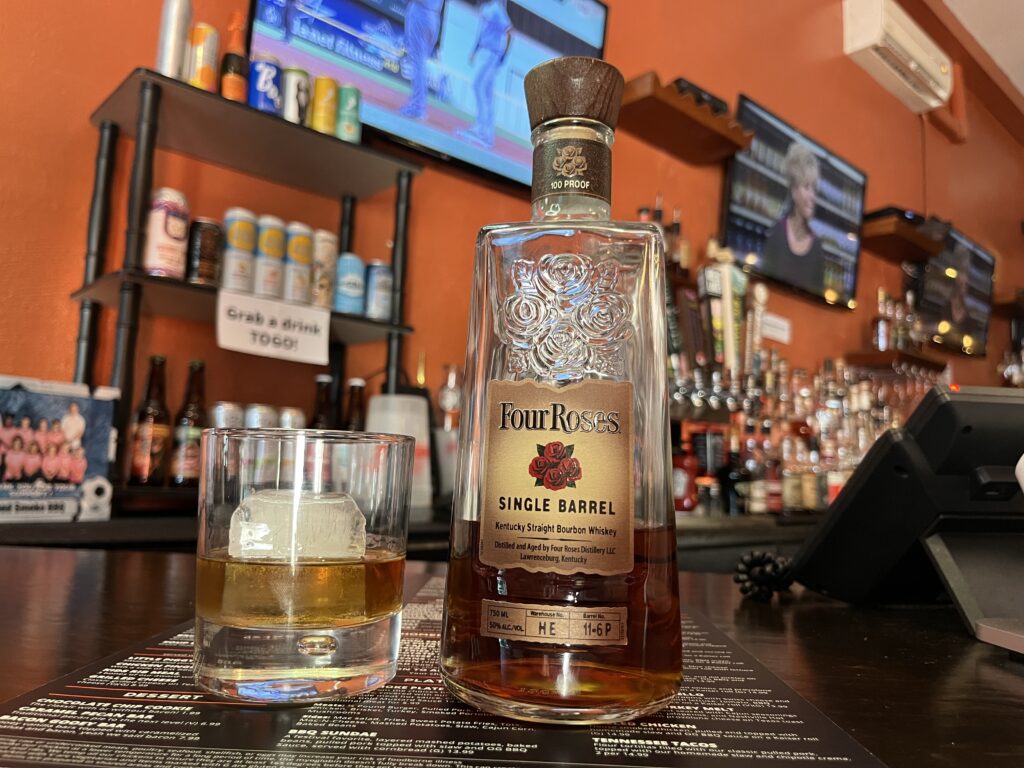 If you're grabbing take-out, you can run in and not miss any of the game – they have tvs at the bar. It's also a good spot to watch the game. Did I mention that bourbon and whiskey list? They also have a nice beer list, fantastic wings, and plenty of starters to pair with those beverages.
Thank you Good Smoke BBQ for being an excellent addition to the Rochester, NY restaurant scene.
*** On Game Day Get in on Their $100 Weekly Gift Card Giveaway ***
Each week during the '22-'23 football season, Good Smoke BBQ is giving away a $100 gift card. When you order (in the restaurant or to-go) during any game, mention Rochester A-List to be entered. If you forget when ordering, mention when you pick up your to-go order. Good luck and think of them on game day(s) all season long.