Rosario Pino's ♥ 349 W. Commercial Street in Piano Works Mall, E. Rochester (585) 267-7405
Virtually walk through the doors of Rosario Pino's: find gift ideas for the foodie (and those who like to eat), the dinner party host(ess), an extensive selection of gluten free items, unique food related experience ideas- classes and chef's tables, delicious house made pastas and sauce, select artisanal oils, vinegars, gift baskets, and so much more.  Read on… as Allison Zimmer, A-List food editor and foodie walk you inside one of Rochester's popular artisanal food boutique shops.
We're saying it over and over again – shop local, support small businesses.
But why is it important? And what's in it for you?  Shopping local creates jobs and supports local business owners who are your neighbors and friends. It keeps our community distinctive and gives us a sense of pride in where we come from.  But also? We just have really cool stuff.
Case in point, I spent an entire morning browsing the (gorgeously) stocked shelves of Rosario Pino's in East Rochester – Ground Zero for foodie girls like me.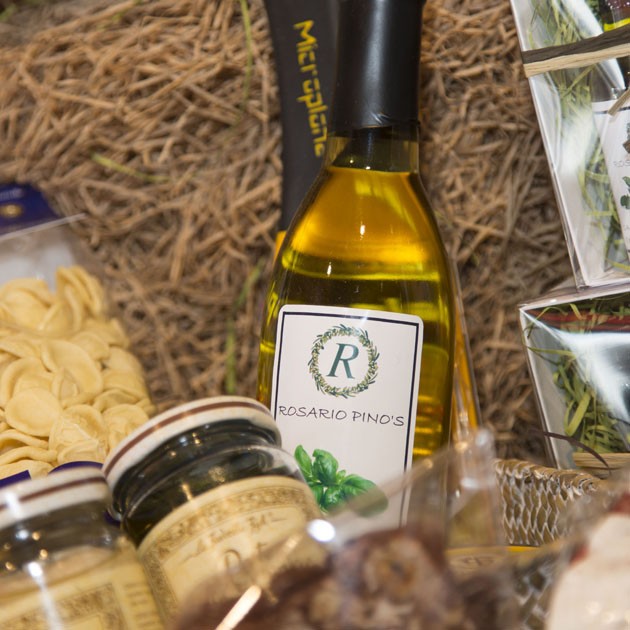 You want reasons to shop local? They have hundreds.
Not everyone on my list loves to cook, but every one of them loves to EAT (like, as they say, follows like). Rosario Pino's has something for everyone.
Make it easy on yourself and grab a few of Pino's beautifully arranged and festively wrapped gift baskets – there is a huge assortment in a variety of price ranges. They're gorgeous, they're full of delicious goodies and festive treats that are perfect for celebrating the season, and frankly, they're a heck of a lot more special than a sweater.
I love to give the gift of food at holiday time. Food is how we celebrate. It's a gift that says you care.
One of the coolest gift ideas I have ever seen are these: Balsamic Pearls. Yes, you read that right – tiny pearls of the finest quality balsamic vinegar that burst on your tongue like caviar, and are just as luxurious. These take garnish to a whole new level, and are a surefire way to impress even the snootiest foodie in your life. They're also just seriously cool.
Speaking of balsamics, they've got all you could want. From the simple to the regal, if you're looking for something unique, something of a quality worthy of the holidays, you're going to find it here (trust me; I did the legwork).
Owner Gary Pino believes that food should be an experience, which is also why I believe it makes the perfect gift. He's passionate about what he does, and about every item in the store. Let Gary, or any member of the team, teach you more about their balsamics or help you pick out something special for the special people in your life. The lesson (and the sampling) is a gift in itself.
Gifts like this help make the holiday magic last all year long.
Holiday season is also The Season of The Hostess Gift. Let me assure you all right now; she doesn't need another scented candle. A bottle of imported artisanal olive oil? Yes. Or maybe a jar of truffle salt, or a package of what Gary assures me is the best pasta I'll ever taste (it was)? YES.
And then there is possibly the best gift of all (except…oh, those pearls though…and all the truffles…)
Rosario Pino's is becoming increasingly popular for its Chef's table. Enjoy a full meal and a fabulous night out while chef Margherita Smith shares her secrets with you over a themed menu.   How great is that?  This is the perfect gift to share with your best friend, or to give to your parents (because admit it, they're the hardest people on your list to shop for). It's incredible food and a warm, memorable (and if mine was any indicator, funny) night out with people you love. You'll even pick up some cooking skills.  Now that's a gift they'll remember.   Rosario Pinos also offers Cooking Classes so if anyone on your list would love to cook with chef Dan Martello (Good Luck) or Mark Cuppolo (Rocco), give them the gift they will remember for a lifetime.
Give gifts that come from the heart, and that will spread cheer long after the lights and decorations have come down. Stop by Rosario Pino's today. Family owned and operated, this local merchant is a Rochester treasure.
-Allison Zimmer, A-List Contributor
Now through the holidays Saturdays at Rosario Pinos
Free tastings of house-made items- sauces, ravioli, gnocchi, cavatelli (the pasta is hand filled, nothing on machines),olive oils and balsamic vinegars.