Like a late summer harvest, we're bringing you an extra dose of deliciousness with these additions to our popular article on where to find 15 Great Brunches in Rochester.
There's no way we could tell you about the area's great brunches and leave out latecomer, Portico by Fabio Viviani. Rochester A-list was invited to an exclusive, media only preview of the new menu, which coincides with the opening of the new luxury hotel and spa at the del Lago Resort & Casino, to which Portico is attached.
1133 State Route 414, Waterloo, NY  (315) 946-1777
The A-list team always has a great time together but this night was particularly magical. Cold Rose, mimosas, and an amazing brunch at…7 pm? Everything from the beautiful atmosphere to the incredible food transported us to a place where time didn't matter. The sun may have been setting, but we were too engrossed in our cinnamon and Nutella sticky buns to notice. When we weren't mesmerized by gooey Nutella, we immersed in our stunning lox cured salmon served with sliced tomatoes, pickled onions, imported capers from an island just off the Italian coast, and orange cream cheese, served atop toasted, house made polenta bread.  Savory fans will adore the shredded beef short ribs braised in red wine and served over a potato, parsnip and red bell pepper hash and dressed with a perfectly poached egg. They'll also be impressed by the Crab Cakes Benedict, crispy, sweet, and made almost entirely of crab, held together with a dash of breadcrumbs and spices and a whisper of egg white, and topped with a spicy chipotle hollandaise, that beautiful polenta bread and poached eggs.  They're also executing their own take on chicken and waffles, and doing it well. Crispy, juicy, spicy boneless chicken over fluffy waffles, topped with freshly whipped butter and local maple syrup.  And because we A-lister's live an amazing lifestyle (and you do too, if you're reading this!) we also hit up Label 7 in Pittsford, one of the hottest spots in town these days, for an outdoor patio brunch that we knew immediately had to make the list.
50 State Street, Pittsford, NY (585) 267-7500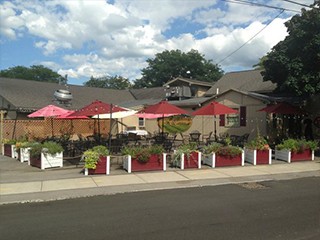 The brunch menu at Label 7 is as delicious as it is huge. This is truly a brunch with something for everyone, and a brunch everyone can feel good about, thanks to their commitment to using local, sustainable ingredients.  The menu truly has everything, from gluten free options (their amazing grilled wings, salmon salad, caesar salad) to vegetarian (fried green tomatoes, granola and fresh fruit parfait) to classic (an upscale version of the breakfast sandwich and similarly dressed up version of the breakfast burrito) to the decadent (chicken and waffles, steak and eggs, a berry and cream cheese stuffed french toast) to the exotic (Beef Bibimbap).  Enjoy the views from the canal side patio, or eat in the beautiful dining room with its soothing rustic/chic vibe. Wherever you choose to dine, get there soon – brunch is only available May through November, from 11-3.
300 Village Square Blvd., Honeyoe Falls, NY  (585) 624-4386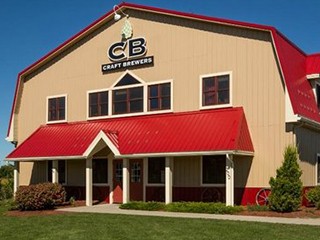 CLOSED Sept. 2019.
And because a brewery is always a great time regardless of the hour of day, we had to add CB Craft Brewers and their hopping brunch to this list. They're calling it their Sunday Funday, and for good reason. Who doesn't want to start their day with a beer cocktail? Certainly not this writer. In fact, had I know it existed, it probably would have been on my bucket list. It should definitely be on yours.  Served every Sunday from 11-5:30 starting in May you can enjoy their cold beers or beer cocktails with fan favorites like their renowned gourmet burgers or tavern mac'n'cheese. Come hungry and dive into the Full Barrel Breakfast Bowl, or try the Breakfast Beer-ito (see what they did there?). The Farmhouse French Toast is as decadent and filling as it sounds, and definitely a treat worth indulging in. Naturally their delicious beers make an appearance throughout the menu, like in the Beer Belly Benedict. There's also a weekly quiche special. Best of all, their full lunch/dinner menu is also available in addition to their (glorious) new brunch options.
We felt our 15 great brunches in Rochester list wasnt complete without the addition of these 3 brunches that joined in on the local brunch craze. For an extra dose of deliciousness, click here to see the original 15.
-Allison Zimmer, A-List Contributor