Nosh  ♥ 47 Russell Street in the Neighborhood of the Arts, Rochester, NY (585) 445-8700
Welcome to Nosh
By Allison Zimmer, A-List Food Editor
Here at Rochester A-list, it is our job to eat delicious food in beautiful spaces (don't hate us; we do it for you). And as often as not, we discover beautiful people and inspiring stories along the way. Nosh is a great example of people, places and food coming together to create a unique experience that leaves you satisfied in both body and soul.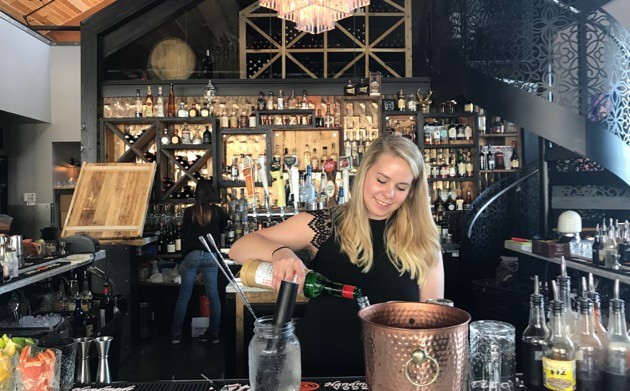 We dropped in on a quiet afternoon just before service began to sample the menu (these dynamos launch a brand new menu twice a year, so you can continually enjoy a new dining experience in an atmosphere that is comforting and familiar). This rare quiet hour also gave us a chance to talk with Chef Joe Zolnierowski, the culinary force behind what has rapidly become one of Rochester's most popular restaurants.
It's no surprise that the tone of our conversation with Chef Joe mirrored the feel of the restaurant; easy, fun and inspiring. Joe explained that the design goal was to create someplace casual and approachable – a place where you could enjoy the finest food in town, but still feel as comfortable as you do in your own backyard. It's no accident that those distressed wood tables are reminiscent of picnic tables.
The Menu
The menu is consistent with that design aesthetic; it's all about bringing people together. The Suppers and Sociables sections of the menu in particular are meant for crowds. These family style, large format sharing platters underline everything that Nosh is about by encouraging plate passing, bite stealing – and memory making.
As Joe walked us through the menu he shared with us details of his Polish-Korean upbringing, which was split between the American Southwest and Rochester, where he spent his summers. His heritage, travel and other experiences have helped to shape the menu, in particular dishes like the mouthwatering Pollo Loco, his take on classic Milanese style chicken cutlets. Remodeled with a Southwestern feel, these succulent cutlets are light and crispy, loaded with melted cheese, and topped with a zesty, spicy enchilada style sauce. The salty and spicy elements are balanced by cool sour cream, creamy avocado, black bean puree and fresh, crunchy arugula. I absolutely adored this dish, so much that I did exactly what the Nosh team hopes we will all do; I turned to my fellow diners, fork in hand and insisted, "You need to try this."
The fun and interactive theme is prevalent throughout the menu. A great example is the Crispy Reebs, where hot and cold play against each other in a nod to Chef Zolnierowski's Asian roots. Hot, juicy ribs work in an unexpected but extremely successful partnership with cold, vinegary pickled vegetables, cutting through the rich, fatty goodness and making you want to dive right back in for more.
I knew I had to keep myself to just a few bites of each offering if I was going to sample all of the new dishes, and nothing tested my resolve like the Lobstah Pizza. The chewy, slightly blistered, perfectly executed crust has been a labor of love, with today's final product the result of years of trial and error. It was worth the effort. The delicious dough is topped with garlic oil, fresh fontina cheese, hearty chunks of sweet, buttery lobster, sautéed spinach, fresh cherry tomatoes, a hint of fresh dill, and charred lemons. This is more than a pizza; this is an experience.
Meanwhile my dining companion was busy losing his mind over the Bistec, a garlic and citrus marinated hunk of juicy, tender ribeye that Chef Zolnierowski calls the "cap". This was incredibly rich and flavorful, hitting bright citrusy notes, floral garlic aromas and lots of fresh herbaceous goodness. The Argentinian inspired grilled vegetables provided a perfect balance.
Our tasting also included a tasting of the Beets by J (I told you this menu was fun), roasted beets accompanied by rich Chèvre whipped with fresh, light ricotta and accompanied by their house roasted pepitas, which are seasoned with sugar, chili powder, cumin, a hint of chipotle powder, salt and pepper. I could have snacked on them all day long. The entire dish was a hip hop song for my mouth (and I love hip hop almost as much as I love food).
Another dish which mightily challenged my resolve (spoiler alert: I have none) was the Crab and Poblano Arancini, another playful twist on a dish we all know well. No round balls of rice here; these arancini are served flat, to give you more crispy surface area. Pure genius. The crab was light and sweet against the smoky, spicy poblano, which stood out beautifully against the creamy arborio rice, salty mozzarella and nutty parmesan. They were topped with a beautiful peppadew relish and a cilantro pesto, a welcome departure from boring marinara.
Connecting Community
It's clear that the team at Nosh is putting their heart into every dish on the menu, and that they want your heart to be here too. They're also investing heart and soul into the community with their charity work. Nosh has partnered with a handful of nonprofits on the One Roc campaign which encourages other businesses and organizations to work together to give back to the community that supports them.
Look closely at the menu and you'll see that dishes like the Grilled Avocado Order are associated with a local charity (in the case of this dish it is Lollypop Farm). Order the dish and a portion of the proceeds will go to support that charity. Eating the Peachy Pig Pizza helps support the Open Door Mission, and so on. Come down and enjoy a fantastic meal with the people you care about and you can help Nosh support the community we all love so well.
Nosh also offers event support, hosts bar parties and specialty cocktails (among other specials) to benefit charity events for the organizations they support. Next time you're at the bar enjoying one of their life changing specialty cocktails, check to see if there's a charitable special available, and watch for their own in-house special events. Last Christmas they hosted a benefit party for CURE.
Make the most of your next night out by sharing a meal at Nosh with the people you care about, and supporting your community at the same time.
Top Photo also by Scott Zimmer.