Exceptional Takeout and Delivery Hand-Picked by A-List Staff
Before social distancing, most of us turned to takeout primarily for convenience. But like almost everything in our lives these days, the nature of takeout dining has changed. Takeout has become a way to stay connected to our favorite places, linking us with our community and helping us support the small businesses which make it special. In this article, we're sharing our favorite takeout spots in Rochester, and how they're making social distancing feel a little less distant, and helping us stay #alonetogether.
Remember to tip well and call before using a delivery platform such as Grubhub, which comes with hefty fees for restaurants and consumers. If you ARE picking up, consider walking there or plan a walk in the neighborhood of your favorite restaurant. Dinner and a walk sounds like a great night. Hello City Walk friends! Although different than your usual night-out, the new normal can still be something to look forward to and most definitely delicious.
Here are some great spots offering delivery or takeout right now, and great dishes, drinks and treats to make your shut-in a little happier. We'll be adding to this list, so stay tuned for more. Have some favorites you've discovered? Let us know in the comments below or contact us by email.
Staffers who contributed to this compendium include Allison Zimmer and Amy Riposo.
1815 East Ave., Rochester NY (585) 244-3460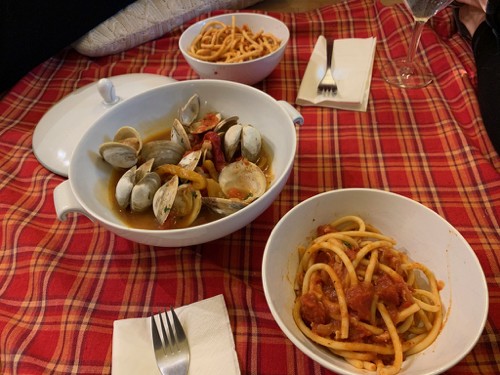 If you're craving Italian, Ristorante Lucano on East. Ave., is as authentic as it gets. Not a single dish is an Americanized interpretation. Add a bottle of wine (all wines on their wine list are currently 30% off), or if you spend $100 or more, you'll receive a bottle of their house wine free.
We ordered the Bucatini all 'amatriciana and Vongole steamed little neck clams, and both dishes were fantastic. The pasta is tossed and twirled with a rich fresh tomato sauce that is cooked with pancetta, onions and pepperoncino (dried hot chiles) to give it a pleasant spicy finish. The clams were perfectly cooked swimming in a spicy broth full of flavor with hot cherry peppers and caramelized onions. The pasta was more than enough for two, but if you have stretchy pants on and likely you do, then have a go at finishing it. Call to place orders.
Hours: Wednesday -Saturday 5:00 pm -8:00 pm
Curbside Pickup
Nosh, 47 Russell St., Rochester, NY (585) 445-8700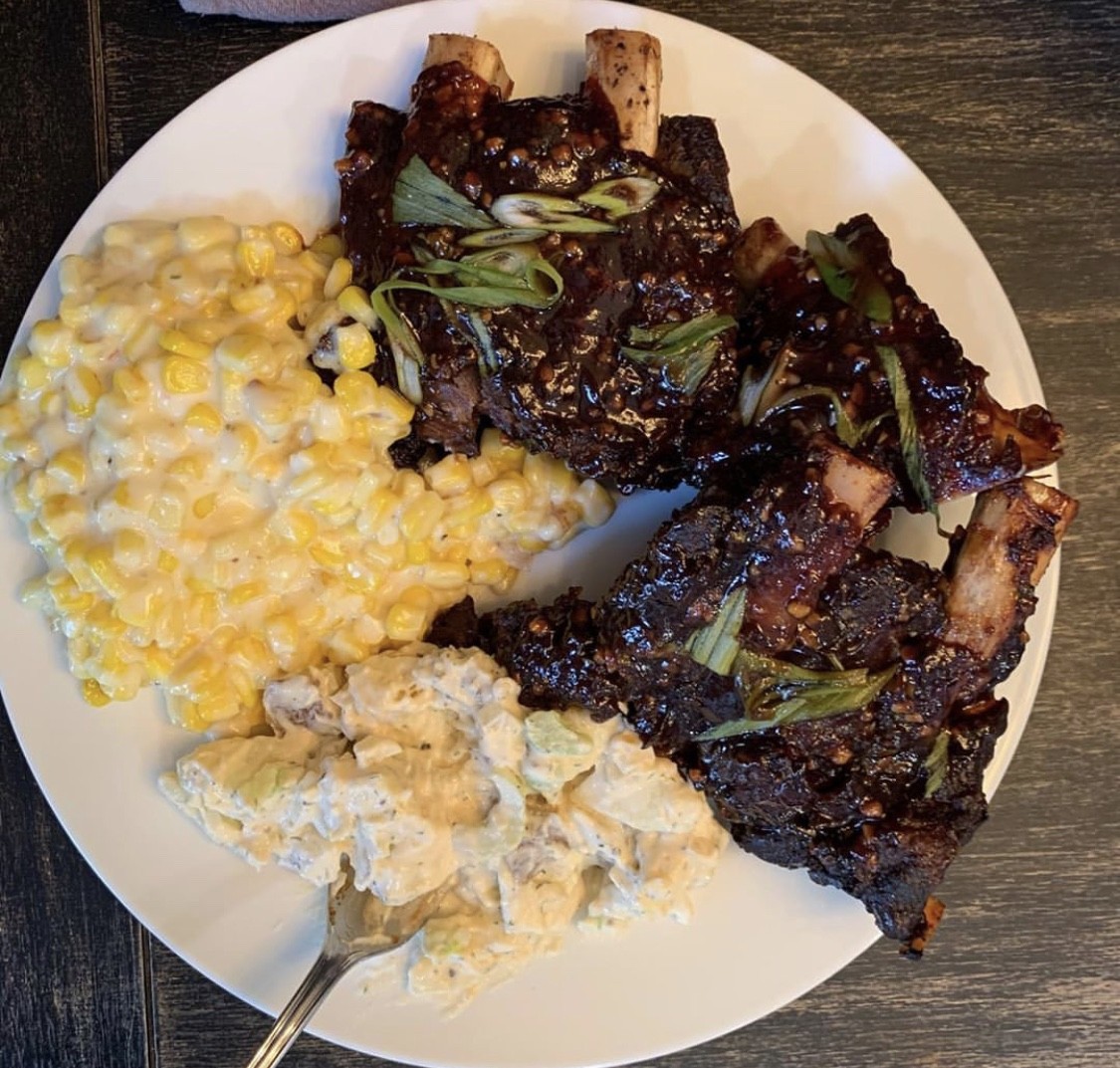 If you've sent almost as many, "OMG we need a NOSH NIGHT when this is DONE" texts as you have "Just checking on you" texts during this pandemic, food is your love language, and we have good news for you. Like everything else at Nosh, they've got takeout down to a science. Place your order the day before, you'll be assigned a pickup time, and a friendly (albeit masked) face will be waiting with your meal when you pull up to the curb. Short of watching one of their bartenders shake up a martini with your name on it, it doesn't get any better than that. I ordered my longtime favorite, the Pollo Loco, while my husband savored the Sesame Street, and my two little ones (ages 11 and 4) split the luscious burger (mom and dad may have helped – teamwork is key to surviving social distancing). We also started with an order of the amazing Banh Mi meatballs – which may or may not (may) have also made their way onto my breakfast plate the next day. And because cocktails are one of my favorite elements of dining at Nosh, we also started with the Keep Your Distance, a crisp, refreshing blend of gin, elderflower, basil, and lemon that went down mighty easy, and made our Saturday night splurge feel that much more special. It felt so good to indulge in favorite dishes from a beloved spot. It brought back some great memories, and reminded us that there is life outside our doors, and that one day we'll sit down at one of their picnic styled tables and dig into a Tomahawk and some craft cocktails once more – maybe even wearing real clothes with buttons and zippers. Until then, enjoying it all at home in our sweats was a taste of heaven, right here at home. Call to place orders.
Hours: Wednesday – Saturday 4:00 pm – 8:00 pm
(all pickup orders due one day in advance)
Curbside Pickup
Veneto Wood Fired Pizza and Pasta 318 East Ave., Rochester, NY (585) 454-5444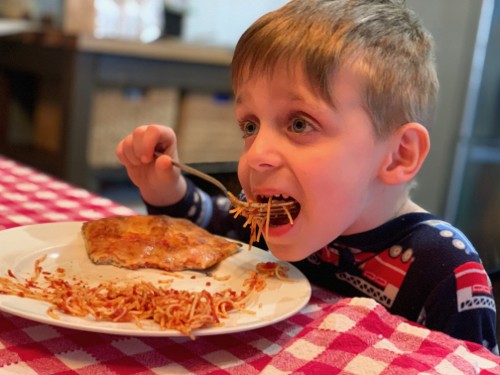 Warm, welcoming, and cozy, with a menu chock-a-block full of comforting Italian classics, Veneto has been a long-time staple for both family dining and romantic date nights alike. On yet another frigid spring night in Rochester, we turned on the fireplace, plugged the kids into Disney and treated ourselves to a date night at home courtesy of their popular Date Night special – two salads, two entrees, two cannolis and a bottle of wine for $55. While I typically gravitate toward some of Veneto's more sophisticated dishes (the pizza Bianca and Pasta con Funghi are favorites), we chose an arrangement of family friendly classics perfect for chasing away the distancing blues. Our Date Night selections included their creamy Caesar, smoky, chewy, cheesy margherita pizza, and a delicious mound of crispy chicken parmesan and luscious pasta, with a lovely bottle of Sangiovese. It was the perfect meal, pulling the double duty of giving mom and dad both a treat (and the quiet in which to savor it), and feeding the kids without complaint – or the need to wash more dishes. The generous portions made this Date Night special just enough food for the four us (mom, dad, kids ages 4 and 11) but if you're as tired of cooking as I am, throw in an extra entrée or pizza to make sure you'll have leftovers for lunch the next day. I also grabbed a jar of their delicious homemade marinara and some of their delectable Tuscan bread dip, giving this tired mom two meals in one fantastic togo stop. This meal really was such a treat after weeks of cooking, and what's more, it felt great to support a family business owned by two lovely people who put their heart and soul into every dish. Call to place orders or email through their website.
Hours: Wednesday & Thursday 4:00 pm -8:00 pm
Friday & Saturday 4:00 pm – 9:00 pm
Sunday 4:00 pm -8:00 pm
Curbside Pickup
Edibles, 704 University Ave., Rochester, NY (585) 271-4910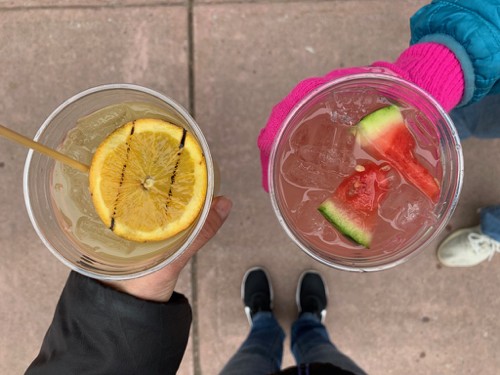 With restaurants being more like liquor stores with food now, we're excited to see creative cocktails to-go being as popular as our favorite dishes. Some of the best (of both) are at Edibles. From the fun Margheritas like the Burnt Orange, Gummy Bear and the Petrone Watermelon to a Makers Mark Mule & Pinot in a biodegradable pouch with wheat straw, their cocktails to-go are the talk of town. Hit up their Quarantine Happy Hour on Fridays (currently noon-8 pm) when the cocktails to-go are only $7. I met up with a friend for cocktails to-go, a walk around NOTA and timed our dinner to pick-up after our walk. We ordered the Burnt Orange Margarita and the Petrone Watermelon Margarita, and we both thought they were two of the best cocktails we had have ever had. For dinner, we had the quinoa black bean burger with white cheddar and house pickles. The fries were seasoned to salty perfection and the burger was fantastic. We also had the chicken cutlet with lemon and arugula. We'll definitely be back to try more of the menu. Put Edibles on your takeout hotlist. With Three Heads Brewing, Nosh and OPG recently joining Edibles in NOTA, the neighborhood has become a blossoming area for foodies. Make a fun night out with social distancing by creating your own City Walk and order by phone. You could also hit up the restaurants in Village Gate. Now that the weather is getting nicer, this might be a fantastic way to feel like you're going out while also being responsible. Connect with Edibles on Facebook or Instagram for all of the fun cocktails (not all are on the menu) and weekly dinner specials. Place orders by phone. Also accepting Venmo.
Hours: Tuesday – Friday noon – 8:00 pm
Satuday 4:00 pm – 8:00 pm
Curbside Pickup
GrubHub
Greece – order here
2570 Ridgeway Avenue, Rochester NY (585) 270-4734
Hilton – order here
22 Main Street, Hilton NY (585) 366-4274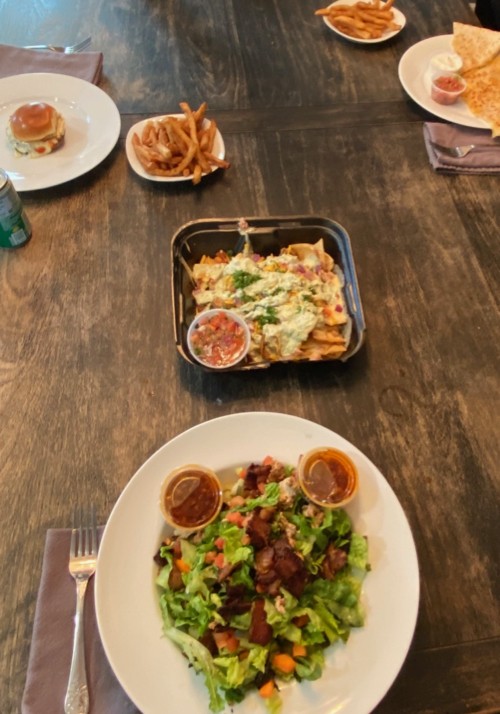 Look, you don't need a pandemic to justify eating nachos in your pajamas, but when in Rome…
Jose Joe's is a family favorite dine-in and takeout spot. The restaurant has been steadily gaining traction owing to a menu packed full of scratch-made comfort classics (they were named Rochester's Best Taco Spot in 2018). Among their most popular dishes is the garbage burrito, a Rochester style garbage plate ingeniously wrapped into a gooey, cheesy burrito. The menu concept (half burgers, half burritos and other Tex-Mex favorites) came from parents of four kids, Tom and Anna Maria Ban, who grew so tired of trying to find a restaurant that made everyone happy that they just…opened their own.
The mini Joe (a slightly-bigger-than-slider-sized burger) and the mini beef and chicken burritos are favorites at my house, as are the quesadillas (steak and cheese, please). And naturally, takeout with fries would be like a night without stars (when you order, please try the Taco Fries – I beg you). A lifelong avowed hater of salad, I'm actually hooked on the chopped salad and order it every time. Maybe it's the pickles or the thick cut bacon; maybe it's just witchcraft. Either way, it's a dish you can't miss. Because I also have a sense of proportion, every order we place also includes their incredible nachos, which I will boldly argue to be the best in the city (trust me, I've done the legwork).
With both locations (Hilton and Greece) offering online and call ahead ordering, takeout is easy and convenient. The Greece location also boasts a convenient drive-up window (you still need to call ahead but pickup is super easy and virtually contact-free). There's never been a better time for comfort eating, and in my opinion, there is no better comfort food around than Jose Joe's.
Hours: Every day 11:00 am – 8:00 pm
Friday 11:00 am- 9:00 pm
Curbside
Drive up (Greece Location)
GrubHub
This is not an exhaustive list. We'll be sharing another round of great takeout dishes, drinks and treats in Rochester soon.
Rochester A-List is committed to finding and linking A-Listers to the best of everything in Rochester, NY. Go out and try these takeout spots and tell us what your favorite dishes are on our Facebook Page