6459 St. Rt. 64, Naples (585) 374-9771, website
This bistro is a favorite with locals and all who visit.  Located between Canandaigua and Naples, in South Bristol, the Brown Hound offers brunch, dinner, catering, private parties, wine dinners and live music.
It's one of those restaurants that if you live nearby you feel lucky and if not, it's worth every mile to travel there.  The rave reviews are a reflection of the owner Trish Aser's love for what she does and the vibrance of the local area. During our visit, she told us "I strive to have every item on the menu a home run. My goal is to provide exceptional food, service and atmosphere". Check, check and check.
The Menu
The menu changes seasonally but always has a Finger Lakes focus with cultural influences from around the world.
Wine List Exclusively Serving Finger Lakes Wines
Beer List NYS Beer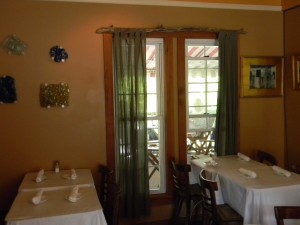 What We Like:
The menu focuses on local foods, Finger Lakes wines, and NYS beers.  The Brown Hound impresses all around.  The food is exceptional. The casual comfortable atmosphere paired with upscale friendly service makes you feel like you are on vacation.
When to Go:
Catch live music on Fri. and Sat. nights (Memorial Day- Labor Day). Wine and Dine Wednesdays feature wines from a local winery paired with a special menu or you can order from the regular menu. Since they are open 7 nights a week, go when the sun is shining and enjoy the beautiful drive, sit on the deck and make a day of it enjoying the area.  Ideas on their website.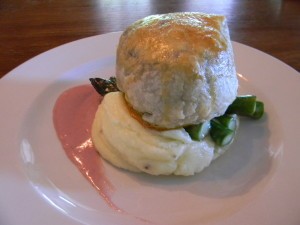 Featured Dish:
The Incredible Wellington
A favorite with regulars for a reason.  A choice fillet, mushroom duxelle, Lively Run Cayuga Bleu in a puff pastry, with bordelaise sauce. Served with mashed potatoes and asparagus. You will clean your plate.