WHAT'S NEW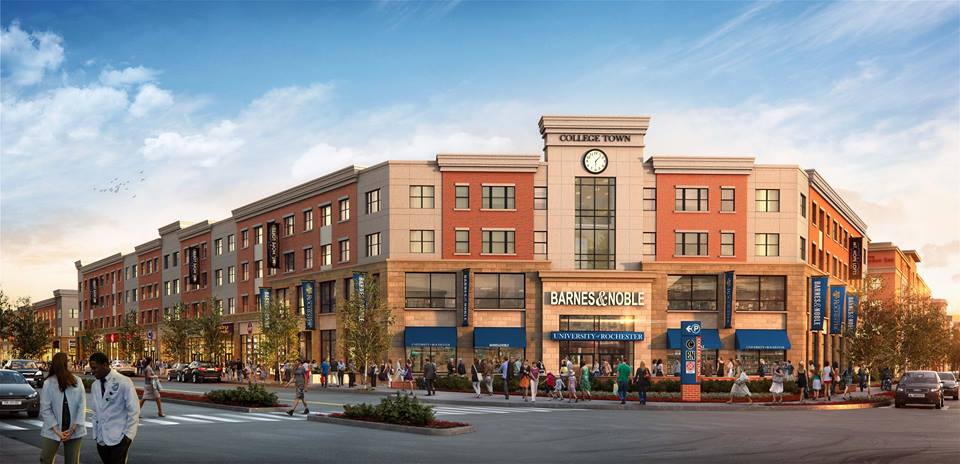 College Town on Mt. Hope is an exciting new mixed-use, close-knit district providing a one-of-a-kind, vibrant place to live, learn, dine, shop, work and play.  The $100 million project, is jointly led by the University of Rochester and Ohio-based Fairmount Properties. The 14-acre site, owned by UR, has been redeveloped by Gilbane Development Co. and Fairmount with six buildings, 152 apartments, restaurants, retail, a grocery, a 1,600-space parking garage, and a 132-room hotel eying completion in mid-2015. College Town storefronts are more than 80 percent leased. Some of the businesses include breathe yoga, Flight Wine Bar, 136 room Hilton Garden Inn, Corner Bakery Café, Canandaigua National Bank, and Moe's Southwest Grill.  Barnes and Noble opened Oct. 17th. Breathe yoga plans to open Thanksgiving weekend.
We may need to rename this area Restaurant Row. Pomodoro and The Revelry have a new neighbor.  Saha Med Grill opened in September on University Ave. in the city.  The menu includes healthy meals using local, seasonal, organic food drawing inspiration from the Mediterranean region. The word "saha" means "health" in Arabic, Hebrew, and Turkish.
Jeremiah's Tavern recently opened its third location in Penfield on Fairport Nine Mile Point Rd. They offer a selection of 40 craft beers to compliment their menu offerings for lunch and dinner.
Apogee is a new wine bar on Park Ave. featuring selections from Sommelier Simone Boone along with craft beer and charcuterie and cheese platters.
Branca opened its doors in August offering an upscale dining experience and delicious Italian menu in Bushnell's Basin. The owners of the Revelry delivered with another coveted restaurant bar.  They serve lunch and dinner 7 days a week.
Hart's Local Grocers opened late summer. Located in the heart of the East End, this independent market has an emphasis on locally sourced foods.
The Village Bakery is too delicious to only be in Pittsford.  A second Village Bakery recently opened in the Culver Rd. Armory.  Their slogan is "It's not just what we use, it's what we don't."   Every delicious bite is made with fresh, local ingredients. No nitrates.  No antibiotics.  No preservatives.  Village Bakery is popular for a reason- the food is delicious and wholesome with a casual upscale big city atmosphere.