Burgers Invade Flower City
We hit the streets to find the best burgers in Rochester.  As a warm summer breeze has washed over the city of Rochester, a magical phenomenon that takes place every summer has re-emerged, THE GRILL OUT! The scent of coals burning, aromatic meat sizzling and the sound of beer bottles clinking in celebration, mark the start of another season of outdoor festivals, picnics in the park, and endless days of sun and burgers. There is no food more synonymous with the season of summer than the great ol American hamburger. So as summer has quickly come upon us, so has our journey to find the best burgers in Rochester.
The 2Vine Burger
Restaurant: 2Vine, 24 Winthrop Street, Rochester (585) 454-6020
Chef: Gino Ruggiero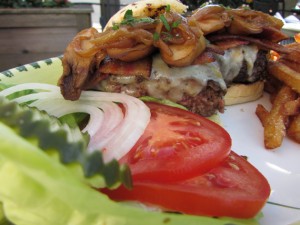 Restaurant 2Vine, one of Rochester's most established fine dining restaurants, not only serves up great food with a side of pizazz, but a burger large enough to feed the entire family. Owner Jerry Serafine has spent his life working in the food industry in one form or another, cultivating his love for great food as well as great service, which is why the 2Vine Burger is made in house with freshly ground beef, creating a juicy and flavorful burger. I got the loaded burger, topped with sautéed onions, shitake mushrooms, cheddar cheese, and apple wood smoked bacon. The burger was so monstrous wrapping my mouth around it was quite the work out, so I didn't feel as guilty about eating this decadent treat. It was rich and fatty with a nice refreshing crunch from the lettuce and pickles. To add to the already comatose causing burger, the 2Vine came served up with a pile of finger licking salted fries and the restaurants sweet and tangy house made ketchup. For the price of $16 this soul satisfying burger is reason enough to visit this Rochester culinary landmark.
-Jessica Gilgurd, A-List Contributor
TRATA's Cajun Burger
Restaurant: TRATA, 197 Park Avenue, Rochester (585) 442-4293

Executive Chef: Aaron Bolten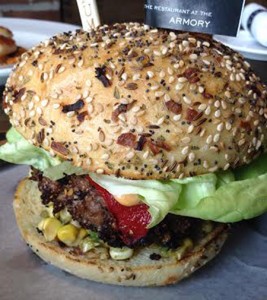 Located inside the Culver Road Armory, TRATA, has quickly become one of the cities favorite dining spots. With Chef Aaron Boltens playful and imaginative menu, it's no surprise that the same playfulness has influenced their selection of burgers. TRATA proudly boasts about their burger bar, presenting its diners with anything from the classic all American to the indulgent kobe beed burger. With so many options to choose from it was almost impossible to pick which one was the best, but it was the uniqueness of the Cajun Burger that caught my attention. TRATA's 8oz burger is first coated in Cajun seasoning before being grilled, creating a crispy outside and sealing all the juices on the inside. Keeping with the Cajun theme the burger was then topped with sliced piquillo peppers, a sweet and tangy avocado corn relish, and a creamy chipotle mayo. This already delicious burger was elevated by the everything roll it was served on, baked fresh daily at Village Bakery. For $12.95 the Cajun Burger was exactly what TRATA promises to serve, delicious food and a great time.
-Jessica Gilgurd, A-List Contributor
Furoshiki's Ramen Burger
Restaurant: Furoshiki, 682 Park Ave, Rochester, NY (585) 612-1328
Chef: Mark Tang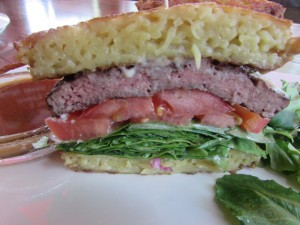 Furoshiki, Park Avenues newest dining addition, has been cooking up traditional Japanese ramen house fare since opening last December. The ramen soup craze has run rampant since places like Momofuku have hit the scene and have turned what was once a college student dorm snack into a fine dining experience. But it isn't just incredible ramen soup being served here, Furoshki has an eclectic menu serving up anything from sandwiches to salads or in my case THE RAMEN BURGER! A juicy and flavorful beef patty, slathered in a spicy wasabi aioli, served with crisp lettuce and tomato, all sandwiched between… wait for it…ramen noodle buns! Yes, instead of typical burger buns, owners Jason Pierce and Mark Tang, took what is the holy grail of noodles, ramen, and transformed it into something entirely new. To create the ramen buns the ramen noodles are soaked overnight in an egg bath inside ring molds and then seared off to golden crispy perfection. Each bite was a taste of comfort from the familiarity of eating a burger with the surprise of Asian flavors accompanying it, making this $8 burger an experience not to be missed.
-Jessica Gilgurd, A-List Contributor
Hot Beav Burger 
Restaurant: The Owl House, 75 Marshall St, Rochester, NY (585) 360-2920
Owner: Jeff Copp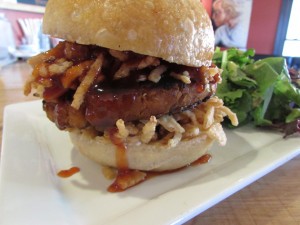 It's no surprise that Owl House, known for their vegetarian minded menu, created a veggie burger so satisfying it would have the most die-hard of meat eaters on their knees praising it. The Hot Beav Burger, named in honor of its creator, former executive chef Brian Van Etten, is everything you could possibly want from a burger. The chickpea and white bean patty was filling and flavorful from the hints of chipotle in it, while the fried onions added great texture and crunch. Although the star of this dish was hands down the house made strawberry sriacha jam. The sweet and spicy sauce was smothered all over the burger giving the Hot Beav the sticky and messy experience you want when eating a great burger. For only $9 I could feel my taste buds dancing with joy!
-Jessica Gilgurd, A-List Contributor
Tapas  50/50 Burger
Restaurant:  Tapas 177 Lounge,  177 St. Paul Street, Rochester (585) 262-2090
Chef: Justin Ealy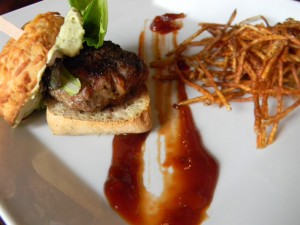 Not your average burger, Tapas 50 /50 burger is a blend of 1/2 short rib meat and 1/2 applewood smoked bacon, hence the name.  The unique flavor is nothing short of delicious.  The burger came out a nice medium rare with a respectable char.  Not a huge crust, but just enough to give you a little texture at the top of each bite.  Served with made from scratch sweet onion avocado mayo that added just the right touch of coolness.  The pomme frites were salty and delicious.  The plate was adorned with house-made balsamic ketchup that is the best I've had.
-Amy Riposo, A-List Editor
Western Burger
Restaurant: Windjammers, 4695 Lake Ave, Rochester  (585) 663-9691
Chef/Owner: Lee Selover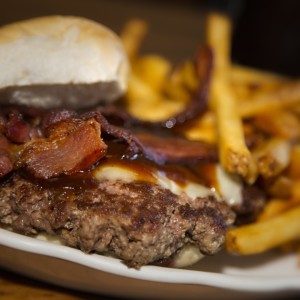 For more than 35 years Windjammer's has been a popular fixture on Lake Avenue in Charlotte, the kind of place where the food and the company are so wonderful and warm they're even managing to draw a crowd down to the lake in February. I stopped by on a sunny Thursday in June to try out the Western Burger, an enormous burger with even bigger flavor. Owner and Chef Lee Selover's commitment to quality has already earned Windjammer's chicken wings recognition as the Best in Rochester on more than one occasion. With credibility like that, it would be a big mistake to dismiss this burger as bar food. This is a hand-packed patty made from multiple cuts of beef ground daily by Lee himself right in the Windjammer's kitchen and then cooked to your request – medium rare for me. Using different cuts gives the meat a true, deep beef flavor that makes you feel that every other burger you've tried was just an imitation. Perched atop that recognizable local favorite, the knotted DiPaolo roll – they're bringing them in fresh every day – this burger is quintessentially Rochester; honest, earthy, and wonderful. Windjammer's offers a selection of burgers but I went with the classic Western, topped with thick cut bacon (they're using double smoked), barbecue sauce and cheddar. And like the patty itself, these toppings were each selected and prepared with care. The barbecue sauce has a bold, fresh flavor, with just the right amount of tang and none of the cloying sweetness that's so off putting on a burger. The double smoked, thick cut bacon and the cheddar are both best in class, making everything from the roll to the patty remarkable enough to stand on their own. Together they elevate this burger from something simple to something special, and certainly something worth coming back for – for at least another 35 years, I hope.
-Allison Zimmerman, A-List Contributor
Char Burger
Restaurant: Char Steak and Lounge, 550 East Ave, Rochester (585) 241-7100
Chef: Jeremy Nucelli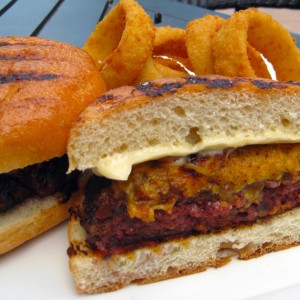 A really great steakhouse should always have a really great burger. And Char Steak and Lounge is a really, really great steakhouse. With an atmosphere and menu that rival any you'd find in New York or Chicago, Char Steak and Lounge is not only serving some of the best steaks in Rochester, but one hell of a fine cheeseburger. The defining characteristic of Char is its Best in Quality approach. While a burger may sound simple, a burger made with ingredients that are the very best in quality is something much more sophisticated and complex in flavor and experience than anything you can get at your neighborhood diner. The 12 oz Prime Sirloin Burger at Char is served with a smoky, sweet bacon onion jam that really enhanced the flavor of the beef, which is ground fresh in-house daily. Unlike strips of bacon or those seaweed-like globs of caramelized onion that usually end up on my burger, the bacon onion jam delivers flavor to every corner of the burger without dominating – or falling off into a pile on your plate. The cheddar (my favorite cheese on a burger) is fresh and sharp (again, best in quality – it matters), and the brioche bun exceeded my expectations by yielding just when I expected it to be firm, striking the right balance by being hearty enough to stand up to the considerable burger and its formidable toppings without ever becoming an obstacle. The burger itself was, in a word, perfection. Grinding the beef fresh makes a clear difference you can taste, and this is beef that is already best in quality. Cooked to a perfect medium rare on their signature wood burning grill, the burger had a subtle smoky flavor that also served to enhance the flavor of the meat. Perfectly packed so that it wasn't tough or dense, this burger was enormously juicy and practically melted in my mouth. Perfectly balanced flavors, comprised of the very best in quality at every step. This burger is in every way, a Rochester best.
-Allison Zimmerman, A-List Contributor
Good Luck Burger
Restaurant: Good Luck, 50 Anderson Avenue, Rochester (585) 340-6161
Chef: Dan Martello
This video takes you into the kitchen to see what makes this burger special.
(Warning: may cause hunger!)