Upstate NY Food & Beverage show 'ROConnoisseur's Roadtrip' shot episodes in Rochester and Buffalo this summer, on a road-trip to film episodes featuring area food and drink destinations. Episodes will air Thursdays at 8pm. The first episode premiered Oct. 17. Surrounding the show, producers are hosting unique, some-times invitation only events bringing viewers off-line to join the fun, and taste local food and drinks on the show. Event guests share enthusiasm and often become regulars. "Thank you for last night's City Walk, another spectacular event" – Wayne Smith, Rochester, NY. "Buffalonians and Rochesterians united in a super swank setting to eat, drink, and listen to some fun live music. The Rooftop Welcome Summer Party was a great success and I want to thank any group that is forward-thinking enough to bring people from these two great cities together for social events." – Newell Nussbaumer, Buffalo NY.
x
Events Surrounding The show
'City Walk, a regularly sold out event in Rochester made its debut in Buffalo in August, taking walkers to three locations in Downtown Buffalo. More Buffalo City Walks are in the works. Rochester City Walk happens each second Wednesday of the month, exploring a new neighborhood. A December Rooftop Holiday Party in both Rochester and Buffalo will include a tasting experience with destinations featured on the show under the full moon. The parties will bring people from Buffalo and Rochester together to experience some of the great food and beverages in the region, interact with the makers, chefs, and restaurants behind them and celebrate local. A spring 2020 event will take guests on a Buffalo foodventure sampling and visitign the same four outdoor spaces and rooftops feautred in the themed episode.
About Season 2
After a successful first season in 2017 featuring Rochester NY and the Finger Lakes, producers re-grouped making some changes. In Season 2, the show name changed to ROConnoisseur's Roadtrip as host Casey Bowker visits great places for food and drinks from the Great Lakes to the Finger Lakes traveling across Upstate NY. The local Upstate food and beverage scene is full of great places to visit and the show shares an Insider Look at great destinations. Episodes walk viewers through the doors and behind the scenes of must visit eateries, breweries, cideries and wineries sharing the stories behind them to uncover what sets them apart. Whether it's a signature drink, a unique offering, or an undeniably delicious dish.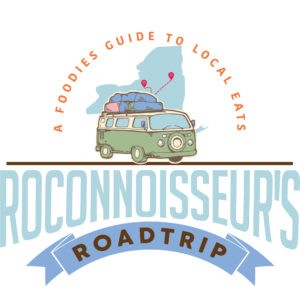 Season 2 Fall Launch
Season 2 premiered the first episode Oct. 17th and episodes are airing weekly Thursdays at 8pm. There are 6 episodes in season 2.
Watch the episodes on the @rochesteralist YouTube channel, follow on social, and sign up for the Insider email list for event invites. Restaurants that want to be featured in a future City Walk, be considered for a future episode or interact with upscale foodies at the Dec. Rooftop Holiday Parties, can email producer Amy Riposo, [email protected]
Watch the 30 second Trailer of season 2
Watch your inbox for the season 2 trailer coming soon. Not yet on The List? Sign up here
Watch season 1 episodes here
Watch season 2 episodes here
x