Date/Time
Date(s) - Mar 17, 2015 - Mar 21, 2015
All Day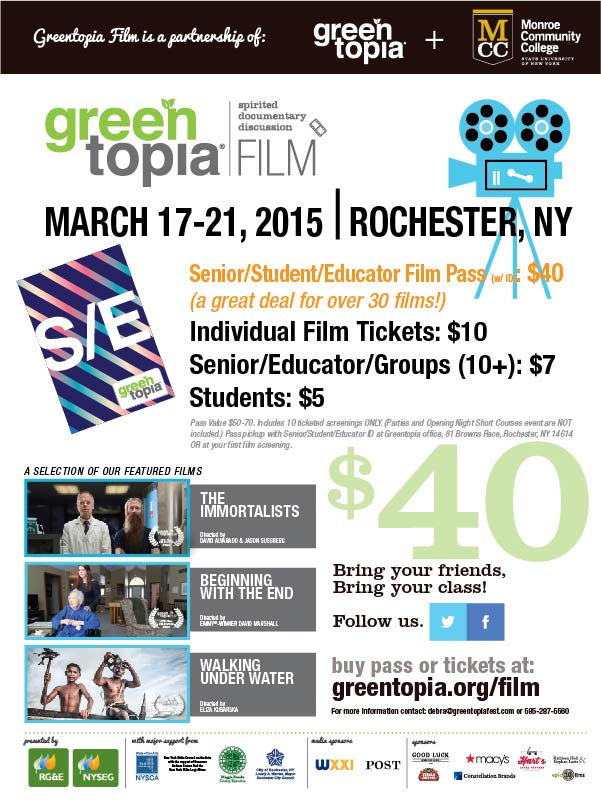 GREENTOPIA | FILM FESTIVAL RETURNS March 17th – 21st, 2015
Fourth annual fest includes thought-provoking sustainability-themed films, discussions, special events, and the Fork in the Road Award
ROCHESTER, NY, March 2, 2015 — Greentopia | FILM, the collection of films that inspires, transforms, and seeks to empower the audience to create sustainable changes in their own lives and communities is back for its fourth year in partnership with Monroe Community College. Greentopia | FILM is the only local film festival representing the work of a diverse group of independent filmmakers that will initiate conversation on the most important local, global, online and community timely topics of today. The 2015 edition of the festival will feature five days (March 17th -21st) of primarily non-fiction films – each featuring local buskers and other artistic performances prior to films, followed by engaging, challenging, and stimulating panel discussions with notable and first-time film makers from across the nation. Greentopia | FILM is part of Greentopia®, a non-profit organization designed to educate and advocate for a more sustainable future while transforming the historic High Falls District of Rochester, NY.
The 2015 festival will feature an array of inspiring and entertaining programming, including films on such varied topics as a monk with a camera; agriculture; the sea and water; hospice and prison. Free festival events will include GREEN DRINKS, March 19th at the Center for High Falls Atrium, 6-9 pm; and KIDTOPIA | FILM, a mini-festival of short films for children. A highlight continues to be Short Courses | Greentopia FILM on March 17th, an often sold –out event including four short films paired with four short courses. Cuisine by famed Good Luck Restaurant Chef Dan Martello. Tickets are $75 and includes film viewing, a four course dinner and wine pairings. The proceeds from each ticket sold will benefit programs and projects of Greentopia®.
COMMUNITY SUPPORTED FILMS (CSFs)
Greentopia | FILM believes in our community and in showcasing the positive changes, projects and people that are not often covered in more mainstream news and media channels. All Community Supported Films (CSFs) tell the story of something happening in the Greater Rochester area that embraces the concept of sustainability or community building in some way. Through the incredible generosity of local filmmakers, Greentopia | FILM has been able to produce 3 short documentaries a year for the past 2 years. Enjoy all our previous CSFs at our YouTube Channel or click on the links below: Good Luck Garden, winner Silver Telly Award, 2013 Green Visions, winner Bronze Telly Award, 2014 Single Track Nature, winner Gold Aurora Award, 2013 The Highland 7 El Camino Trail Peckham Hall
2015 Community Supported Film Awardees
In 2014, Greentopia | FILM received funding from NYSCA (New York State Council on the Arts) to commission 3 films, offering a $1,000 stipend and film festival passes to each of the 3 selected filmmakers. Greentopia | FILM is proud to be able to help nurture homegrown documentary film, filmmakers, and local organizations who are doing great work!
PASSES / TICKETS 
A variety of film pass options are available this year including:
All-Access Passes | $150. Includes Good Luck Short Courses opening event, Hart's Grocers closing party, 10 ticketed screenings, 2 tickets to Little for use anytime after the Film Festival in 2015, T-shirt, name in program. Lanyard pass pickup at Greentopia Headquarters, 81 Browns Race OR at Good Luck Short Courses event.
Value $225
Full Price VIP Passes | $75. Includes Hart's Party, 10 ticketed screening. Value $120
Senior/Student/Educator Passes | $40. Includes 10 ticketed screenings. Value $50-70
Good Luck Short Courses Event | $75. Now in its third year, come enjoy four short films paired with four short delicious courses – this is sure to be a sell-out event!. Wine included. HURRY! This event sells out quickly. Ticket Sales Close Wednesday March 11th.
Closing Party at Hart's Grocers on evening of 3/21/15 | $20. Wine, light hors d'oeuvres, music.
FOR MORE INFORMATION
For a complete film and event schedule, or to buy tickets, visit www.greentopia.org/film; or connect with Greentopia | FILM at facebook.com/GreentopiaFILM and twitter.com/GrnFILM.