Prana Yoga ♥ 55 South Main Street, Fairport, NY  (585) 678-4001 
Yoga is meant to be an experience, not merely a class you take to fulfill your daily exercise requirement, and at Prana Yoga in Fairport, NY, owner Carrie Herscovici-Costello creates an experience to embrace. You will leave with a blissed-out yoga glow and contentment washed over your face.  The studio is so warm and inviting, the teachers are the real deal, and there is so much more, so read on…
Some people may not realize how important the energy of the space in which they practice is.  Prana's studio offers a plethora of windows illuminating brilliant light that we all need so desperately especially in the winter months.  When Rochester is one single shade of gray, with the flick of a switch the studio becomes aglow with special lighting set in a vaulted ceiling.  Choose from beginner and gentle variations of classes, or an energizing Vinyasa flow with roots based in Ashtanga and Iyengar.  The teaching team all have impressive resumes with extensive training and teaching experience.  Read more about the teaching philosophy in my post article interview with Prana's owner.
There is more to warm your heart at Prana including the boutique which offers finds from around the world, local artists and specialty items you simply won't find in other places such as handbags, jewelry, sweaters, dresses and yoga clothes.  Prana embraces an old-school style of shopping by offering clients anything from coconut water to a glass of vino, as they shop. Carrie- you are a woman after my own heart. : )  FYI The boutique is always open when classes are scheduled, and you can also set an appointment to shop outside of those hours.
Experience Prana yourself.
Get a 2 for 1 class pass for you and a friend to take a class between now and April 30th, 2015.  This offer is good for anyone new to Prana.  Just mention A-List, no need to print anything out.  With the 2 for 1, class will be just $7.50 each!
Join us when the A-List Fitness Crawl visits Prana on March 7th.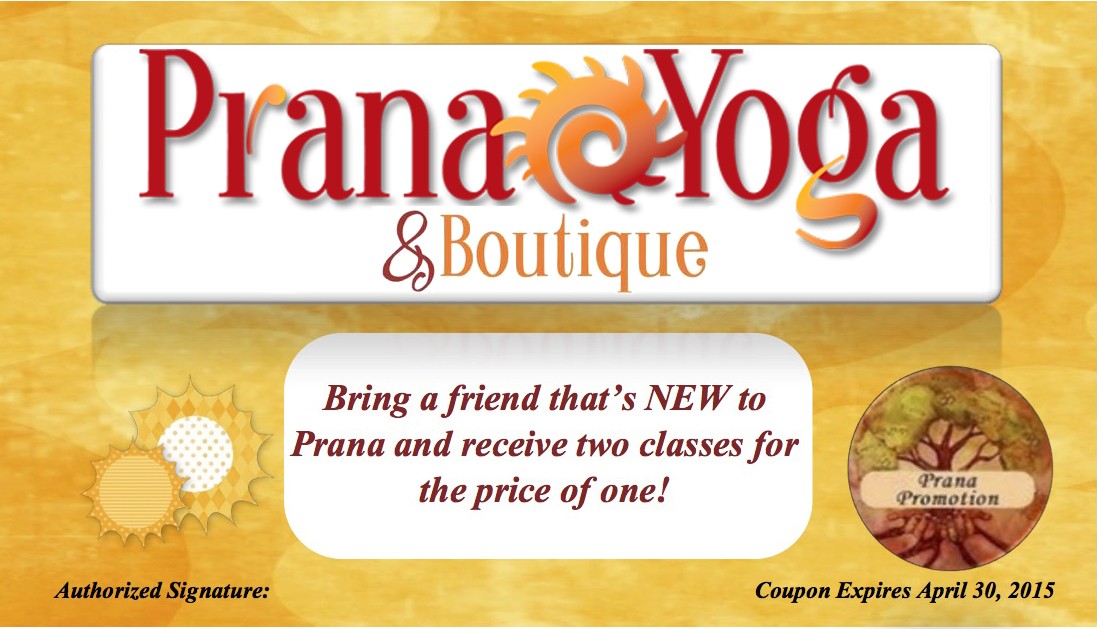 Prana is keeping spirits alive locally and internationally.
This April Prana is hosting a yoga retreat in Tulum Mexico with two top- notch instructors.  Surf, sand and yoga oh my!  What could be better? And if your sweetie or bff isn't as dedicated to their mat as you are, the retreat can still serve as an amazing and restorative getaway, and they can partake in as little or as much down dogging as they desire.  Find out more details on the retreat here.
This piece wouldn't be complete without more info about creator Carrie Herscovici-Costello, and how her philosophy and her teacher training program help keep your spirit alive.  It is important to Carrie that her instructors are focused on promoting safety and awareness during the practice with each students' optimal growth in mind.  Staying innovative and setting high standards is very apparent at Prana, and so it's no surprise the studio has partnered with YogaWorks, offering a world-renowned YogaWorks 200-hour teacher training program. The YogaWorks methodology is to provide students with the best quality yoga around the highest standards available. This teacher-training program has been around since 1990, and has undergone 25 years worth of shaping and molding of the curriculum. YogaWorks has formed and guided leading teachers around the world such as Seane Corn and Shiva Rea, and Prana teachers right here in Fairport, NY.
Namaste!
-Amy Hebert, A-List Contributor
#explorerochester
#rochealthyliving