Date/Time
Date(s) - May 16, 2015
5:00 pm - 8:00 pm
Location
Hot Shots
Discover some of our city's Best Places to Keep Your Spirit Alive with the Rochester A-List Fitness Crawl.  The Crawl will offer a variety of fitness activities at local businesses so you can explore new places and fitness options and find the ones that resonate with you.  Get ready for some seriously fun health and wellness crawling!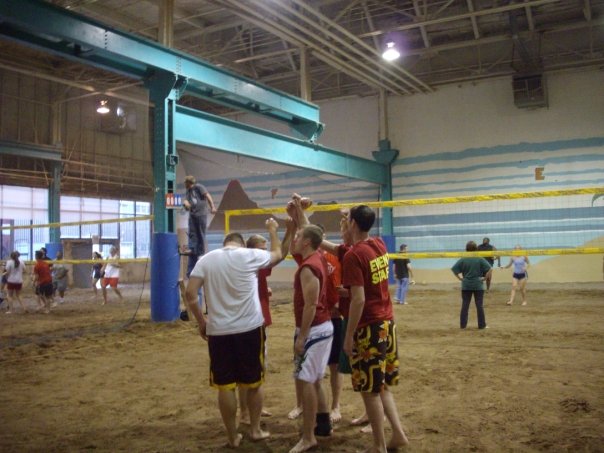 Join us for Sand Beach Volleyball at Hot Shots.
This is your chance to learn and improve your volleyball skills for a fun evening Fitness Crawl stop at Hot Shots Indoor Beach Volleyball Club.  All ages and abilities are welcome.  Some of the best local coaches and instructors will be on-hand.
Here's The 411
Come for one hour or all three.  All ages are welcome. We need a minimal number to hold a special court for each age group, so save your spot as soon as you can.
5-6 PM Clinic with instruction from the best local coaches for teams and/or individuals.  Learn some tips and pointers, brush up on the rules, and learn new strategies for teams.  
6-8 PM Challenge Court game with prizes.  Don't know what that is?  Don't worry, come and find out.  All abilities are welcome.    Bring your team, your co-workers, your family.   See you on the sand!
Save Your Spot
$15 per person includes well drink, domestic draft or soft drink- This is normally a $60 value, so jump in on this special A-List rate!
Register at www.NOVAEventManagement.com
Adult Court
Teen Court
Youth Court
ABOUT HOT SHOTS:
Hot Shots Real Beach Volleyball, located on University Ave., is upstate NY's only indoor beach volleyball center and we're lucky enough to have it right here in Rochester, NY.  6 nights a week you'll see the courts and bar area full of smiling faces.  Weekends you'll find court rentals and tournaments keeping the fun going, and the sand flying.  Food and refreshments are available with plenty of viewing areas, seating, and TVs.