Date/Time
Date(s) - Apr 06, 2019 - Apr 07, 2019
10:00 am - 5:00 pm
Location
Sibley Square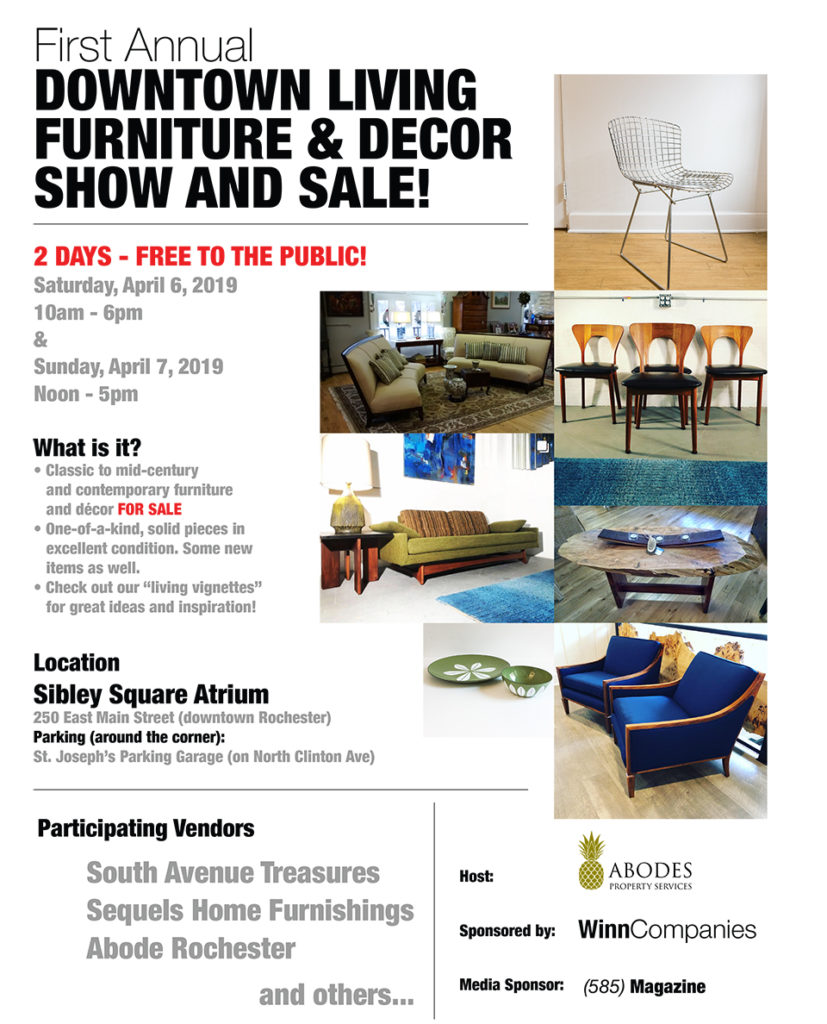 The first Downtown Living Furniture & Décor Show features refurbished, renewed and refreshed urban lifestyle designs from classic to mid-century to contemporary style room settings and vignettes.  The special weekend sale on April 6 and 7 in the main floor atrium of Sibley Square at 250 East Main Street, showcases multiple, eco-aware retailers echoing the reinvention of the venerable Sibley's Department Store.
Sibley Square recently has been reclaimed by WINN Development as 1 million square feet of multi-use residential and commercial space. WINN Development and ABODES Property Services will host the Downtown Living Furniture & Decor Show which is sponsored by Rochester's (585) magazine.  The event will feature furniture and accessories from Rochester's leading resale stores, including upstate New York's largest consignment shop, Sequels Home Furnishings of Victor, along with the area's top Mid-Century experts from South Avenue Treasures and Abode of Rochester's southeast neighborhoods.
Downtown Rochester is an exciting and growing urban residential experience. Nearly 7,000 residents currently live within walking distance of Sibley Square in renovated and repurposed residential spaces. In keeping with the mission of Sibley Square to revitalize and reuse some of the best of our past, the Downtown Living Furniture & Decor Show brings hundreds of brand name, quality furnishings and accessories that are very gently used, at very attractive prices. The event is 2 days only: Saturday 10 am to 6 pm and Sunday noon to 5 pm. Entry is free.
The weekend show is both furniture gallery and pop-up retail shop. People can browse and buy authentic, high quality décor that maintains the best characteristics of past designs, updating it for today's lifestyles. Living, dining, and bedroom settings will be adorned with art, photography, accessories and rugs. The show supports resource-saving, green choices in today's home interior design.
For more information click
HERE