Date/Time
Date(s) - Oct 11, 2014 - Oct 12, 2014
All Day
Location
Ellison Park
The only two-day International Cyclocross bicycle race in New York State!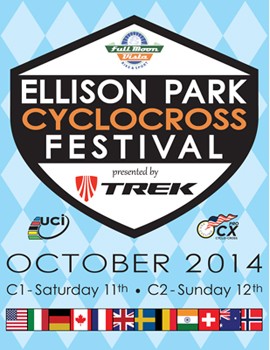 Started in 2008, the Ellison Park Cyclocross Festival  has been elevated to Class 1 status (the highest level of international cycling) with two days of racing on October 11 and 12. Featuring men's and women's professional cycling each afternoon, amateur cycling each morning, locally-brewed beers from Rohrbach's Brewery and world-class barbeque from Good Smoke BBQ, this event is fun for the whole family! Full Moon Vista Bike & Sport, along with presenting sponsor, Trek Bicycles and longtime gold sponsor Rohrbach Brewing Company, have teamed up to host the Only Class 1 Cyclocross event in New York State and one of only nine Class 1 events in America. The Ellison Park Cyclocross Festival will feature some of the world's top male and female cyclocross racers. Produced and hosted by the same company that created the Rochester Twilight Criterium, this event will take all of the excitement and action of the Criterium, off-road! Current and 2-time Men's Elite U.S. National Cyclocross Champion Jeremy Powers made the trip to Rochester in June to announce this year's event and will be back in October to race at Ellison Park.
What is Cyclocross ?
Cyclocross is a hybrid between road cycling and mountain biking. Riders race around an off-road circuit on bicycles that look very similar to road bikes but have been built to take on the demands of rougher off-road racing. Circuits are typically 1.5 to 2 miles long, and feature obstacles that may force the rider to dismount their bicycle. Multiple laps showcase these elite riders' phenomenal skills and amazing speed.
Admission to the event is FREE for spectators. Children's activities include a free bounce house and a mini race course that will be used continuously both days. A professional race announcer will provide incredible commentary with the backdrop of music each
day. Free parking is available along Blossom Road.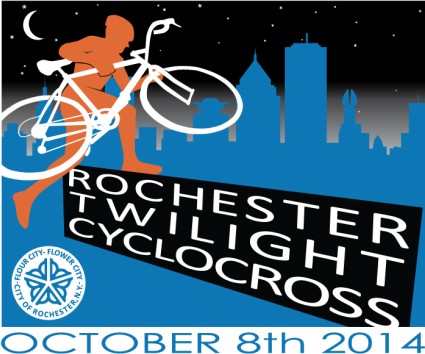 New for 2014: A Twilight Cyclocross race has been added on the evening of Wednesday, October 8th. The event will be in Brown Square Park with men's and women's professional races happening under the lights with amateur races preceding them.
Click here for more information.