Date/Time
Date(s) - Dec 13, 2019
5:30 pm - 9:30 pm
Location
Penthouse at One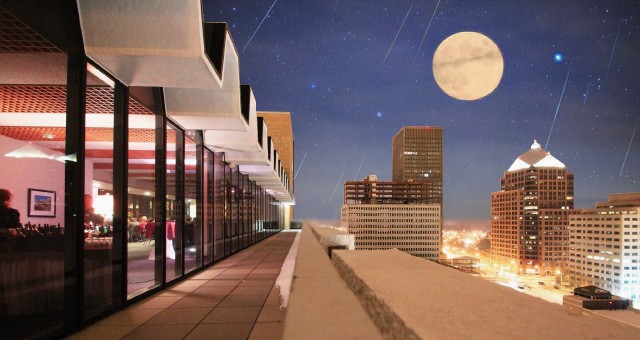 Celebrate the holidays at the Penthouse with a rooftop holiday cocktail bar, beer tasting, wine tasting, spirit tasting, delicious food, live music, shopping and the best view in the city to watch the December Full Moon rise over the city, during the Geminids Meteor Shower. Share a toast overlooking the Liberty Pole Christmas Tree. The party is 6:30-9pm; VIP access begins at 5:30pm. Live music by the talented Mike Gladstone and Rob Smith 6-9pm.
x
The Geminids Meteor Shower is expected to be the most prolific meteor shower of the year with prime viewing the night of the party. What better vantage point than a beautiful city skyscape rooftop. Experts expect possible sighting around 20-30 meteors per hour.
x
A rooftop shopping experience will include a select group of Rochester gifts so you can shop while you celebrate. #multitasking
x
ROConnoisseur's Roadtrip Tasting Experience 5:30-7:30pm
Enjoy samples of local food, beer, wine and spirits
Sapori, Jimmy Z's, FAVO Pizza, Resurgence Brewery, Black Button Distilling, Hopp'd and Brew'd Sauce Co., Living Roots Wine (more tba).
Tickets 
Tickets will be available mid. November. Pre-sale tickets are $25, and $35 for VIP. The Party includes a holiday swag bag filled with treats from local businesses (while they last). Swag bags will be available for the first 50 GA ticketed guests to arrive at the party and guaranteed for VIP guests. Visit the Event Page for the ticket link.
Sponsors and giveaways from local businesses. Watch the Event Page for updates.
Celebrate the holidays and our great city with Rochester A-List, local food, drink, gifts, music and the people who help make Rochester the special place it is!