Date/Time
Date(s) - Jul 12, 2019
5:30 pm - 8:30 pm
Location
Curtiss Hotel Rooftop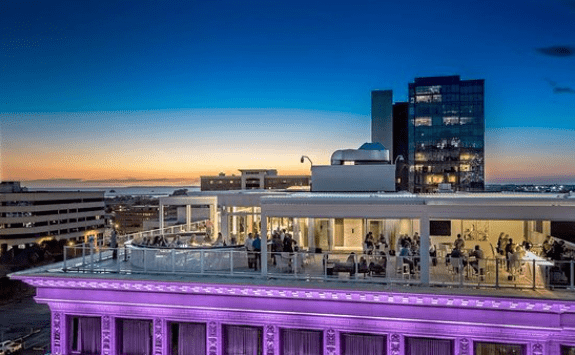 Welcome summer at the Curtiss Hotel Rooftop in Buffalo NY and get a taste of the best of Buffalo. Soak in the views of Lake Erie and watch the sun set. Enjoy live music, spectacular views, Buffalo craft beer tasting, Black Button Distillery popsicle cocktails, and delicious bites of some of Buffalo's most celebrated foods.
Tickets include beer tasting, spirit tasting, and three tickets for small plates of Buffalo specialty foods. The party ticket will include watermelon with balsamic drizzle, beef on weck slider, and mini lobster roll. There will also be a rooftop grill. Chiavetta's Chicken Sliders and Gazpacho Soup will be available for purchase.
Live music by the Earthtones.
This event is brought to you by the producers of ROConnoiseur's Roadtrip, Upstate NY's food and beverage show. Season 2 airs this summer, and to bring viewers off-line to get a peek at some of the fun happening in season 2, they're throwing a party and invite you to join the fun with a Buffalo tasting experience.
TICKETS (Tickets go on sale June 21st.)
Party tickets are $25. VIP Tickets are $45 and include access to a VIP lounge area with a private bar, taco bar and fruit with yogurt dipping sauce plus everything included in the party ticket.
*** City Walk has been rescheduled for Wed. Aug. 21, 2019. Make it a weekend, and grab a ticket to Buffalo City Walk ($15) the following day. Experience Buffalo with friends in a walking happy hour on Saturday afternoon. It's a walking party as we visit 3 great spots for food and drinks. Join friends and meet new ones for a one-of-a-kind afternoon in Buffalo. City Walk is July 13, 11am-2pm.
Discounted Curtiss Hotel rooms are $249 per night for anyone who mentions ROConnoisseur. Call (716) 954-4900 to book.
See who is going on Facebook