Flash back to a shared Brunch at Lento Restaurant. Amy Riposo, founder and creative director of Rochester A-List, and Casey Bowker, the host of ROConnoisseur met as creatives often do, to explore opportunities to collaborate. Amy remembers "Not only was the food delicious, but a floodgate of ideas opened as we talked about food, new restaurants, little known hideaways, gems in the FLX, and our progressive local food and beverage scene". A desire to explore and share some of these exceptional places in video turned into an exciting collaboration between Rochester A-List and ROConnoisseur.
Season 1
Season 1 launched in summer 2017. ROConnoisseur food and beverage show had a successful first season and ten weekly episodes sharing the stories behind local must-visit destinations in Rochester, NY and the Finger Lakes. Watch season 1 episodes here
About Season 2
In Season 2, the show becomes ROConnoisseur's Roadtrip as host Casey Bowker visits great places for food and drink from the Great Lakes to the Finger Lakes traveling across Upstate NY. Upstate New York's local food and beverage scene is full of great places to visit and we'll be sharing them one destination at a time. Episodes will walk viewers through the doors and behind the scenes of must visit eateries, breweries, cideries and wineries sharing the stories behind them to uncover what sets them apart. Whether it's a signature drink, a unique offering, or an undeniably delicious dish – we're out to find it, and share.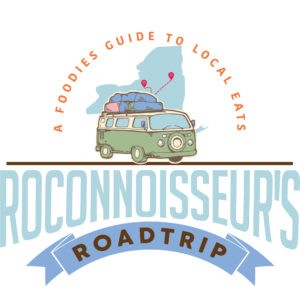 Season 2 Summer Launch
Season 2 will launch this summer with 12 episodes airing weekly. The show will feature 10 must visit destinations sharing what makes them one of the area's preeminent eateries in easy to digest 4 minute segments.  Additionally, there will be 2 themed best of episodes. Locations visited in the show won't be released until they air.
Where To Watch
There are a few ways to tune in. Season 2 will be aired online, where people are consuming their media most. Subscribe to the Rochester A-List Youtube Channel to catch the first run of each show in season 2. Episodes will also be aired on the Rochester A-List and ROConnoissuer Facebook Pages and also emailed to A-List email subscribers. Follow along with the show on our social channels (find links on the top of our website). See behind the scenes footage as the crew shoots season 2 on Instagram. #eatdrinkloveNY
If you want to get involved, shoot us an email.  We'd love to explore opportunities how you can join in on our foodventures.
Watch the 30 second Trailer of season 1
Watch your inbox for the season 2 trailer coming soon. Not yet on The List? Sign up here