By Allison Zimmer and Amy Riposo
Whether you eat dessert first, save room for dessert or make a special trip just for dessert, these unique treats are a gastronomical treasure.
The Rochester A-List team spent the winter unearthing Rochester's best desserts, a mission that will undoubtedly have us on the hunt this spring for the city's best workouts. What we found in our tasty travels was a shockingly wide range of offerings – decadent, innovative, rustic, fresh, homey, even health-conscious – unexpected for a course almost universally considered as an afterthought.
Whether you belong to one of the eat-dessert-first, chocolate-is-a-food-group schools of thought, or whether dessert isn't normally on your radar, there is something on this list for everyone – even, we are happy to report, the gluten-free.
Maybe we won't convince you to eat dessert first, but after trying these dishes, we doubt it will be an after-thought ever again. Here is our round-up of desserts sure to make you (or anyone you share them with) smile.
647 Park Ave, Rochester, NY (585) 978-7898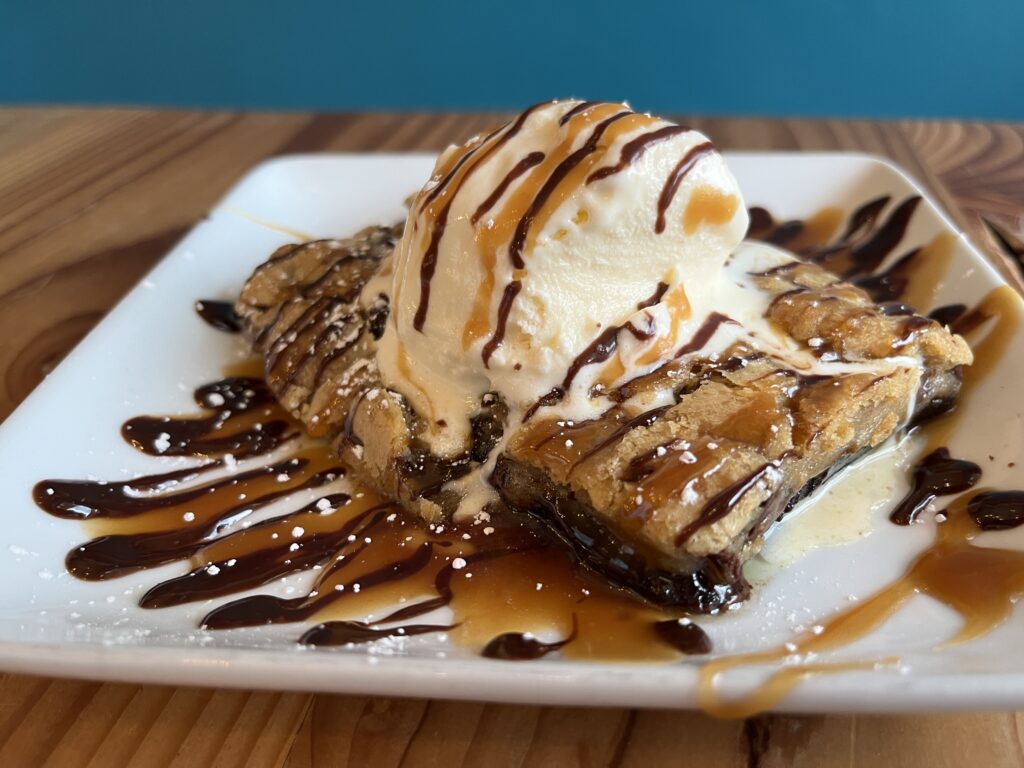 So many of life's greatest questions are destined to go unanswered. Why are we here? What is the meaning of life? Why do fools fall in love? And why did it take so long for someone to put a bar in a bakery?
Opened in 2018 on Park Ave, Caramel Bakery and Bar is cozy, welcoming, and all-around charming. I spent an entire afternoon sipping espresso – and espresso martinis – while sampling sumptuous desserts from a surprisingly wide menu. It started with the Brookie, the greatest merger since, well, they put a bar in a bakery. Part decadent chocolate brownie, part crispy, chewy chocolate chip cookie, the Brookie is the perfect comfort dessert; rich, gooey, and familiar. Ask for it served with a scoop of vanilla ice cream, it's exactly the sort of dessert I'd order after brunch with the girls – one Brookie, 4 spoons, please.
Another dessert that made this list is their beautiful Creme Brûlée, a classic favorite served with ginger and orange and garnished with raspberries. It was served correctly, neither warm nor ice cold, with a beautiful sugar top that cracked satisfyingly when smacked with the back of my spoon. The ginger-orange flavor and sweet berry sauce lent interest and balance against a velvety smooth, sweet custard.
I might crown Caramel Bakery as the queen of unique desserts. Take a look at their Instagram page – each presentation is gorgeous and unique. Everything I tasted was delicious. The prices were very reasonable as well. Caramel is the perfect spot for date night, a girls lunch, or an afternoon out with the kids. In short, there isn't anyone who couldn't love it, and in my opinion, anyone who wouldn't.
-Allison Zimmer
100 Marketplace Dr. Unit 120, Henrietta, NY (585) 358-0049
8am-10pm and midnight on weekends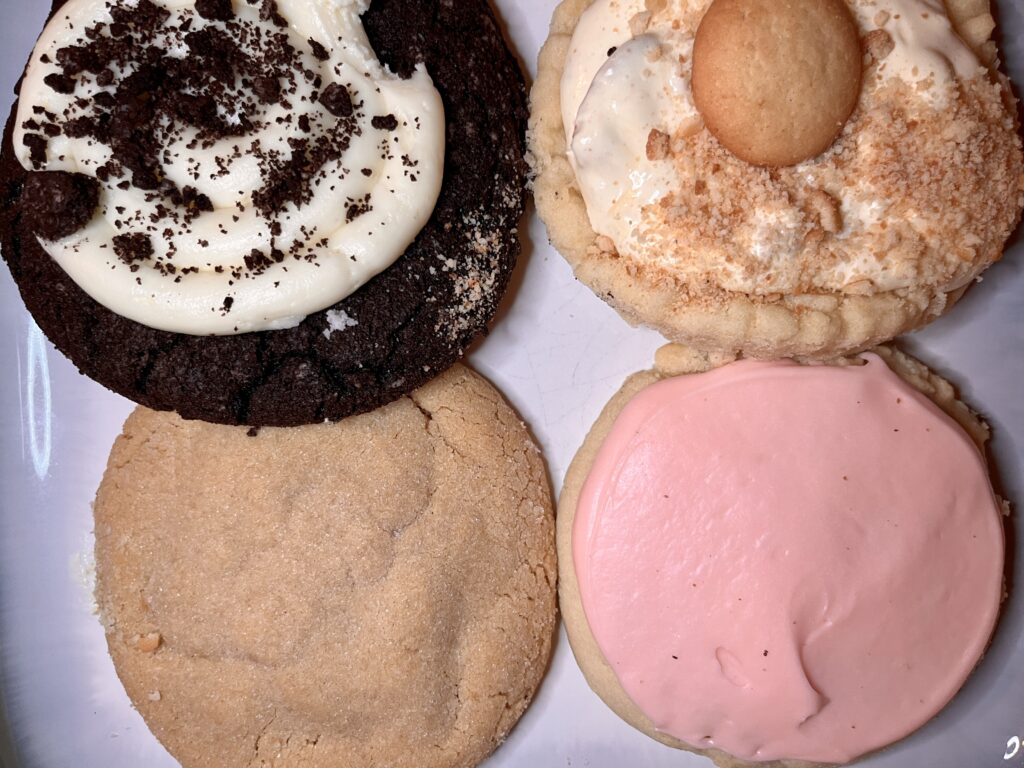 If you are not familiar with Crumbl Cookies, let me introduce you. A location opened in Rochester in October 2021. It's the first Crumbl in New York state. If you're a newbie to Crumble, add this spot to your list to check out.
The experience of walking into a Crumbl Cookies is part of its appeal. You can order online for curbside pick-up or delivery, but you'd miss the in-store experience. When you walk through the doors you're greeted by the smell of cookies baking behind the counter, and you see the crew mixing, frosting and packaging the cookies right in front of you. The vast number of cookie flavors rotate weekly so depending on the week you go, there will be different cookies to choose from. Many are served warm and a few chilled like the signature sugar cookie, one of my favorites. There is an online ordering system in the store so you place your order and pay, then your name will be called when your order is ready with your cookies packaged in the signature pink box.
I picked up the box above – peanut butter stuffed, chilled sugar cookie, banana cream, and Oreo. All four were delicious and I made my neighbor's night bringing these over. Just like a box of chocolates, we all had to try each one. Everyone does that, right?
Crumbl has over 150 rotating flavors and the cookies are baked fresh every day. They have mini versions of the large cookies available for catering orders.
-Amy Riposo
thelittlebrownieroc on Instagram and Facebook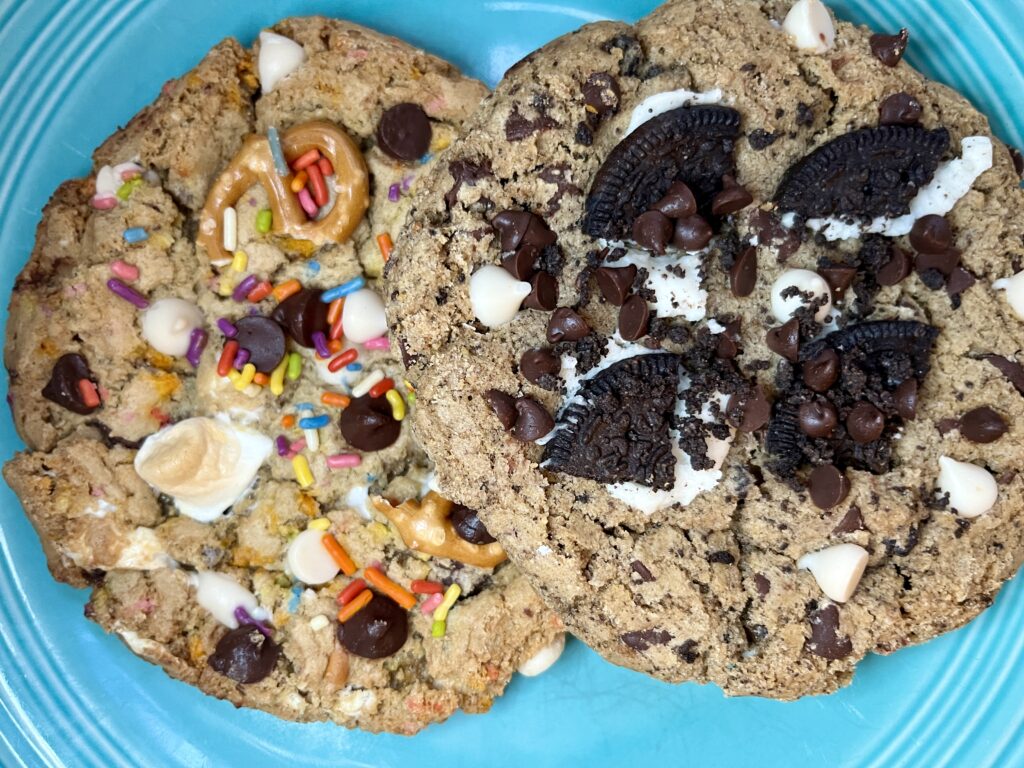 Instagram feeds are filled with crave inducing unique treats, and some are coming out of home based and commissary kitchens. The opening of home based bakeries is one of the pandemic world changes that has popped up everywhere. Entrepreneurship is thriving as more and more people are following their passion turning their ideas and talents into businesses. This is especially great for people to find what they are looking for -special diets or custom orders that a traditional bakery may not be interested in fulfilling.
The Little Brownie is one of these pandemic baby businesses – serving gluten free, vegan, cookies and brownies. This is excellent news for vegan and gf eaters, but even if you don't have these dietary restrictions. I sampled a variety of the cookies, unique in more ways than ingredients used.
I am absolutely a fan or fun ingredients (and sometimes more cookies) in/on cookies. That's what you'll find on the cookie menu here. The Trash Plate has white and chocolate chips, pretzels, sprinkles and marshmallows and the Pot Hole is loaded with Oreos, white and milk chocolate chips. The one on the left (trash plate) had a hint of salt which enhanced the flavor just right with the chocolate shining through. The cookies were warm when I picked them up fresh out of the oven.
Order online (48 hours in advance) and arrange curbside pick-up (Browncroft Penfield area). The Little Brownie desserts are also available in some local stores such as Pizza Wizard, Boulder Coffee, and Impact Earth in Eastview Mall. This bakery is also woman and minority owned.
If you're looking for a custom order or have dietary restrictions, a home bakery might be just what you need. With super easy online ordering or DM-ing the owner who likely is also the baker, and convenient curbside pick-up often in your own neighborhood, it makes it super easy to make trying a new bakery and unique desserts a convenient part of your week.
-Amy Riposo
KupKasey @kupkasey on Instagram
This home bakery is in the N. Winton area. The best way to order is DM on Instagram. A website is coming soon.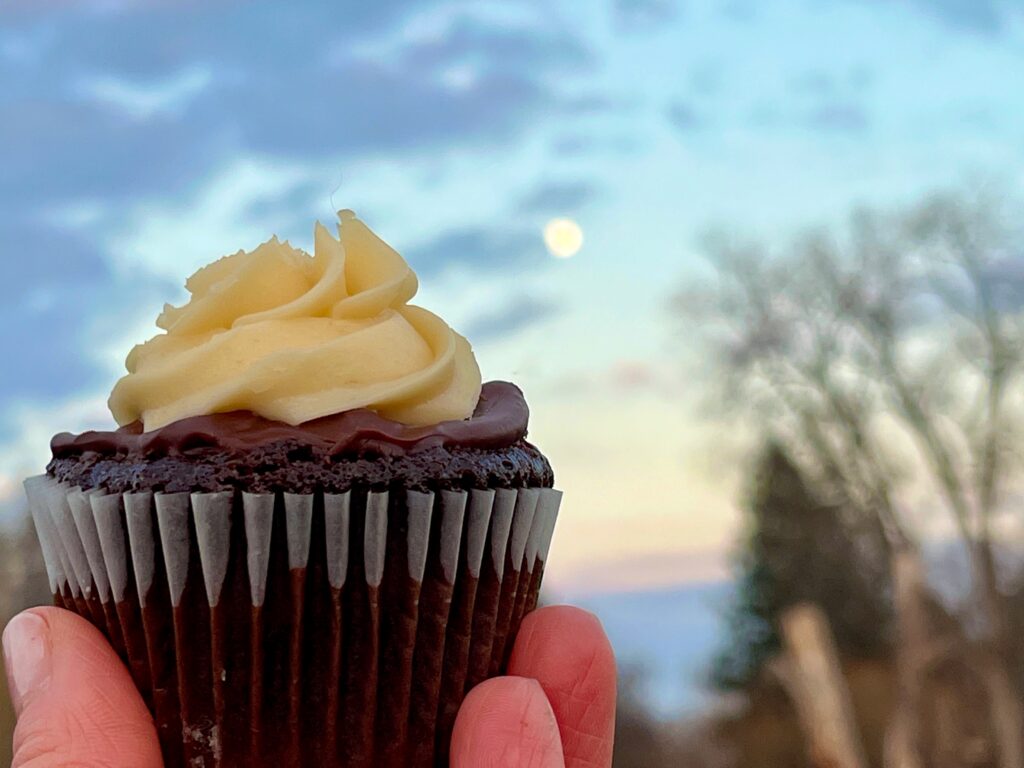 Another home bakery offering gram-able crave inducing concoctions is KupKasey.
Flavors like s'mores, banana, salted caramel and margarita are as popular as kids themed cupcakes like unicorn, rainbow and lego cupcakes. The business was born after requests grew while owner baker Kasey was working with kids and making cupcakes for birthday parties.
My interest was piqued by the boozy cupcakes, but also the s'mores. It was hard to decide which cupcake I most wanted because (any cake with frosting) is my favorite dessert and they all sounded so good. I decided on a Guinness chocolate cake with Jameson ganache and Irish cream frosting which was made with local Black Button Bourbon Irish Cream. The cake was moist and perfectly dressed in the delicious ganache and frosting. My fellow taste testers – my Fit1 outdoor workout crew, gave them an enthusiastic thumbs up.
Next up was the s'mores cupcake which had a graham cracker base, chocolate cupcake and marshmallow meringue frosting. It was everything I hoped it would be. I loved the marshmallow, graham cracker and chocolate combination in a cupcake.
Kupkasey recently started offering unique cookies in addition to cupcakes. The cookies are available to be shipped. Of course I sampled the cookies. I am here for you fellow dessert seekers. I tried several – s'mores, salted caramel, and birthday cake. They tasted like homemade cookies that I didn't have to make and I was happy the ingredients were all ones found in a typical home vs. some of the fillers and natural flavors found on ingredient lists from some large batch bakery kitchens. The cookies are individually wrapped which is great to keep them fresh if you aren't going to eat them all the same day.
Kupkasey's Instagram feed shows creative decorations and themes for customer orders. The decorations are likely more than you would (or could) create yourself. If you have an event that requires more than a basic sweet treat, this is a great bakery to impress your guests. Kasey mentioned she enjoys creating new flavors and recipes when customers have a special request. Customer requested flavors are owner baker Kasey's specialty.
-Amy Riposo
614 Stone Road, Rochester NY (585) 663-7634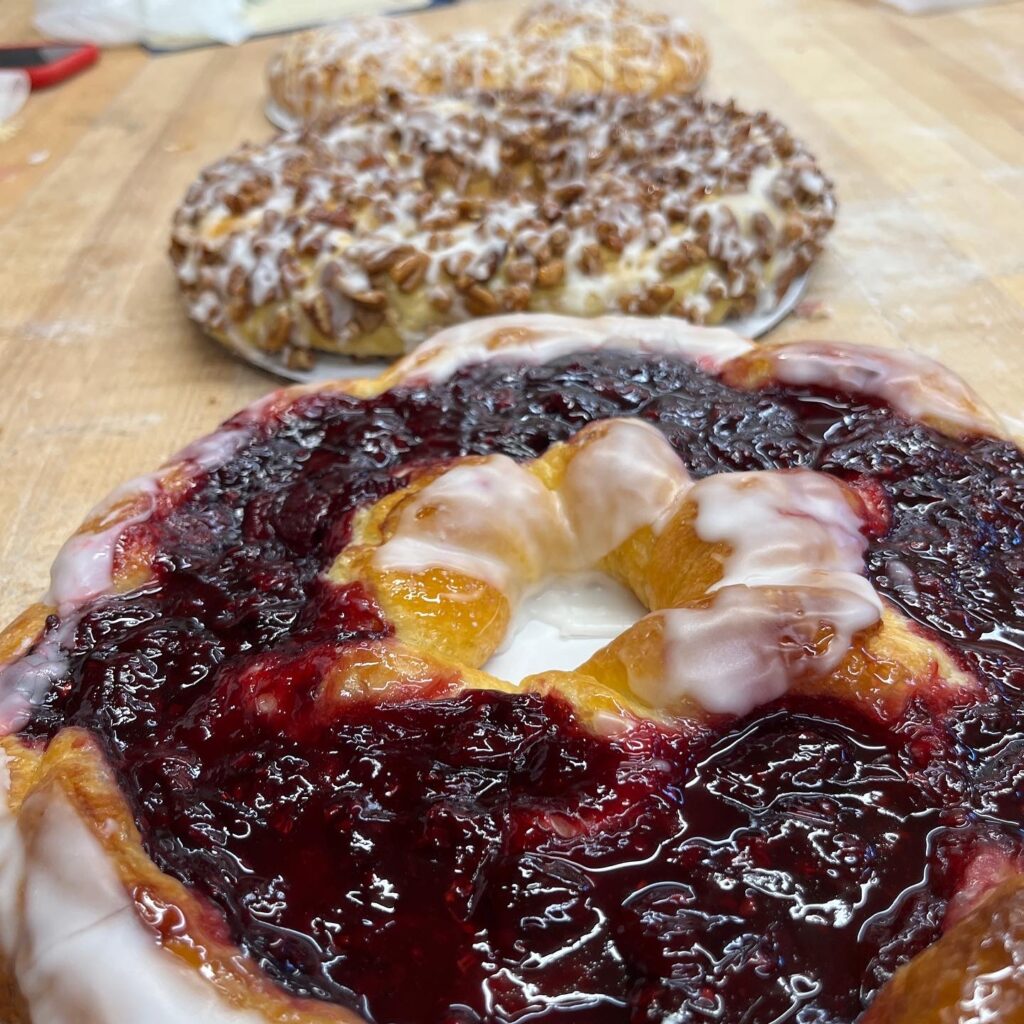 Purchased by WWII veteran Jack Symonds with a GI grant in 1947, Jackson's is the very definition of a neighborhood bakery. Walking in, you feel like you've gone back in time. It's one of the things that appeals to me most about the experience – Jacksons is, after all, my neighborhood bakery. These are the flavors I grew up on, and which take me back to my childhood. They connect me with my family, my roots.
They're also damn delicious.
Like Leo's or Savoia, Jackson's has a dedicated following of people like me who were first served treats like the buttery, crumbly raspberry bars and decadent roll cakes by their grandparents. I loved coming home from school to see those white wax paper bags on the kitchen counter.
Among their most popular items is the authentic German kuchen – buttery, flaky danish-like pastry that is decadent enough for dessert but which my family has always enjoyed at breakfast. We're awesome that way. Owner Matt Belk, a 16 year employee who grew up in the bakery and took over from Jack's son, Jim, took me inside the magical kitchen where my favorite desserts are made, and gave me a peek at the secrets that have kept Jackson's going for 75 years – secrets like using real butter and dairy in all their items. No margarine or powdered milk here. Very few bakeries still use real, fresh ingredients, but part of the charm – and the value – at Jackson's is their commitment to tradition, and to giving their customers what they love. This isn't just baking; this is craftsmanship.
With ten varieties of kuchen, there's something for everyone. Their almond is the top seller – and with a filling that starts with their white cake mix, it makes sense – but I am partial to the raspberry (although my grandfather would tell you to grab a walnut).
I can't think of a better way to support a small, community centered business and keep a tradition alive than to eat dessert. Stop by and and try any of the fantastic pies, cakes, kuchen, cookies, cupcakes and other goodies. You'll be glad you did.
-Allison Zimmer