Artisanal ROC – presents Rochester's finest flavors at the Greentopia ECOFEST

September 13
Artisanal ROC: 1pm-6pm
Greentopia ECOFEST will be going on from 10am-10pm.
Taste, shop, sample and learn while supporting the local economy and local artisanal vendors at our tasting event and pop-up shop. Artisanal ROC is a pop-up community event with breweries, wineries, and shops celebrating the area's finest local, sustainable and handmade edibles. We've scoured the area in search of the city's top artisans for Artisanal ROC and curated the best of the best to showcase their products for this first time event.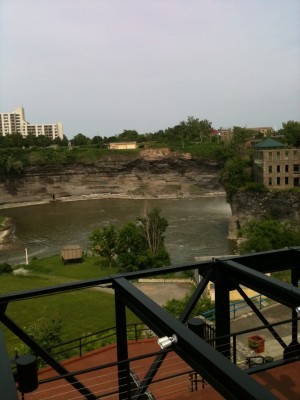 What to expect:
Food – Beer – Wine – Spectacular Views
Alongside a wide variety of musical acts, entertainment, gorge photo exhibit, cooking demos, car show, vendors and food trucks inside and outside the Centers and the High Falls area.  The Artisanal area will be on the first level patio of the High Falls Center overlooking the Gorge. This spectacular awe inspiring view is the backdrop for what is one of the city's most unique and stunning aspects- a waterfall inside a canyon inside a city.
Tickets: Click Here
Pre-sale tickets are $10 and include unlimited tastings.
Artisanal ROC is a premiere part of the Greentopia ECOFEST.
A sampling of what you will taste…
breathe yoga cold pressed juices
Pudgy Girl Bakery vegan truffles (chocolate cherry, red velvet, caramel pretzel, and GF oatmeal chocolate chip cookie dough) and gluten free lime shortbread cookies with lime glaze.
TREE Vodka super premium small batch distilled Vodka
Black Button Distilling Moonshine, Vodka, and Gin, plus their Bourbon Barrel Aged Syrup
A variety of fine wines from Midnight Run Wine Cellars, a member of the Niagara Wine Trail
Souperb Catering delicious home made soups with produce from local farms
Fina's Cafe and Catering Italian cookies and cannolis
Evening Star Coffee roasted locally in Avon, NY
Plus River Rat Cheese, Arbor Hill Dressings and Treats, Karma Sauce from Fairport, Chef Lerman, Cutting Boards from Catskill Craftsman, New York's Finest Hot Meat Sauce
Mama Napoli Arancini
The Greentopia Craft Beer & Wine Bar

Brews from the Labatt Prohibition Series will be making their debut – Bourbon Barrel Ale, and Apple Harvest Ale, Dundee Oktoberfest and Honey Brown, plus Ithaca Beer's Pumpkin Ale and Flower Power IPA. Wines from Midnight Run Wine Cellars.